RIP: 12 shuttered Miami bars and restaurants that we'll miss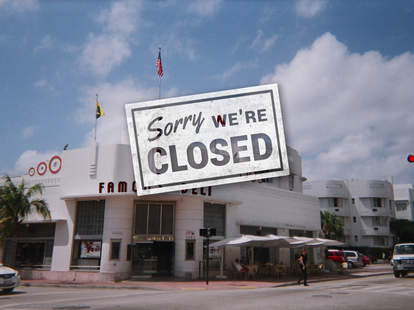 It was a big year for new bars and restaurants in Miami, but as 2014 comes to a close it's only fitting that we take a moment to mourn the sweet eat/drink spots that did just that this year...
Javier Ramirez
neMesis Urban Bistro
A&E District
The badass chef pushed the boundaries, and the bathroom was cool, too, but we'll miss the culinary experiments like ostrich carpaccio and bison steak the most.
 
Escopazzo
South Beach
We won't miss the high prices, but how can we not miss this quaint spot that opened on Washington when it was full of hookers and bums and still somehow managed to sling fresh organic fare for 21 years.
 
Jerry's Famous Deli
South Beach
We'd say we'll miss your mile-high sandwiches...  but we've actually already been missing them since things have been going downhill at JF's for a while now.
Phillip Pessar
Tobacco Road
Brickell
This closing has been taunting us for years. It's going to close they said, we rallied, it never happened. Until 2014 when it finally did. Now, a historic landmark is gone and one of Miami's most venerable dive's is just rubble.
 
Michy's
MiMo
It's supposedly coming back with a better menu, but as the saying goes, "it's never as good as the first time", so we can't help but think we're still gonna miss Fried Chicken Wednesdays.
 
David's Cafe
Miami Beach
We'll miss the old people reminiscing about the old Cuba. And while we have more ventanitas per square foot than any other city in the country, we'll miss hanging at one of the originals.
Phillip Pessar
Van Dyke Cafe
Miami Beach
We'll miss your pretty green facade and... how you weren't a Lululemon?
 
Jumbo's
Little Haiti
Just like everybody else... no matter where they're from... we'll miss the famous Bobby Burger. And the shrimp. And the fried chicken. And... oh, you get the idea.
 
Choices Cafe
Brickell
We'll miss one of the only options for vegan food in the neighborhood. This is why we can't have nice things, Miami. 
Javier Ramirez
PB Steak
Miami Beach
Duh... we'll miss your Taco Belly Pop-Up. Soooo much.
 
Chef Ho (formerly Chef Philip Ho)
Sunny Isles
We'll miss your cheesy '80s décor, banquet-style seating, and generally feeling like we were eating in an alternate universe.
 
Prost Wurst Grill & Bierhouse
Brickell
You closed rather suddenly and without much explanation after only a month. We will miss the potential you had.
Sign up here for our daily Miami email and be the first to get all the food/drink/fun in town.