Not since people were pronouncing it "Mia-muh" has Dade County been considered part of the South. Maybe that's why Florida should be two states. But that doesn't mean our barbecue isn't on par with what you'll find in the rest of the states below the Mason-Dixon. Seriously, here are the top 10 in South Florida...
Recommended Video
The Fasties: Kat Thompson Mukbang
South Miami (& other locations)
Anybody who still says "Dade County" or refers to Sunset Place as "Bakery Center" knows all about Shorty's. Before communal tables were a regrettable restaurant trend, they were just how you ate at Shorty's, where you'd enjoy its butter-basted corn before chowing down on fresh grilled meats and one of its seemingly endless variety of sauces, all with a side of crinkle fries. And while other spots have opened up that might be better, for a native Miamian, nothing beats the original.
Overtown
If referees in the NBA can't argue with LeBron James, than neither should you. So if you're surprised to see the Overtown institution on our list, put aside what you may or may not have heard and know LeBron penned an entire article about how good this place is. Its sweet, tangy mustard sauce brings out the flavor in everything from the ribs to the rice & beans, and while this place is as much a soul food joint as it is barbecue, if you want authentic, Overtown-style ribs, there's nowhere better.
Coral Gables (& other locations)
After new ownership brought this place back to life last year -- and brought back the original Uncle Tom's BBQ sauce -- it's quickly become not only one of the best barbecue spots in South Florida, but was also named by some major barbecue experts as one of the 15 best new barbecue restaurants in America. The celebrate the accolades, the new owners of the SW 8th St. landmark opened two new locations in the past couple of years, in Pinecrest and Hialeah.
Tamiami Trail
If you want an absolutely, only-in-Florida experience, you've got to stop at this BBQ shack deep on Tamiami trail at the edge of the Everglades. No, they don't steal your identity as soon as you walk inside, though that would be a nice touch. But they've got a gator burger, for crying out loud, along with gator sausage and deep-fried gator bites. All the meat is smoked with Blackjack Oak, and you can enjoy all of it alongside their legendary fry bread under chickee huts.
Opa Locka
Sure, standing outside in Opa Locka in the middle of a sweltering afternoon/anytime after dark isn't exactly on the top of anyone's Miami bucket list, but the barbecue sandwiches you are rewarded with for doing it should be. This super-authentic rib shack has a smoker sitting outside, from which they pull your meat, chop it up , and soak it in their special barbecue sauce. And it's nearly two meals' worth of food for under $10. Pro tip: If you have a hankering for a rib sandwich and a lap dance, they'll deliver to Club LEXX next door, which is why it's also the best strip club food in Miami.
Coral Gables
While the prices at Swine can be pretty hard to stomach for anyone used to "authentic" barbecue, the food most certainly is not. Not only are its wings some of the best in the nation, but it takes barbecue beyond the traditional and makes stuff like wood-fired and grilled octopus with Georgia-peanut hummus and a 12-hour pork shoulder with tomato-peanut relish. The Yardbird team's barbecue outpost is just as good as its older brother, which is why it makes the list despite the staggering checks.
North Miami
Top Chef alum Howie Kleinberg made the very un-TV-show move opening his flagship restaurant in North Miami, a place you don't exactly see in rap videos and Keeping Up with the Kardashians. Which is one reason why he's still in business. The other is his food, which includes possibly the best brisket in South Florida, definitely one of the best burgers in the Hot Mess, and an entire menu of Miami-themed burgers as well.
Ft. Lauderdale
Yes, we're aware Ft. Lauderdale is NOT Miami, so please hold off on your accusations of not passing third grade geography in the comments. But we'd be remiss to leave a spot that's regularly cited as being the best barbecue in South Florida off our list. A spot that, despite being closed on Sundays for church and Mondays for fishing, still packs 'em in every day at lunchtime, serving what some argue is the best barbecue you'll get until you're far enough away to be in the "South."
Downtown
"Roadside" being a pretty relative term here, since it's located in the heart of Downtown next to a Metromover stop. But it stays packed thanks to an inventive menu with stuff like mojo BBQ pork leg, smoked fried chicken, and chopped duck sandwiches. It's also got jerk chicken, and even a veggie burger, making this possibly the most vegetarian-friendly barbecue joint you'll find.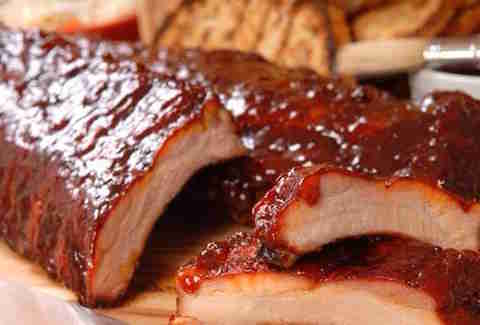 Homestead
In South Florida restaurant terms, being an "institution" generally means you've been open for more than one real estate crash, and Shiver's has survived a lot more than that. This family-owned joint in Homestead has been around since 1950, slow-smoking meats in a hickory smoker and making its brisket a destination item for Miamians for over 60 years. And while the trip down takes a lot longer than it did when this place first opened, the best barbecue in Miami is always worth the drive.

Sign up here for our daily Miami email and be the first to get all the food/drink/fun in town.

Matt Meltzer is a staff writer at Thrillist. Follow him on Instagram @meltrez1.