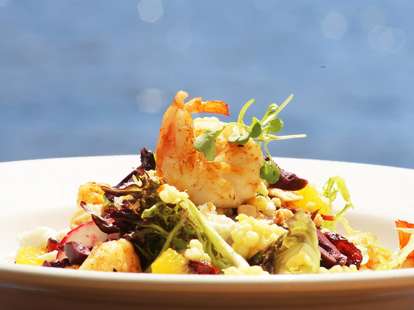 Seaspice
Seaspice
There's nothing quite as Miami as spending an entire Saturday Instagramming pictures of yourself on your boat… okay, somebody else's boat. But taking all those selfies works up a powerful hunger, so as your day on the water progresses, we'll take you from the Miami River up to Palm Beach County and tell you the best restaurants to tie up and tie one on.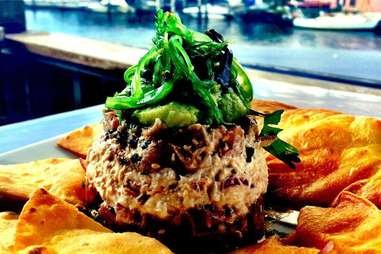 Miami River
Back when the Miami River was pretty much just a place to dump corpses and export mattresses, Garcia's still managed to serve the freshest seafood in Miami, with its fresh-off-the boat specialties plated with a breathtaking view of... corpses and boats full of mattresses. But now the river -- and the surrounding neighborhood -- has cleaned up so you can enjoy what's STILL the freshest seafood in Miami.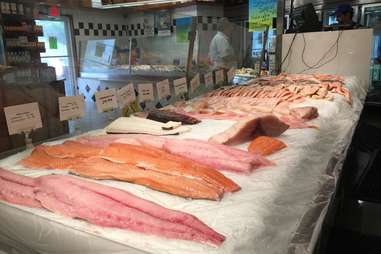 Miami River
Though not the institution that its next-door neighbor Garcia's is, the seafood at Casablanca is every bit as good, and the menu even a little more upscale with stuff like its signature crab-stuffed lobster and a raw bar with an impressive collection of ceviches and tiraditos. They've also got a seafood market inside, if you feel like grabbing something to take back on the boat with you.
Downtown
If you're the guy who actually OWNS the boat -- or one of the girls tagging along -- this is THE boat-up go-to for Sunday brunch. If not? Well the $125 price tag that comes with Zuma's legendary boozy brunch might be a little out of your... oh wait, never mind. It's Miami. Enjoy paying off that brunch until 2017.
Miami Beach
While Miami Beach is severely lacking when it comes to boat-up dining, the saving grace is this restaurant at The Standard, where you'll get some of the best fries in the city, which you can wash down with half-priced drinks from 4-7pm daily. And if a day in a bathing suit makes you hungry for something other than grease and alcohol, its menu of spa cuisine is also among Miami's best.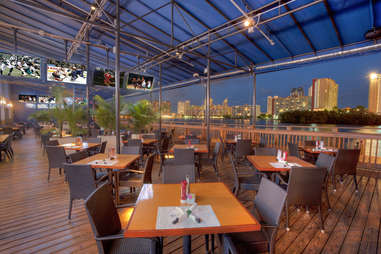 North Miami Beach
Remember when your mom used to tell you to stay out of the pool for, like, a week after you ate? That's especially important advice to heed here, where you'll be stuffed with the best bar menu in South Florida, then given 2-for-1-drinks all day, every day. Both are things that don't mix well with a swimming pool, which its also got on the patio along with more flat screens than you can possibly watch.
North Miami Beach
If burgers that come with an instant side of Lipitor aren't exactly what you're craving after a long day on the water, right next to Duffy's is this spot, which serves a Mediterranean-inspired menu with lighter fare like the truffle tuna roll and the whole grilled branzino. And while smoking a stogie on your boat is never a bad idea, they've also got an adjacent hookah and cigar lounge for after dinner.
Ft. Lauderdale
Just don't confuse it with the Bimini Bay CLUB, because that's a dive bar that shows pornos on the TV, and even worse has nowhere to hitch up your boat. This place, however, is the best restaurant on a canal in one of the world's best canal cities, where you can get fresh seafood and steaks, right before the 17th St bridge. Or go to the bar and ask for Timmy. Tell him Thrillist sent you.
Oakland Park
There's really nothing worse than being four hours into your boating day, drifting all the way up to Oakland Park, and suddenly realizing, "Oh crap! I'm missing the World Logrolling Championships on Spike!" But don't worry! Bokampers has you covered with 350ft of dock space, 150 flat screens, and even a full sushi bar to keep you energized so you can watch those high-intensity log rolls.
Pompano Beach
Hands down the best new waterfront restaurant to open in Broward in the past year, here an all-star team of chefs made up of Nader "Ned" Jaouhar, Kareem Lakchira, and Andy Patton have created the most surprisingly tasty menu you'll find on the Intercoastal. Anywhere. Like it might be the only time in your life you say, "It's worth going to Pompano." Try the Moroccan meatballs, then move on the greatest use of snack food you'll ever see -- the Cheetos-crusted catch of the day.
Boca Raton
If you've got a special lady on your boat and want to cap off your day on the water with the perfect dinner... who are we kidding? If you own your own boat you really don't need our help to seal the deal, but hit this spot at the Waterstone Resort anyway, where you can sit closer to the water than you could on your boat and enjoy the seafood heavy menu with seared yellowfin or snapper ceviche. It's also the rare seafood place that does steak perfectly, so grab the filet mignon if you want something a little heartier.
Miami River
These guys need to be included because, well, look at the place. That said, our co-founder has particularly strong feelings about a recent dining experience, which we've included below:
Lets overlook the slutty flash of a menu replete with truffles, a caviar section, and one devoted to $70+ "wood-fired casseroles" that actually arrived dumped out on a plate (sans the rustic iron casserole dish because "we only ordered it for one") and was really just a piece of fish. Instead consider, among the exclusively hyper-expensive items our waiter saw fit to recommend, the black foot ham, which Seaspice sells for $40/oz.

We ordered the croquettes instead as an entry-level way to get some of that same pig, so you can imagine my surprise when moments later a huge board of slick crimson ham arrived at our table in lieu of our croquettes. It might have been 3-4oz of the stuff. Was this a gift? A mistake? Our waiter was conspicuously absent.

We dined in the company of mystery and that $120-160 luxury ham trap for 20 minutes before our waiter reappeared to feign confusion regarding his felicitous mistake. How embarrassing! How $104-to-144-for-Seaspice embarrassing! Well that was the last we saw of our waiter, so when someone else brought us our check I was glad to see Seaspice protected his interests by including a modest 20% tip on all bills. What's 20% of $104-144?

When my fury at Seaspice's shameless greed had subsided, I took a moment to reflect on it in context. Surrounded as I was by an exceptional concentration of that breed of tacky assholes endemic to a certain layer of the Miami water column, I soon realized Seaspice defrauding its customers is akin to a horrifying creature of the deep who survives by devouring other horrifying creatures of the deep. My anger was as misplaced as I was. When you watch The Wire on your HBO Go and Omar rips off drug people, you don't cry for the drug people. Then again, it was more about money than meat when Omar went HAM.
~Adam Rich

Sign up here for our daily Miami email and be the first to get all the food/drink/fun in town.