FELIPE CUEVAS
FELIPE CUEVAS
Sure, dating in Miami may be different than anywhere else, but no matter where you are, the morning after a particularly good one -- or any morning for that matter -- you're going to need a sweet place to go for breakfast. That's why we rounded up the 13 best places for AM-eats in the 305...
Coral Gables
What you're getting: Stacked (aka breakfast lasagna)
This new-ish AM eatery has been an instant hit with the Gables crowd thanks to things like breakfast lasagna, which has layers of eggplant, tomato, ham, Gorgonzola, basil, and tomato sauce that are topped off with a poached egg, sprinkled with shaved Parmesan, and served with an arugula and olive salad. We think that should hold you until dinner.

Key Biscayne
What you're getting: World Famous Ted's Special
As one of the only eating spots on the island, this 24-seat Formica countertop diner is like Cheers for the Key Rats. You can't leave without ordering the World Famous Ted's Special, an open-faced English muffin with eggs, bacon, ham, cheese, and tomatoes.
Coconut Grove
What you're getting: Nutella Filled French Toast
There is something to be said about a place where you can do what leads to a hangover one night (Whiskey Wednesdays, anyone?) and cure said hangover the next morning... or, err, whenever you get up. Breakfast is served daily until 2:45pm for those late risers.

Various locations
What you're getting: Carretero Breakfast
Whether you are ordering from la ventanita or sitting inside, you will be eating some of the most delicious Cuban food around. Order the Carretero Breakfast with the two croquettes option. The side of politics is not optional, however.
Buena Vista East
What you're getting: The chocolate croissants
It's hard to find a truly legit French place around these parts, but this one on the top of our list. If you are watching your weight, go with the leek quiche, but it will be hard to resist the racks upon racks of freshly baked chocolate croissants and breads.

Aventura
What you're getting: Matzoh Brei
Curious about Matzoh Brei, the dish of matzo fried with eggs? This is where you go. As for your cousin Moshi, you can bring him along as there's a whole kosher section. On the run? Grab one of the signature bagels to-go.
Edgewater
What you're getting: The 2-2-2-2 special
With close proximity to Downtown, this diner is a trip to The Twilight Zone as it hasn't changed much since it opened in 1938. An unpretentious environment and an iconic and U-shaped counter with red leather barstools make it the perfect place for the 2-2-2-2 special -- two pancakes, two eggs, two pieces of bacon, and two sausage patties.

Palmetto Bay
What you're getting: Bagel with lox and cream cheese
Who says you have to go all the way to Aventura for good bagels? Thankfully, this Greek-run Jewish deli (trust us, it works) makes a mean bagel. Get there early as items run out quickly. Pro-tip: they are very serious about their smoked fish selection, so learn the lingo before you go. Nova is not lox and vice versa.
Downtown
What you're getting: Make-your-own breakfast sandwich
This 24-hour cafeteria is a nice departure from the Starbucks and Au Bon Pains of the world. Offering fresh-squeezed juices, strong coffee, and a robust menu of breakfast-y stuff and sandwiches, most of it under $10.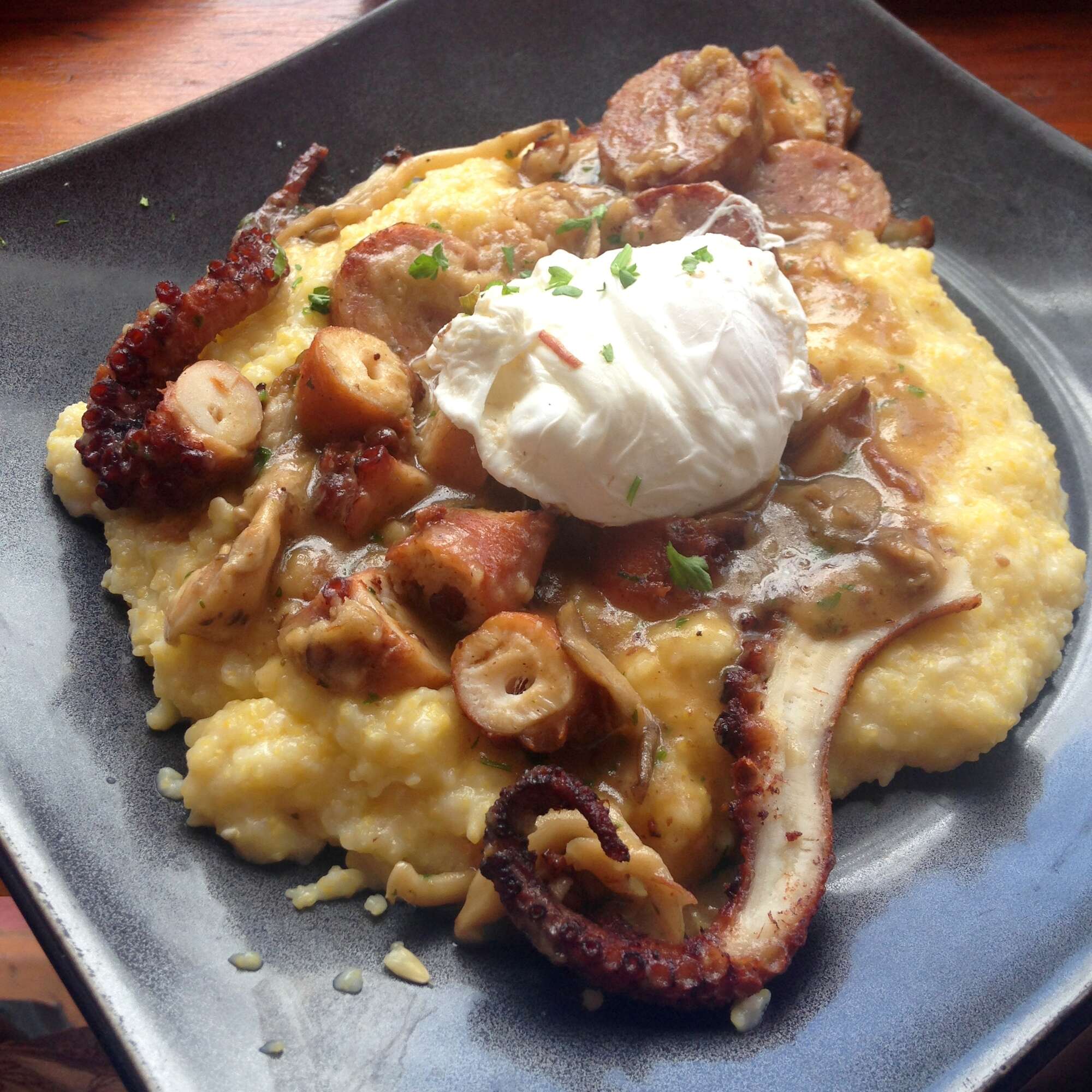 Surfside
What you're getting: Duck confit latke hash
We've waxed poetic about this deli with a twist in the past and it isn't without reason. This good ol' boy serves badass breakfast and deli fare all day long. We see duck confit latke hash in your near future.

Sunset Harbour
What you're getting: Kouign-amann
Cult following is putting it lightly. There isn't a menu as the items are baked fresh daily and constantly change, except for the flaky croissants of varying fillings, but otherwise expect fancy things like kouign-amann (look it up now!), mango rosemary focaccia, and cream-topped financiers.
SoFi
What you're getting: Pinky's Hollywood Breakfast
This 24-hour eatery plates just about every form of comfort food you can imagine, from waffle platters and pizza to the famous Big Pink TV Dinn... wait, you had us at waffle platters, but don't miss out on Pinky's Hollywood Breakfast with crispy polenta fries, bacon, spinach, two poached eggs, cheese sauce, and basil, either.

Various locations
What you're getting: The Tavern Benedict
Their motto: Why does brunch get to have all the fun? And with a breakfast menu that's been voted the best in Miami and is highlighted by Benedicts in a couple of varieties (Classic, Lo-carb, and Tavern) they're making sure breakfast's weekend sibling doesn't. No matter which of their locations, South Miami or Brickell, you choose.
Sign up here for our daily Miami email and be the first to get all the food/drink/fun in town.