There's nothing people from Miami love more than a great brunch (except maybe a new brunch), but what do we do on off the chance we actually leave the 305? Turns out the rest of the state has some pretty good AM-eats too (who knew?!), so we rounded up Florida's 12 best brunches outside of Miami. You're welcome...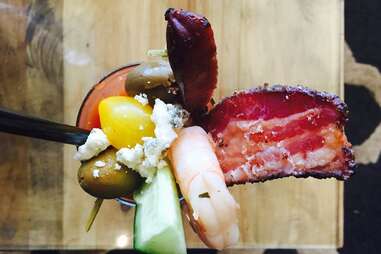 St. Pete Beach
What you're getting: Country Fried Palomilla Steak
Though it's easy to get overshadowed in St. Pete Beach by the epic Don CeSar, head about 200 yards North to the Hotel Zamora (a new-ish boutique spot that's become known for one of the most creative Sunday brunches in Tampa Bay), where you start out with Spanish Monkey Bread (imagine a Cinnabon soaked in caramel then fried), then move on to a deep-dish pancake and Country Fried Palomilla Steak with chorizo gravy before washing it down with a build-your-own Bloody Mary topped with local Gulf shrimp, Quixote Chorizo and chipotle powder.
Orlando
What you're getting: Monte Cristo Waffle Sandwich
While some restaurants stay away from brunch, this one makes it its specialty. It has various locations, but the one at Thornton Park is best for grabbing brunch, whether it's the zany Monte Cristo Waffle Sandwich with smoked ham, Swiss cheese, and raspberry filling stacked on a Belgian waffle then dusted with powdered sugar, or the famous $3 mimosas.

Orlando
What you're getting: Baked Spanish Toast
$2 Mimosas and $3 Bloody Marys should be good enough motivation to get you out of bed and to this Spanish tapas spot by Henry Salgado. Located inside East End Market, it provides that whole food-hall-style dining that's totally on trend. Oh, and about that Baked Spanish Toast, it's a Krispy Kreme bread pudding with Bordeaux cherries, kalimotxo glazed pork belly, and poached local egg.
Tampa
What you're getting: Red Velvet Tower
This restaurant's menu is huge and epically indulgent with eccentric items like monkey bread or macbites, with hickory-smoked bacon, Sriracha aioli, and jalapeño. But, its cream cheese icing-topped Red Velvet Tower... um, towers over the rest at four pancakes tall. It also has its own bakery, which means everything is made from scratch.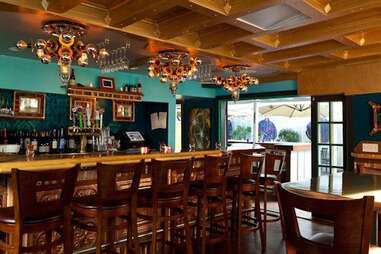 Key West
What you're getting: Fried Oyster Omelette
That whole Margaritaville vibe is cool, but sometimes you just want a classic Key West brunch, surrounded by equally good art and way less Jimmy Buffet. The Bloody Mary comes in a 16oz pint glass with bacon, pickled green beans, and a maple-glazed bacon donut. Blue Heaven, you've got some competition.
Naples
What you're getting: Build-your-own Bloody Mary
Brunch isn't complete without some Bloody Marys and this place makes them just right... err, well you do. It offers all the basics: V8, Clamato, house-made Bloody mix, celery, pickle spears, lemons, pickled okra, mushrooms, caper berries, mini corn, Worcestershire, Tabasco, celery salt, fresh horseradish, and more, but it's up to you to combine 'em. It ranges in price between 8 and 12 bucks, depending on the vodka you choose. And as the name suggests, the view is not too shabby.
Sarasota
What you're getting: Amish Skillet
Yeah, you saw it on Man v. Food. Not only does it have a village and a fully operational restaurant, but its pies are also some of the best in the state. But you're here for the Amish Skillet, which is mixed with homes fries and topped with melted cheese, eggs, and a Southern biscuit. Unfortunately, they are closed on Sundays.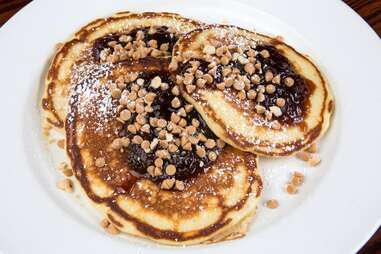 Fort Lauderdale
What you're getting: Peanut Butter 'N' Jelly Pancakes
We don't have a lot of urban taverns like Chicago or New York, but a replica is just fine, especially when the portions are as big as the space, and when the pancakes are laced with peanut butter, jelly, and pecan butter. An extra $12 gets you unlimited mimosas or Bloodys. You may need to schedule a nap after.

Tallahassee
What you're getting: Gulf Blue Crab Cakes Benedict
You can't go to the Gulf side of Florida without eating blue crab (or oysters, shrimp, frog legs, etc.). These ones get brunch-y with poached eggs, Creole tomato sauce, sautéed vegetables, and tasso hollandaise. No one makes them better than Sage, one of the few sweet spots in a city of college students. Make sure to grab a seat on the outside patio.
Boca Raton
What you're getting: Bacon & Jalapeño Rangoon
The menu is small, but there are some solid contenders like Bacon & Jalapeño Rangoon with chimichurri, or Kapow Smash, a pan-fried potato pancake, stuffed with cream cheese, sour cream, scallion, and scrambled eggs, but you're really here to extend your Saturday night into Sunday morning with help from a DJ and your choice of $5 Bloody Marys or $15 bottomless mimosas.
Jacksonville
What you're getting: Deviled eggs
Classy French bistro meets Southern charm at this riverside spot in Jaguar town. It dedicates a section of the menu to deviled eggs. We suggest you order all four options on the menu for an impromptu tasting, which ends with caviar and Champagne. If you're strapped for cash, the standard "oeuf du diable" are one buck.

St. Augustine Beach
What you're getting: Buffet
Nothing beats a good old buffet, especially ones with a view of the ocean. Bring on the unlimited quesadillas, praline French toast, pancakes, and sausage links. If you can't get enough of the place, it also doubles as a music venue at night.
Sign up here for our daily Miami email and be the first to get all the food/drink/fun in town.