J'adore Sunday Brunch at Hyde Beach at SLS
The raw bar's got Jonah crab claws, Alaskan king crab legs, Florida pink shrimp, oysters, and lobsters, as well as a bikini-clad bartender to mix you a Bloody Mary from their roving cocktail cart. Plus, after you're meal you can hit their California Beach House and hang with all the girls by the pool who are just dying to meet you.
  Continue Reading
Bloody Mary Bar at Terrazza
Sure, their boozy brunch and simultaneous pool party are among the best in Miami, but you know what would make 'em the best thing to ever happen to your Sunday morning Instagram? A $20 all-you-can-drink Bloody Mary bar with corn dogs, bacon, pickled quail eggs, charcuterie, and sauces -- from Worcestershire to Sriracha. Wish granted.


Dim Sum Brunch at Macchialina
Apparently the guys who run Macchialina listened to their Mother -- or everyone's Mother -- because the Italian Dim Sum brunch they ran on Mother's Day was such a hit that they're now offering their little plates of Tuscan chicken wings, ricotta raviolini, and short rib cannelloni every month. Add on $20 bottomless Bloody Marys and mimosas and you'll see why Mom thought it was such a hit.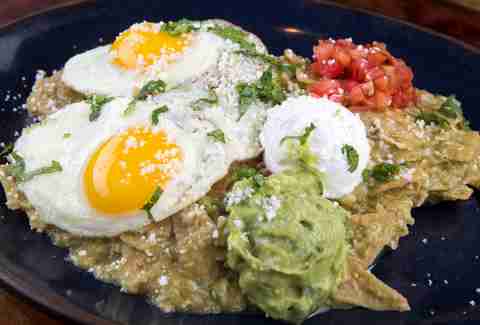 Mexican Brunch at Rocco's Tacos
We already teased you with the huevos ahoghada con shortribs at this brand new Las Olas Mexi-brunch, but now you'll be spending all your Sundays drinking endless Barefoot mimosas or Bloodies for $12 while eating those shortrib eggs, the wet burrito con huevos, or the Benedict Azteca: poached eggs in masa sopes, pork cochinitas, salsa rojo, spinach, and chipotle crema w/ Mexican potatoes.
 


Samba Brunch at Sushi Samba Coral Gables
Their South Beach big brothers have been doing the brunch thing since, like, the Miami Vice era, so the Gables team decided to get in on the act with stuff like eggs Benedict with honey-soy braised short rib. Plus they've got $25 bottomless Zonin Prosecco and $60 bottomless Pommery. AND you can get all the brunch you can handle for $30.
  Cleveland ain't got brunch foods like these, we promise