Miami We've already told you our picks for South Florida's best -- and most underrated -- burgers, but this Friday, our friend the Burger Beast is giving you the power to pick Miami's best meatwich at the Burger Brawl. Here's the deal: 20 sweet, local chefs are slinging (mostly) new National Burger Month creations at the Magic City Casino, and you -- armed with a ballot, Sam Adams beer, and some ice cream from Azucar -- can tell us who's tops. A ticket gets you a vote... which should probably go to one of the eight beauties previewed below.
Recommended Video
Tuna Eyeball with Timothy DeLaGhetto and Ben Sinclair
The Spot: OTC
The Burger: A flatiron-cooked New Mexican Green Chili Cheeseburger topped w/ melted cheddar, green chili relish, and sweet onion jam. Continue Reading
The Spot: Eating House
The Burger: This Black Angus beef Carbonara Burger is topped w/ applewood-smoked bacon, a fried egg, black truffle, plus fontina & Parmigiano-Reggiano.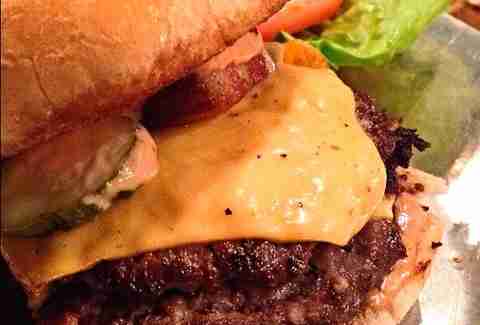 The Spot: Swine Southern Table and Bar
The Burger: Short rib, brisket & smoked pork are just the start of The Swine Burger, which also comes w/ homemade dill pickles, lettuce, tomatoes, American & Swine's special sauce. Oh, and even more pork in the form of delicious bacon.
The Spot: Pincho Factory
The Burger: The Toston Burger -- it's one of our most Miami menu items, and it starts with two tostones, then gets Jack cheese, lettuce, tomatoes & creamy cilantro, and finally two patties made w/ short rib, brisket, and chuck, who hasn't been part of something this great since he teamed up with Yvonne Strahovski.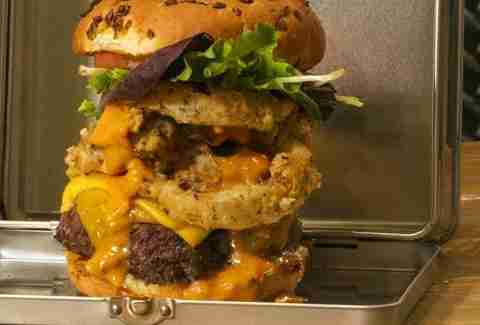 The Spot: Tucker Duke's Lunchbox
The Burger: The Burger Brawl Burger is an all-beef patty w/ American & cheddar, plus crispy onions, mixed pickles & ketchup leather on a crunch bun.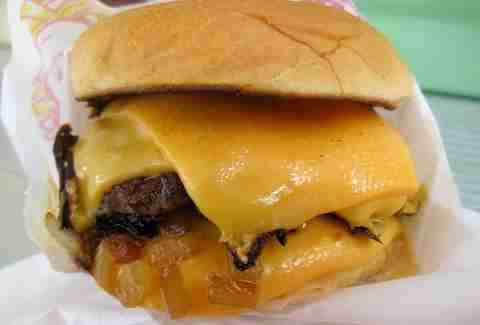 The Spot: Jefe's Original Fish Taco & Burgers
The Burger: Jefe's Cheeseburger = 100% beef stacked on a toasted bun w/ deli-style American cheese, grilled onions & Jefe's own secret Boss Sauce.
The Spot: Gilbert's 17th Street Grill
The Burger: Take certified Angus beef seasoned with Gilbert's own blend, add some sun-dried tomato pesto, mozzarella & a drizzle of olive oil, then stuff it between two sweet egg buns, and you've got the Pesto Burger.