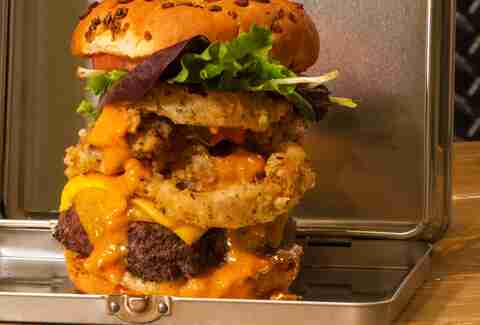 The Tucker Duke
Tucker Duke's Lunchbox (address and info)
Various locations
You know what they say about big mouths? You need them to eat The Tucker Duke, the signature burger at this beach shack/Americana diner; it comes with fried onion rings, American cheese & tucker sauce on top of it. Pro tip: they're only $5 on Tuesdays.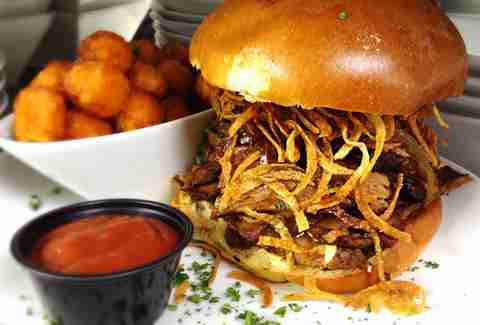 The Drunken Monk
Teak Neighborhood Grill (address and info)
Orlando
Located on the West side of town, away from the tourist traps, and fitted with 30 massive TVs plus a 140in projector screen out on the patio, Teak's burger comes w/ Angry Orchard onion jam, roasted cherry tomatoes, smoked bacon, herb mayo, provolone cheese & Teak chips all between a pretzel bun.
Cowboy Style burger
Charm City Burger Company (address and info)
Deerfield Beach
All burgers are served on a sesame seed bun, just like Burger King, but that's where the similarities with this quirky cartoon-mural'd spot ends, since Charm City's Cowboy Style burger has thick-cut bacon, aged cheddar, sautéed 'shrooms & grilled onions on it.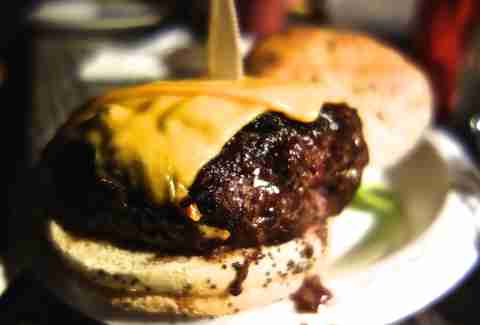 Sirloinburger
Le Tub Saloon (address and info)
Hollywood
There's always a wait (about 90 minutes) because the 13oz burgers are cooked on a tiny, outdoor grill. The upside is that after waiting you get the kind of sirloin meatwich that'll turn you into a (Le) Tub if you have to many.
The Inside-Out Juicy Lucy Burger
M.E.A.T. Eatery & Taproom (address and info)
Various locations
This sucker come with bacon, veggies, etc., plus gooey pimento/American cheese that, unlike a real Juicy Lucy, comes on the outside of the burger... making it pretty much like any other burger. Oh well, maybe the chefs had a few too many of their own seriously good adult milkshakes.
Kobe Beef Burger
Raintree Restaurant (address and info)
St. Augustine
This isn't a burger restaurant (they've got the best Beef Wellington in town!), but you'll forget that as soon as you see this thing go 7 for 32 in another Lakers loss. Just kidding... as soon as you see it topped with Datil sauce & blue cheese and set in front of you.
The Southern Burger
The Blind Rabbit (address and info)
Jacksonville
This spot is so beloved that there are two locations in the city -- on the beach and by the river -- so people don't have to go too far for this fried green tomato, Creole pimento cheese, peach-habanero hot sauce, arugula, Georgia cane syrup & pickled okra-topped number on a brioche bun
 
'World Champ' Cheeseburger
El Cap Restaurant (address and info)
St. Petersburg
St. Pete has changed a lot since this Ratskeller-like spot opened more than 50 years ago, but the menu of alliterative items like The Daily Double, the Homer Ham Sandwich, and the classic cheeseburger hasn't changed at all. Yayyy!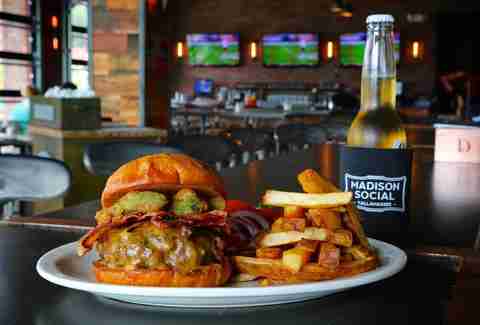 MadSo Burger
Madison Social (address and info)
Tallahassee
This game day destination's has a solid brunch, a seriously generous happy hour, and more, but the best thing about it? This fried avocado & peppered-bacon burger w/ Jameson caramelized onions. Yes Jameson.
 
Burger
The Refinery (address and info)
Tampa
On a mission to make elegant poor man food, this James Beard nominated restaurant by Chef Greg Baker changes its menu a few times a week. This also goes for the Burger, which has included toppings like sliced tomato, red leaf, Banyuls, queso fresco, and cauliflower gratin.
Sign up here for our daily Miami email and be the first to get all the food/drink/fun in town.