While Miami's got plenty of problems, there are great things about every neighborhood. Like Wynwood's art, or Birckell's condos, or Kendall's... um... well anyways, there're a lot of great things in every neighborhood, and hopefully at least one great burger, which is why we've scoured 12 of Miami's foodiest 'hoods and found the best burger in each one. Feast your eyes...

Brickell
EDGE Steak & Bar (address and info)
What you're getting: "Edge" Burger
While having a burger at the Four Seasons seems like the eating equivalent of using your HD plasma to watch reruns of ALF, Aaron Brooks' "Edge" Burger takes perfectly seasoned Creekstone Farms beef, tops it with Vermont cheddar & pickles, and lets you laugh in the face of every seafood-eating dude at the table who sneered when you ordered it.
Coral Gables
John Martin's Irish Pub & Restaurant (address and info)
What you're getting: Pub Burger Blackened
If you're not a regular at this long-standing Coral Gables Irish pub, go in NOW. Its cool air conditioning is a welcomed break from the blazing sun on Miracle Mile, and this burger -- possibly THE most underrated in Miami -- is coated in Cajun spices then flame broiled and topped w/ smoked bacon & Irish cheddar. It will make you so drowsy you'll be forced to enjoy the A/C THAT much longer.
Downtown
DB Bistro Moderne (address and info)
What you're getting: The Original db Burger
Is $35 a little steep for a hamburger? That depends on your definition of steep and whether or not you've recently spent $21 on a vodka soda. Regardless, the impressive price tag on this Downtown burger seems at least a little justified when you see that it is made of sirloin that's stuffed w/ braised short rib, truffle & foie gras.
Ft. Lauderdale
Gilbert's 17th Street Grill (address and info)
What you're getting: Certified Angus Beef® Burger
Much like the unassuming shopping center it calls home, the best burger in Broward doesn't need anything fancy to make it a legend. While the family-run Gilbert's has a full menu of gourmet burger creations, all you need to do is order the flame-broiled 8oz Certified Angus Beef® Burger with lettuce, tomato, and cheddar -- you won't need to order anything else.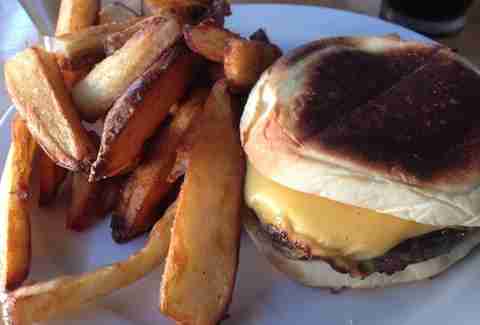 MiMo
Blue Collar (address and info)
What you're getting: Real Juicy Cheeseburger
Until the past few years, anything you'd describe as "juicy" in a Biscayne Blvd motel was probably something that would land you in jail/the walk-in clinic. But thanks to Danny Serfer's Blue Collar, you can order this prime, dry-aged NY strip with lettuce, tomato, and onion on a Portuguese muffin and only feel guilty about the calories.
North Miami
Bulldog Barbecue (address and info)
What you're getting: Black Angus
Top Chef alum Howie "Bulldog" Kleinberg introduced a whole slew of heart-stopping Miami-themed burgers last year, but the guy's a barbecue master so the best bet on the menu (and in all of North Miami) is this one w/ crisp bacon, caramelized onions, lettuce, tomato & chipotle mayo.
Pinecrest
Keg South (address and info)
What you're getting: Keg Burger
Saying this is the best burger you'll ever get in a dive bar is kinda like saying someone's the hottest stripper at Secrets. There's not a lot of competition. But unlike that stripper, this burger will leave you satisfied, thanks to a 1/3lb flame-broiled patty topped w/ cheddar & LTO that will only cost $6, and it's better than anything you'll find at Tootsie's, Scarlett's, or maybe even E11even.
SoFi
Tongue & Cheek (address and info)
What you're getting: Beef Cheek Burger
Jamie DeRosa seems to have killed the curse of his monster space on 5th and Washington, thanks in part to this burger that's topped with pimento cheddar and sweet onions on a brioche bun.
South Beach
Burger & Beer Joint (address and info)
What you're getting: Thunder Road
"Thunder" is a pretty good description of what you'll sound like walking down the road if you make a habit out of eating these half-pounders topped w/ applewood-smoked bacon, American & loads of BBQ sauce.
South Miami
ROK:BRGR (address and info)
What you're getting: Spicy Crunch
If you've got friends in Broward you know getting them to cross the county line for anything other than free bottle service is pretty much impossible. Not that we blame them. But we're glad that ROK:BRGR dared to venture into Dade and is plating this chorizo/prime beef mix that's topped w/ Fritos, chipotle ketchup & chipotle gouda.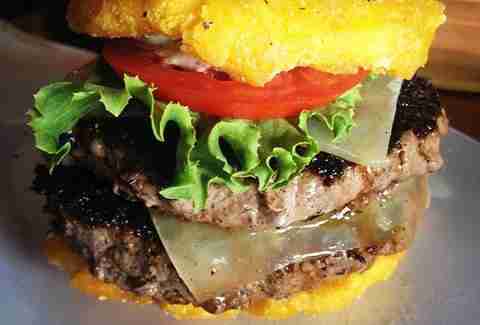 Westchester
Pincho Factory (address and info)
What you're getting: Toston Burger
Miamians love a lot of things, and Nedal Ahmad created the culinary equivalent of a 305 tattoo when he came up with this only-in-Miami burger that's made with two fried tostones, a beef patty, jack cheese, lettuce, tomato & homemade cilantro sauce.
Wynwood
Kush Wynwood (address and info)
What you're getting: LoKal
This might be the most Florida hamburger you could create (without involving a serial killer or bizarre high school sex scandal) thanks to its Florida grass-fed beef, honey mustard made from Florida honey, jack cheese, arugula, tomatoes & Florida avocados. And possibly a side of voter fraud.

Sign up here for our daily Miami email and be the first to get all the food/drink/fun in town.