For years, the best place to find wings in Miami was at the beach on the bottom half of the arms of all the Golden Girls impersonators laying out in the sun. But, thankfully, not anymore! Now the city is teeming with restaurants grilling, frying, and smoking-up the far more appetizing chicken wings, and we decided to compile a list, in no particular order, of the eight awesomest ones in town so, at the very least, you'll know you're eating something that won't make you Blanche.
Crispy Wings, Soi Chinese Kitchen
Overtown
Perhaps the only thing more addictive in Overtown than these wings -- which're fried, cooled, fried again, then tossed in a special Cuban Sriracha -- is…… okay, this is just way too easy.
Smokehouse Wings, Bulldog Barbecue
North Miami
Bulldog's wings are so big they look like they come from a family of chickens related to chef Howie Kleinberg, and, because they're cooked in a smoker (before getting fried for a few seconds, then slathered in Buffalo sauce), they practically fall off the bone.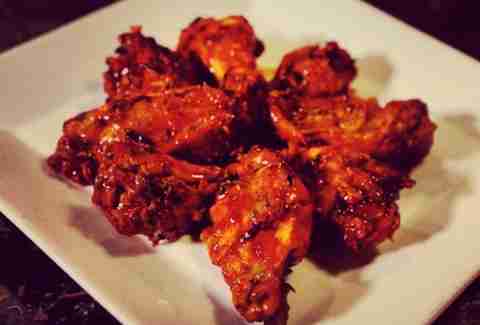 Kiss of Death Wings, Pizza Bar
Miami Beach
You want smoky wings that fall off the bone? Go elsewhere. You want a tangy Buffalo-style number? Not your spot. You want a delicious wing that's also so hot they dare you to eat eight in eight minutes, despite the fact you'll wanna spray yourself with a fire hose after eating just one? Pizza Bar's Kiss of Deaths are your #1 pick.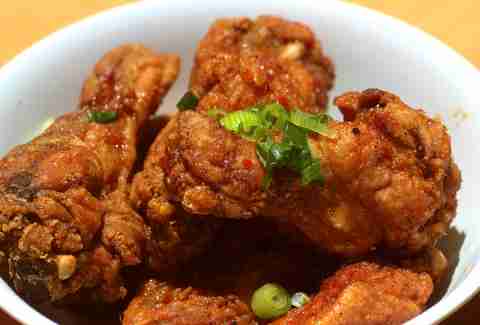 Korean Fried Chicken Wings, Sakaya Kitchen
Midtown
Don't speak out against these twice-fried, sweet, meaty wings covered in garlic and green onions or you may find yourself working in a labor camp for the next 27yrs. Oh, they're SOUTH Korean fried chicken wings? Speak freely, then.
Scampi Wings, Scully's Tavern
South Miami
Chicken served in Miami dive bars typically tastes like New York City smells in the Summer, but it's not so at Scully's where the butter-and-garlic covered wings might also be the best pure-bar food item in the City.
Bucket O' Wings, Titanic Restaurant & Brewery
Coral Gables
These wings, tossed in a creamy Vietnamese Sriracha and Thai chili sauce, are possibly the strongest things to hit the corner of San Amaro and Ponce De Leon since Ryan Braun was playing at Alex Rodriguez Stadium.
Special Grilled Wings, Sports Grill
South Miami
If you haven't spent at least one Sunday at Sports Grill watching NFL football and wolfing down these chargrilled wings tossed in their signature sauce and Worcestershire, then you should probably tell people you're from somewhere else.
Wings on the Grill, Keg South of Kendall
Kendall
Who say's there's nothing better about Kendall than Pinecrest?? Ok, everybody, but they forget the wings at Kendall's Keg South, which're grilled and soaked in barbecue sauce and only available near the Urban Development Boundary.