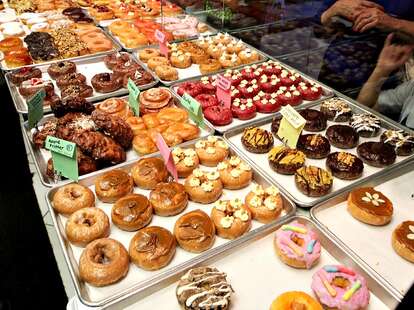 Great donuts that don't come from a chain are about as common in South Florida as turn signals, so if you wanna find the best ones, you're either gonna have to, A) spend hours driving around the tri-county only to be stopped short by a shton of people who WON'T USE THEIR BLINKERS, or B) read our guide to the five best pieces of fried-dough in SoFla. Hint: that second one's a lot easier.
Tongue & Cheek
South Beach
The Must-Get Donut: Bavarian Cream Donut Hole
Not only do they serve up free coffee at Sunday brunch, T&C's also making fresh, from-scratch donut holes that come filled with chocolate, jelly, or Bavarian Cream, which's also a little known '80s supergroup that featured that dude from Falco and... um, that's about it.
Red, The Steakhouse
South Beach
The Must-Get Donut: Fresh and Hot Donut Holes, deep-fried dough covered with powdered sugar and served with caramel, chocolate, and raspberry sauce.
Nothing caps off a porterhouse, creamed spinach, and mashed potatoes like deep-fried dough, right? The makers of Lipitor say so, and so does Chef Peter Vauthy, who made this adaptation of his grandma's zeppolis Red's signature dessert.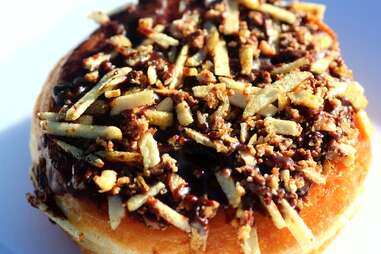 Mojo Donuts
Hollywood
The Must-Get Donut: The 420 Munchies, a glazed donut topped with chocolate, Snickers, and potato strings.
Much like cold fronts, food trends always seem to hit South Florida last. So if you want crazy, delicious donuts with stuff like Fruity Pebbles, bacon, and candy bars on top, Mojo's the only spot around. And don't try going on Miami time -- they close as soon as they run out.
Dandee Donuts
Hollywood
The Must-Get Donut: The Dandee, a glazed donut topped with cake crumbles.
The problem with most donuts is that eating just one as a meal makes you feel like Kate Moss, but eating two leaves you feeling like Augustus Gloop. This Hollywood shop has perfect meal-sized donuts, plus hot dogs and pizza if you feel like being a silly nincompoop.
Moon
Coral Gables
The Must-Get Donut: Thai Donuts, which're clumpy strips of deep-fried deliciousness served with evaporated milk.
Yes, going to a Thai restaurant just for donuts might seem like a... sorryboutthis!... pad (Thai) idea, but the ones at this UM-adjacent eatery have been the student favorite ever since the unfortunate demise of Velvet Creme.
Love free donuts? Find out where to stock up for this year's National Donut Day on Friday, June 2, 2017.