Well, that didn't take long. A week ago we were sitting around questioning where we should go out to dinner. A few days ago we were discussing if we should go to dinner. And today, well, now we're just trying to figure out how to support restaurants that have closed. Of course, you can buy gift cards to use later, purchase merch online, or even write a Google review of your favorite restaurant. But, why not keep the kitchen staff afloat by actually ordering takeout or delivery? 
To-go food is a different ballgame, and navigating where to get the best, biggest, and most-equipped-for-delivery dishes can take some time to figure out. Fortunately, we've found some spots doing fantastic takeout and delivery while we all ride out the coronavirus quarantine. Here are our picks for what food will be best once you get it home.
Recommended Video
Ghost Kitchen: How This NYC Restaurant Is Responding to Coronavirus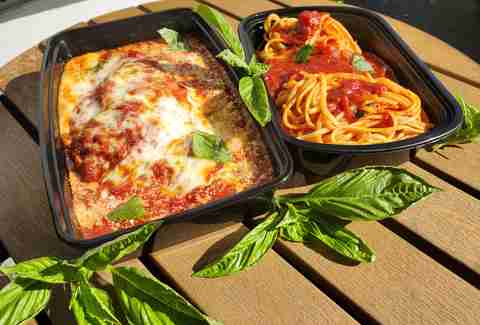 Who better to get your food delivery from than the place that's literally mastered it over the past five years? In addition to doing a banging dining room business, Crust has absolutely killed delivery, offering up a massive plate of chicken parm that can literally feed a normal person for three days. Or your teenager for, like, lunch.
Cost: $22.95; order online
It is, quite simply, the undisputed king of brisket in Miami, slow cooked it true Texas fashion by renowned chef Richard Hales. Though the sandwiches at Society are the highlight of the menu, the savory meat and spicy sauce can dampen the bread in delivery and make the brisket platter a better play. Be sure to get an order of the bread pudding to finish the order off.
Cost: $12; order from UberEats for free delivery, Postmates, and Doordash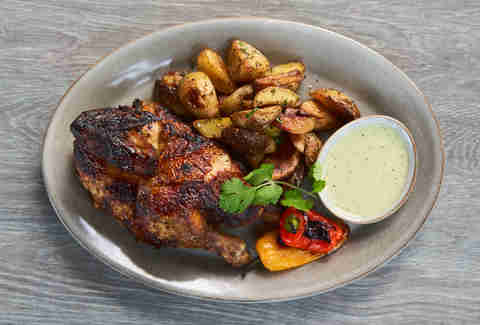 Sure, you could go down to Publix and try to find a pre-roasted bird to take home to your family. But if last week's Hurricane Season Preview Event was any indication, that'll be like the grocery shopping equivalent of rush hour on the Palmetto. Better to order from D-Wade and UD's pizza shop, who's bringing this Bell & Evans Pennsylvania chicken with a 48-hour marinade and Peruvian green sauce right to your door.
Cost: $24 half chicken, $38 whole chicken; order through Uber Eats, Doordash, Grubhub, and Postmates
No need to worry about broken sewer mains ruining your dinner at Rivertail now! Jose Mendin's pan-Latin seafood stylings are now available in the pristine confines of your living room, which may not boast the same waterside ambience but doesn't expose you to the New River, either. The item that'll hold up best for delivery is the crab donut. The fresh crab and honey on brioche won't soak through the bread, but will taste just as good as it does by the water.
Cost: $12; available Wednesday to Sunday on UberEats, with free delivery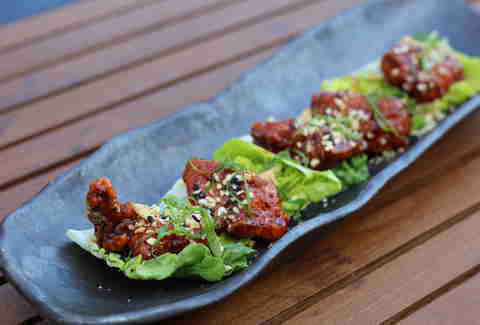 Do these tangy, spicy wings taste nearly as good without a complete panoramic view of Miami from the 40th floor? Find out as Sugar offers this plus the rest of its menu for delivery. Cool off from all the spice with the Audi and Ramsa ice creams, which are made with various types of alcohol. So even if they melt on the way, they'll still be worth drinking.
Cost: $16; available on UberEats
If you've got a decent-sized group to feed, the family platter from this Downtown/Coconut Grove Greek smash is a pretty fantastic value. You'll get a heaping plate of seasoned beef, chicken, and lamb patties served with veggies, Greek fries, and pita bread. And it's available for two of four people -- or really any even number if you know how to order.
Cost: $30 for two, $55 for four; order directly from the restaurant
The self-proclaimed purveyors of the "original Cuban taco" are a far better delivery play for their massive bowls. Which not only don't soak through the tortilla, they're also two meals' worth of food for under $20. The vaca frita will fill you up the most, with the fried cow over a heaping bed of quinoa, cucumbers, black bean pico, cotija cheese, avocado, and aioli.
Cost: $16; order direct from the restaurant in Coral Gables, UberEats everywhere else
Carboload with this over-the-top Italian pasta from Executive Chef Marco Giugliano. Like the name implies, it's a massive plate of hearty, beefy noodles with a thick cheese fondue, which should be enough to fill you up for a day. If it's not, go ahead and order two, because when you order delivery straight from the restaurant you'll get HALF OFF your order.
Cost: $24 (before discount); call 786.953.6946
The duck carnitas tacos at Coyo can make a pretty legitimate claim as the best tacos in the city. If you eat them at Coyo. Much as we love those guys, no taco shop on earth can conquer the pure physics of a juicy taco and a corn tortilla made to ride in a delivery car. So for the same phenomenal flavors in a not-soggy concoction, opt for the quesadilla, which also brings an extra helping of cheese on a toasty flour shell.
Cost: $14; available on  Uber Eats, Postmates, GrubHub, and DoorDash 
Those who've been around Miami a minute know "a minute" means a lot longer than that, and also may recall the legendary La Pollita food truck. The people behind that beloved poultry on wheels opened Boia De last year, and will be bringing back the truck's signature fried chicken sandwich as part of the curbside ventanita menu starting on Thursday.
Cost: $11; takeout only
Plant-based eaters, don't despair! You're not sentenced to endless weeks of lettuce and kale, as the folks at Fooq's are offering this rice dish with raisins, carrots, eggplant, and split peas as part of their delivery menu. And best of all, you'll get 30% off all wine-to-go orders, with a free wine consultation by request.
Cost: $24; 10% off if you call-in to pick up at 786.536.2749; delivery through Uber Eats and Postmates.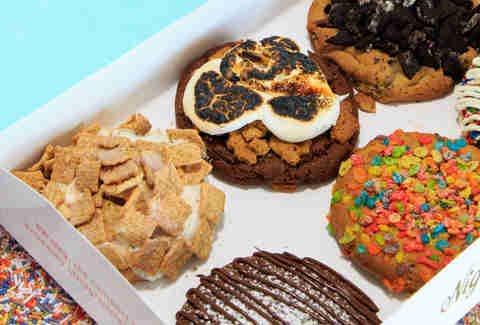 Nice to know that the more things change, then change again, then get downright effing surreal, some things stay the same. Like how Night Owl Cookies will still bring you a dozen cookies at almost any hour of the night. And, though you can still go into the store to pick them up for now, you'll have to wait outside until you get a text saying they're ready.
Cost: $2.75 a cookie; order through Postmates
You thought social distancing meant no keg parties for the foreseeable future? So long as you're throwing a one-person keg party, indeed it does not. Veza Sur will let you pull right up to the curb and load up a keg of its finest Latin Lager, or any other beer in stock. The brewery also has cans, bottles, and crowler fills if you don't feel like doing keg stands by yourself.
Cost: Varies by beer and size; order online, choose a pickup time, then show up and open the trunk so your beer can be delivered with no contact
Broward County, you're not left out of the curbside crowler fills either! Invasive Species will have, as its Instagram claims, "our cleanest bartender" standing curbside from 5-8pm, where you can roll up and have your crowler filled without leaving your car.
Cost: Varies by product
Sign up here for our daily Miami email and be the first to get all the food/drink/fun in town.