Photo courtesy of Miami Marlins
It's about that time of year again, when Miamians notice fireworks coming out of that big, spaceship-looking thing off the 836 and say, "Oh that's right, we have a baseball team." Yes, South Florida, your Miami Marlins are back in action for the 2022 campaign, opening their home season April 14. And even if you don't know a curveball from a croqueta, the cool confines of Loan Depot Park are an excellent place to spend a sweltering summer night.
Of course, baseball games can be long. And unless you're enamored with the subtle nuances of a full count hit and run, chances are you're going to the ballpark for more than just the game. The Marlins understand this, and have stocked their stadium with some fantastic local eats, along with a new frozen drink bar, craft cocktails, and a special new beer brewed locally just for the Fish. It's kind of like going out for a night in Wynwood, but with better parking. Read on for the best stuff to eat and drink at Loan Depot Park, whether you're there to celebrate America's pastime or simply craving nachos served in a tiny batting helmet.
The Pincho Burger
Pincho (Section 19)
The award-winning Pincho burger—once solely the province of those lucky enough to live in Westchester—is now easily obtainable between home plate and third base on the main concourse. The all-beef patty comes topped with American cheese, lettuce, tomatoes, onions, secret pincho sauce, and potato sticks. Are you noticing a theme yet?
Ham and Cheese Croqueta
Islas Canarias (Left Field)
The creators of Croqueta County are bringing the undisputedly best croquetas in the 305 to the ballpark, allowing baseball fans to enjoy their creamy, crispy, greasy goodness while taking in the game over left field. The Islas Canarias coffee counter will stand above AutoNation Alley, serving cafecitos and other Cuban coffees in case you need a pick me up around the fifth inning.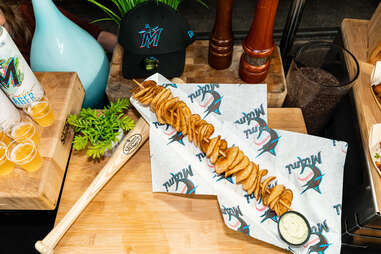 Potato Twist with Cilantro Ranch
The Change Up (Section 2)
For season ticket-holders who aren't trying to make a regular diet out of hot dogs and croquetas, there's the Change Up, loaded with a perpetually rotating menu of chef-curated culinary wonders. The leadoff hitter is this massive Potato Chip Stick, drizzled with a cilantro ranch sauce for your gustatory pleasure.
Mushroom & Pepperoni pizza
Miami's Best Pizza (Section 10)
This UM-adjacent pizza institution has been a baseball pregame ritual for Canes fans for decades, and now it's taken its act to the Show with a stand down the first base line. This is Miami's Best's first season at full capacity, and the thin-crust adaptations of the Coral Gables original stand up to the slices you so fondly remember. The mushroom and pepperoni is Miami's Best's latest addition to the ballpark lineup, but the cheese and veggie options are also some of the best pies in MLB.
BBQ Pork Slider with Creamy Corn Nuggets
Magic City BBQ (Section 7)
Miami isn't as known for our barbecue as we are for, say, Cuban sandwiches. But this Dade County take on slow-cooked meats gives the style a Miami twist, toppling everything with sweet, smoky pork. While the Smoked Pork Nachos are never a bad move, this year's highlight is the Pork Slider sided with creamy corn nuggets. It's about as close to Carolina as you'll get without a 12-hour road trip, and the sandwich's epic size makes it the most satisfying meal in the ballpark.
Salchipapa
Bites de la Calle (Section 8)
Though the words "Miami" and "efficiency" should never appear on the same page, this dish might be the surprising culinary advent the world needs. Rather than fumbling with a hot dog, a tray of fries, and a condiment dispenser while rushing to get back before the next at-bat, the Salchipapa combines them all in one ultra-convenient dish. The chopped-up wiener is scattered atop a piping hot order of fries, then covered in a savory pink sauce and presented in one fell swoop—allowing you an extra hand to grab the dozens of napkins eating it will undoubtedly require.
Marlins Lager
Multiple locations
Biscayne Bay Brewing concocted a special ballpark beer just for our hometown team—a refreshing, easy-drinking lager that just begs to be enjoyed indoors in a climate-controlled dome. You can find it most readily at the Biscayne Bay Beer Hall just inside the Home Plate entrance, but the colorful tall boy cans are available at numerous concession stands around the ballpark, too. For fans visiting from out of town, it's a great way to sample our local beer scene without missing an inning.
Frozen Sunny Mango Margarita
Sip Shine Bar (Section 2)
No trip to Miami is complete without a frozen drink, right? And even if you're merely dipping your toes into our balmy environment from the comfortable 72-degree confines of Loan Depot Park, you can still drink like you're lounging on the beach at the new Sip Shine bar near Section 2. It's like they put a Wet Willies near the right field foul pole—minus the twerking—and the best thing on the menu is this tropical-flavored Margarita fit for a sun-drenched pool party. Just try to remember to keep your clothes on.
3-O-5 Meal Deal
Obies (Section 13), Familia Faves (Section 36)
Maybe you're a baseball purist, and while you can't do anything about the DH coming to the National League, you'll be damned if you're gonna eat potato sticks at a ball game. The Marlins feel you, and are taking the unusual step of making ballpark staples CHEAPER. The new 3-O-5 menu offers $3 hot dogs, popcorn, nachos, and pretzels. And in an unprecedented (as far as we know) MLB move, they've cut beer prices to $5 a piece. The deal is only available at two stands, but given the steep discount, it's well worth the walk.
Hot Dog Completo
Bites de la Calle (Section 7)
Yes, you can find hot dogs aplenty at Loan Depot Park—as well as at 29 other MLB stadiums and most of the minors. But do any of those other parks offer a hot dog topped with cilantro cream sauce and potato sticks, much like the one you might scarf at a late-night Colombian diner? No, no they do not. But Miami does at the new Bites de la Calle stand, set to feature Latin American street food like this drool-inducing creation.
Matt Meltzer is a Miami-based contributor for Thrillist, a veteran of the United States Marine Corps, former pageant judge in the Miss Florida America system, and past contributor to Cosmopolitan magazine. Matt graduated with a BBA from University of Miami and holds a master's in journalism from the University of Florida. He currently lives in Miami with his Betta fish, Bob.