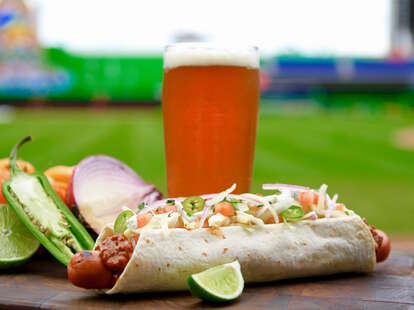 We all have our reasons to go see the Marlins play. Some of us are season ticket holders. Most go to watch the other team. But thanks to executive chef Vince Navarrete and Levy Restaurants, the official restaurant partner of Marlins Park, we now ALL have a great reason to sit through nine innings of Marlins baseball: the food. From stadium standards like popcorn and beer, Cuban food, and decked-out suites with wine and a rolling dessert cart, to the infamous Diamond Club -- an exclusive area behind home plate with themed food nights, rotating chef tables, unlimited cocktails, gourmet BBQ, an entire nacho bar, and more -- Marlins Park has enough options to keep fans fat, happy, and satisfied all 81 home games of the season.
Miami Mex Taco Dog
Miami Mex
Where to find it: Section 5
Brace yourselves: the taco dogs are coming. And then staying, for a while. A Marlins Park exclusive, this is a chargrilled footlong frank smothered in braised chili con carne, Monterey Jack cheese, cilantro, shaved cabbage, charred jalapeño lime aioli, and fresh salsa. Like a taco, it's all wrapped in a fresh flour tortilla, and like a hot dog, it's the guilty pleasure you can justify getting because "it's the weekend and I'm at a baseball game."
Lechon Pork Nachos
Taste of Miami
Where to find it: Section 27
You can't go to a stadium and not have nachos. But you also can't be in Miami and not have Cuban food. Cue Chef Vince, who skillfully combines both. In place of chili, meat, and fake cheese, this huge batch of corn tortillas is topped with prime, slow-roasted lechón, avocado crema, tomatoes, red cabbage, and cheese.
Grand Slam Bash Burger
BGR Deck
Where to find it: Section 19
At Marlins games, there are two kinds of grand slams: the ones Stanton smashes, and this one, which happens in your mouth. For a quick and easy food coma, this artery challenger stacks four (FOUR!) smashed custom-blend beef patties on a potato bun, and tops it all with American cheese, lettuce, and tomato.
House-Smoked Beef Brisket Mac & Cheese
MIA BBQ
Where to find it: Section 24
It's creamy, gooey, and has all your favorite comfort foods mixed into one. The mac & cheese is composed of three different cheeses, and the beef brisket is smoked in-house and drenched in a spicy-sweet BBQ sauce. Slap them both together, serve them in an adorably cheesy plastic Marlins cap, and you've got a… home run (sorry).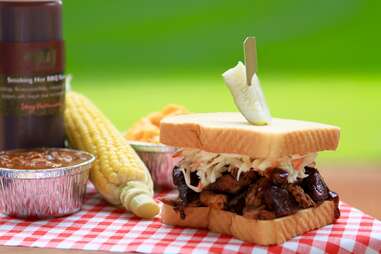 Smoked BBQ Pulled Pork Sandwich
MIA BBQ
Where to find it: Section 24
An ode to Chef Vince's time in the Carolinas, this sandwich has a slab of smoked pulled pork, horseradish slaw, and BBQ sauce stuffed between two slices of thick-cut toast.
Japo-Taco
SuViche
Where to find it: SuViche Stand
This is what happens when sushi and tacos get together and have a baby. Or actually, a man-child -- this thing is massive. It's a crispy corn tortilla shell filled with savory-sweet sushi rice and fresh tuna, all topped with cucumbers, red onions, avocado, toasted sesame, and SuViche's Peruvian and cilantro sauces that you may or may not want to eat with a spoon. Thanks to a partnership between the stadium and SuViche, you can only get it at Marlins Park.
MIA BBQ Picnic Dog
MIA BBQ
Where to find it: Section 24
We realize we already put another mega-hot dog on this list, and we realize this might be a bit excessive. But THIS one has a Kayem frank topped with smoked, house-made pulled pork, BBQ bourbon beans, and horseradish slaw, so you should realize we really don't care.
Fresh Fish Ceviche
Taste of Miami
Where to find it: Section 27
When it comes to food at Marlins Park, your cup overfloweth. And in this case, it's with ceviche. This atypical stadium-food item is piled high with corvina, leche de tigre, red onions, inka corn, cilantro, and sweet potato.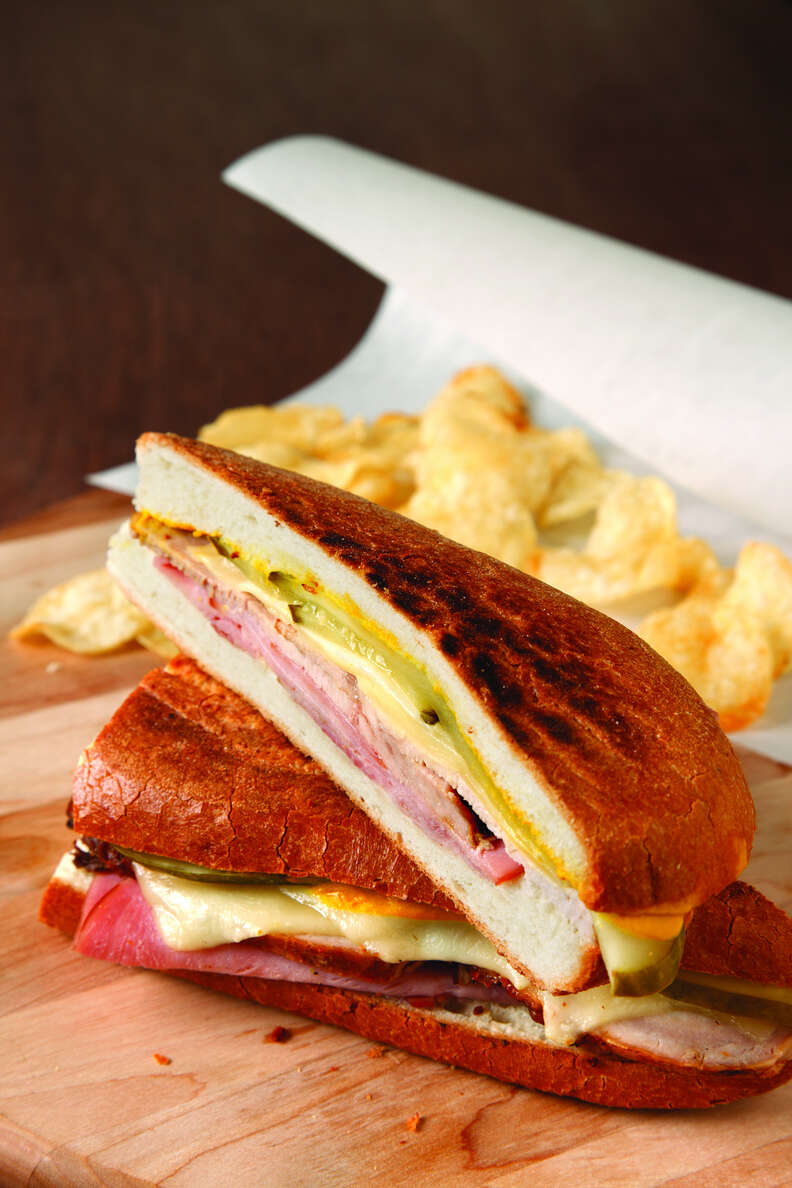 Marlins Park Signature Cuban Sandwich
Goya Latin Café
Where to find it: Section 3
Hi, you're in Miami. Welcome to the land of the Cuban sandwich, where there are approximately 4,937,748 places to get one and most of them taste exactly (deliciously) the same. Enter Chef Vince, Miami native, and Cuban sandwich maker extraordinaire. Adding his own favorite flavors and styles into the mix, this Calle Ocho staple is made with slow-roasted mojo pork, sliced pit-style ham, roasted pork loin, Swiss cheese, and Dijonnaise, all on a classic Cuban roll.
Bases Loaded
Diamond Juice
Where to find it: Diamond Juice Stand
When Marlins Park opened a cold-pressed juice and fresh smoothie bar, all the Wynwood hipsters and lululemon soccer moms finally had a reason to go. The delicious, nutrient-filled juices and smoothies are made on-site every single day, and all with fresh produce from local farms. Try the Bases Loaded: a blend of real bananas, acai, strawberries, and apple juice.
Fluffernutter Grilled Marshmallow Melt
The High Cheese
Where to find it: Section 13
This is a dessert sandwich, which means it combines two of humankind's greatest inventions: dessert and a sandwich. It has crushed peanut butter cups, chunky peanut butter, and marshmallows melted between two slices of toasted cranberry walnut bread, all of which is topped with crumbled graham crackers.
Fried Chicken and Pimento Grilled Cheese Sandwich
The High Cheese
Where to find it: Section 13
You can't get more American than fried chicken and grilled cheese, and you can't get more Miami than mashing those two together, adding a spicy kick, and throwing Zak the Baker into the mix. This creative twist on a childhood favorite melts hot pimento and American cheeses, tops them with fried chicken tenders and white BBQ sauce, and presses the whole concoction between two crispy slices of ZTB multigrain bread. High Cheese, we salute you.
Peach Cobbler a la Mode
MIA BBQ
Where to find it: Section 24
What's all this good food without dessert? This sizzling peach cobbler, topped with vanilla ice cream, may seem out of place at a baseball game. But hey, have you seen the rest of these foods?!
Abuela Maria Ice Cream
Azucar
Where to find it: Section 1
It's hot in Miami, so needless to say, we like our ice cream. And because we're Miami, we also like all things Cuban. Cue Azucar, on Calle Ocho, which fuses the two with its rotating menu of "helado" geared towards the Cuban palate. Thanks to a partnership with Marlins Park, the stadium has one, also, so you can go and get that scoop of "Abuela Maria" everyone's been talking about during your seventh-inning stretch. Perfectly over-the-top and sweet, it's a mix of guava, chunks of cream cheese, and another Miami staple, Maria cookies.
Sign up here for our daily Miami email and be the first to get all the food/drink/fun in town.
Jennifer Agress is a Miami-based food and travel writer who doesn't know anything about baseball. She does, however, know a lot about nachos. Follow her on Instagram at @jenniferagress.