Photo courtesy of Jenice Bastidas (Miami Marlins)
Photo courtesy of Jenice Bastidas (Miami Marlins)
If this March taught us anything, it's that with the right group of players and fans in the stands, LoanDepot Park can be an exhilarating place to watch a baseball game. And while it'll be hard to match the national pride that filled the ballpark during the World Baseball Classic, the Miami Marlins have a squad set to take the field this year that might get us excited about MLB in ways we haven't in the past 20 years.
So whether you're energized by the promise of a new season or just crave a frothy draft beer under the sun in the ballpark, we have you covered. The Fish have a slew of new menu options on deck including local eats and top-tier cocktails, so here are the best things to eat and drink during Miami Marlins games at LoanDepot Park this season.
Buffalo Chicken Taco
Naked Taco (Section 8)
Ralph Pagano's Naked Taco is opening up shop down the first base line, offering most of the traditional meats one expects inside a tortilla. The standout, however, is this fried chicken creation, covered in spicy Buffalo sauce and topped with blue cheese dressing. The carrots on top give it a nice little crunch, cooling the heat better than beer.
Cubano Gigante
Goya (Section 40)
Have you ever sat down with one of Miami's best Cuban sandwiches and thought, "Boy, I could eat like six of these things." The Marlins are calling you out this year with the Cubano Gigante, a 34-inch, three-pound Cuban sandwich that can feed four-to-eight people. It tastes like, well, a Cuban sandwich, though the sweet bread and finely-sliced pork make it a little easier to down than your typical Cuban.
Pardon my Cheesesteak
Pardon my Cheesesteak (Section 13)
Another LoanDepot newcomer is this cheesesteak stand right behind home plate. While slinging cheesesteaks in Little Havana might seem a little like selling croquetas at a Phillies game, PMC emulates the Philly experience perfectly. No, nobody's kicking you out of line if you don't understand the difference between "wit" and "witout." But the sandwich does come topped with onions, peppers, and gooey orange cheese.
Spicy Herradura Margarita
Naked Taco (Section 8)
Sure, you've always been able to order up a margarita at any of LoanDepot Park's many, many bars. But you couldn't order one that was made with Herradura tequila that set your lips ablaze as soon as you took a sip. If you enjoy burning sensations during baseball games, you'd be well suited to try this tequila concoction, which concessionaire Levy Restaurants' director of operations Brett Mitchell brags is "the spiciest margarita in baseball."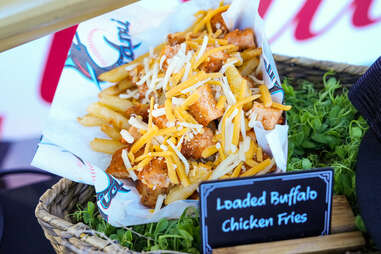 Loaded Buffalo Fries
On Deck Smashed Burger (Section 207)
Remember back when the Marlins played at Joe Robbie Stadium, and the chicken tenders and french fries were the runaway culinary hit? On Deck in the Legends Level harkens back to those days with fries topped with Buffalo sauce-coated chicken strips, and shredded, unmelted cheese. The Buffalo sauce adds a new dimension to the classic, and while it can also leave the fries a little soggy, the bold flavor more than makes up for it.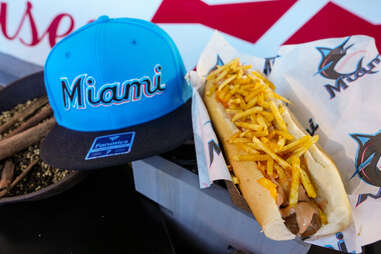 Goya Sazon Dog
Top Dog (Section 40)
The Sazon Dog puts a definitively Miami twist on the traditional baseball game hot dog, adding pink sauce and crispy potato sticks to the top of the bun. If you're a visiting fan, this should be your hot dog move, as it's unlike anything else you'll find in a baseball stadium. Though it will sit a little heavier than your average frank, it'll give you a taste of Miami's late-night food scene.
Brisket Bowl
BeisBowl (Section 19)
If you're trying to not completely ignore your cardiologist during the game, the Marlins are introducing a "healthy" stand near third base. BeisBowl offers bowls filled with brown rice, carrots, cheese, and a meat of choice. Opt for the brisket, which is definitely not the healthiest option, but is the most satisfying. Let it sit for a minute after ordering, and you'll find the flavors absorb into the rice too, creating the most complex new flavors of the season.
Brisket Hoagie
Magic City BBQ (Section 8)
The meatiest value of the 2023 campaign will be at the Magic City BBQ near first base. That's where you'll find the brisket hoagie, which unlike some stadium sandwiches, is incredibly generous with its portion. The perfectly cooked brisket is soft, juicy, and doesn't rely on a slathering of sauce to give it flavor. You'll find a sprinkling of veggies on here, presumably to make you feel better about eating half a cow before the fourth inning.
Funnel Cake
Sweets (Section 34)
Baseball season falls in the sad funnel cake doldrums between the closing of the Youth Fair and the opening of Santa's Enchanted Forest. Luckily, the Marlins are filling the void with these sweet, crunchy funnel cakes, topped with powdered sugar. Just remember to grab a ton of napkins if you don't want oil all over your phone.
Giant Soft Pretzel
Obie's (Section 14)
"Soft pretzels?" you sneer. "That's nothing new, those were basically my dinner when I went to games at the Orange Bowl." True, but have you ever downed a soft pretzel literally the size of your head, consuming a week's worth of carbs in less time than it takes to make a pitching change? Probably not. So if you're up to the challenge head over to Obie's where this salty, buttery goodness awaits.
Tres Leches
Goya (Section 40)
Miami's most ubiquitous dessert finally gets a spot at the ballpark thanks to the coconutty Tres Leches at Producto Goya's stand in Right Field. It makes for a nice, sweet alternative to the glut of salty, greasy ballpark food.
Crispy Chicken Sandwich
Fowl Pole (Section 5)
If you're headed to a Sunday day game and can't get your daily Chick-fil-A fill, the Marlins have covered. The new chicken sandwich at Fowl Pole comes pretty close, bringing a massive fried chicken breast with pickles and a special sauce that harkens back to the chain's iteration. The best part? There's no drive-thru line wrapping around the block.
Hard AF Portable (Section 21), Short Stop Market (Sections 6 and 19)
Beer just a little too filling for nine innings of drinking? Check out the new line of Hard AF seltzers available at the stands off third base, highlighted by the light, not overly sweet Pina Colada. If that's not your jam, the ballpark also stocks peach, watermelon, and blue raspberry flavors.
CHIDO Portable (Section 21), Short Stop Market (Sections 6 and 19)
Tequila lovers can get their agave fix in a can this season as CHIDO brings its line of tequila based cocktails to the ballpark. These 5% ABV canned drinks come in three flavors: Mango Mood, Pink Paloma, and Watermelon Wave, and will be available in the ballpark's grab-and-go markets as well as its branded stand near third base.