In honor of football, drinking, America, and YOU, we proclaim the Monday after the Super Bowl shall henceforth be known as National Hangover Day. It's a day for hangovers to be celebrated, embraced, and combated in the most enjoyable of ways -- namely, eating delicious food, and possibly drinking more. The ultimate goal? Getting the entire country a day off work, a beautiful dream you can help make happen by signing this petition to our sports-loving President right here and tweeting it.
The immediate goal though? Fixing that hangover with the power of next-level Bloody Marys, intravenous vitamin delivery services (?!), and giant bowls of queso...

B12 Treatment
Reviv Wellness Spa, South Beach
Sure, you could go the old-fashioned route and rehydrate by drinking, like, water or something. But wouldn't it be more South Beach to hit a spa where board certified physicians pump you full of fresh oxygen, and give you IVs full of vitamins, B12, glutathione and other stuff A-Rod swears he wasn't taking? That's the spirit, now go rent a Ferrari.
Hangover Cure Brunch
Mercadito, Midtown
Remember how last night you kept yelling "Go big or go home!" at that loser who wouldn't do shots of 151 with you at 4am? Well, karma's definitely a Nancy Grace, 'cuz Mercadito's basically doing the same thing to you with their mega breakfast of 3 Mexican entrees plus a drink for $18. Need even more hair of the dog? Another 12 bucks gets you their Ultimate Hangover Cure and unlimited drinks.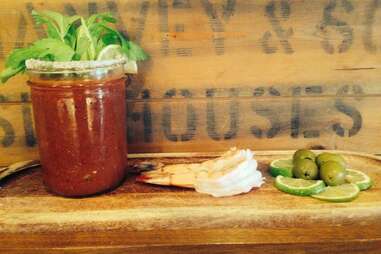 15 Steps Signature Bloody Mary
15 Steps at Eden Roc, Miami Beach
By the time your waiter finishes telling you everything that's in it (tomato juice, V8 juice, Worcestershire, chopped jalapenos, red onion, Sriracha, fresh cracked black pepper, kosher salt, fresh horseradish sauce, Key West pink shrimp, stuffed olive w/chopped bacon & grilled cipolline onion) your hangover will probably be gone anyway. But it's never too early to start on your next one.
VitaHydrate Treatment
Vita Squad, Your House -- Dade County Only
Too lazy to actually get out of bed? The Vita Squad will send certified nurses to your house to administer stuff like VitaHydrate and LiquidDetox, or show up before you start swilling and pump you full of LiquidNight, which has all the vitamins you're about to deplete in it.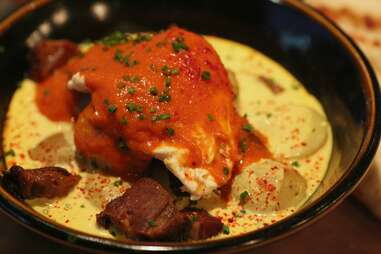 Potato Grill Bowl
Buns & Buns, South Miami
In addition to giving you like 37 different kinds of bread to soak up whatever combination of Skol, Ronrico, and Old Crow is sitting in your stomach, this South Miami yeast palace'll gladly throw in a giant bowl of deliciously greasy queso blanco w/ chorizo, eggs, and tomatoes.

Acai Bowl
Apple A Day Market, South Beach
How can Brazil throw a party like Carnival, then wake up the next morning and land the Olympics AND the World Cup? It's not that tough when your streets are paved (figuratively, we assume) with acai, the anti-oxidant superfood this this Alton Road market puts in a bowl the size of your head with bananas (for potassium!), granola, and strawberries. Olympic-and-World-Cup-landing results, however, may vary.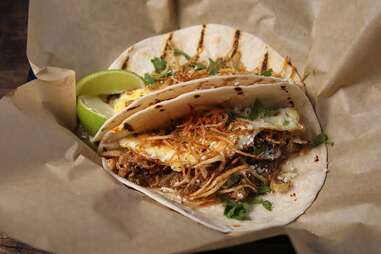 Breakfast Taco
HuaHua's Taqueria, South Beach
What would you make for breakfast if you weren't paying (again!) for all those Jäger shots you took last night? Cheesy eggs, carnitas, hash browns, and chili, you say? Well guess what? HuaHua's has all that stuff, and has conveniently stuffed it in a taco for you.