It's a phenomenon that will happen over and again in perpetuity: some out-of-towners are in South Florida for the night, and when you ask them where they want to go to dinner, they will -- without fail -- say to you, "How about somewhere on the water?" As you rack your brain, you'll begin to realize that for a city that's pretty much surrounded by the blue stuff, we have an alarming shortage of waterfront eateries. Yeah, there are the standbys like Garcia's, Smith & Wollensky, Monty's, and Le Tub. But you're a local, dammit. And your guests expect better inside knowledge than that. So here are a dozen hidden, obscure, and typically overlooked waterside restaurants set quietly around South Florida.
Hallandale Beach
Driving through the condo canyons that mark the beachside county line between Aventura and Hallandale, you'd never expect to find a modern Mediterranean restaurant decked out to look like a Hamptons summer beach house. But it's there. In Juniper you'll enjoy fresh seafood paella, whole fish a la plancha, filet mignon, and burrata flatbread. Gaze out at the Intracoastal as you sip on specialty European wines and forget you're, like, 20 yards from the condo swimming pool.
Key Biscayne
The only way you'd know about this tiny restaurant nestled under the lighthouse at Bill Baggs Cape Florida State Park is if you had to park really far away from the picnic areas and wandered by its tiny cove on your way to the beach. But this former pirate's hideaway is now one of the best-kept waterfront secrets in Miami, a spot right on the bay serving up fresh seafood at the end of the park for reasonable prices. It's also the perfect place to still grab lunch when all the barbecue shelters are taken.
Pinecrest
Want to impress your date with a spot that's totally off the beaten path AND one of Miami's most romantic restaurants? Head to this spot on the edge of Matheson Hammock Park, a fresh seafood joint housed in an old, historic stone building that was once the Matheson Hammock Pavilion. The views are spectacular, but be warned: if you find yourself out with that rarest of breeds -- a Miami Native -- they won't be nearly as impressed, since they absolutely went here already for a quince or graduation dinner.
Cutler Bay
Anyone from South Dade knows there's nothing better after a long day on the boat than a big dinner at Black Point Ocean Grill. Of course, if you're not from South Dade, there's no reason you would have ever heard of this place, as it's situated right on the water in the area's busiest boat ramp, far from public sight. Do yourself a favor and make the trip down, if for no other reason than to try the tuna ponzu, which -- without exaggeration -- is often made from fish caught that very morning.
Hollywood Beach
One of the best new bars of 2016 is hidden in Diplomat Landing, long considered the tourist dining offshoot of the mega-resort across the street. Therefore, it's often overlooked by locals looking for a bite by the water. But the food here matches perfectly with the extensive selections of wines, and makes this place a little slice of the Mediterranean on the Intracoastal. Dishes like arugula and stuffed prosciutto flatbreads, or kale, grapefruit, and avocado salad, are a perfect, light accent to the warm, watery breezes… and pair surprisingly well with a waterside game of cornhole.
Brickell
When condos get built right up to (and pretty soon, under) the coastline, waterfront dining is hard to come by... unless you enjoy looking at water from 27 stories in the air. And sure, the Mandarin Oriental has a couple of great waterside spots. But if you're in Brickell and want to eat by the water, hit this place between the two pools at the fabulous Four Ambassadors. A meal here is like a trip back to the 1980s, where the eerie, crystal-adorned lobby leads out to the retro pool deck. You can absolutely eat at LOL's Tiki bar in the middle, but for a leisurely waterside experience, take a seat at the white tablecloth-covered tables and order up some Argentine specialties like empanadas or palomilla steak. Then wash it down with wine and beer that's often under $5 a pop.
Key Biscayne
Finding good food at the Ritz-Carlton is about as surprising as finding good herb at a Phish show. But the fact that one of Miami's best Mexican restaurants is far behind a grand hotel set way off Crandon Blvd is precisely why it's such a hidden gem. One wouldn't think to head all the way back to this secluded property for the best slow-braised enchiladas in salsa verde in the city, but that's assuredly what you'll find. Along with an extensive menu of Mexican favorites that are just as good, the meals are served oceanside, with the largest selection of agave-only tequilas in Miami.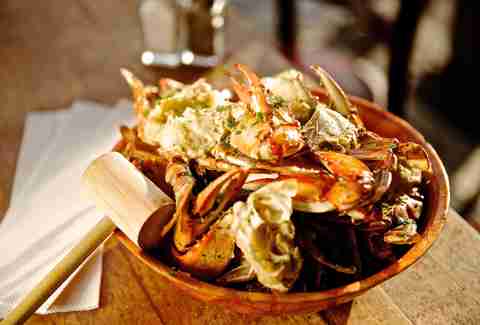 Ft. Lauderdale
"Rustic" is a term often used as a nice euphemism for "one missed bribe from being condemned." But this isn't a place one goes for fancy fixtures and white tablecloths. This one-time divey roadhouse is now one of the top spots in Broward for fresh shellfish, served out on the dock with little more than a piece of lemon or some pasta. The seafood here is so fresh, it doesn't need much more. But the highlight of the menu is the garlic crab, a dish many a South Floridian has spent a Sunday devouring canalside.
Coconut Grove
Don't let that big, intimidating gate arm fool you. Anyone with an appetite can drive right onto Grove Isle, pass the clay tennis courts, and enjoy a meal that's as close to the Amalfi Coast as you're getting without a TSA patdown. Dinner here is plenty romantic, as the small waves from Biscayne Bay softly crash onto the rocks whilst you enjoy your pollo limone. But this hidden gem is best experienced under the sunshine, when you can get a secluded table atop those rocks and look out across Biscayne Bay, sipping on rose and snacking on swordfish crudo.
Pompano Beach
Though the wide beach at Pompano might be so inviting that you just speed right past this place on your way over the Intracoastal, make a quick left after you cross the last bridge on Atlantic Blvd and stop into Rusty Hook, tucked into the Sands Harbor Hotel. Here you'll find far and away the most inventive food in North Broward, with stuff like Cheetos-crusted catch of the day (just trust us), graham cracker calamari, and the RH Burger, topped with short rib, brie, and steak sauce.
Ft. Lauderdale
They say always go where the chefs go, and when a local chef known for serving up some of the best oysters in town tells us there's a hidden gem by the water in Lauderdale, we have to go check it out. Southport doesn't disappoint. It would be easy to miss this tiny shack buried among canalside condos and boat storage centers. But a trip here is one of those relaxing Florida experiences where you munch on shellfish, wash it down with a cold beer, and enjoy the fact that you live in paradise. An added bonus: it's open super-late, and is a slightly healthier alternative to other stuff you might eat after a long night of… canasta.
Lighthouse Point
There are some pretty remote, hidden spots on this list. But do any of them require a private boat ride to a pine and pecky cypress island? Absolutely not. Which is why historic Cap's Place, while known fairly well by longtime locals, is still a hidden masterpiece. The spot was once a rum-runners' hangout, a desperado's island in the middle of the Intracoastal where nefarious characters gathered to drink, gamble, and eat fresh seafood. You can still do two of those today, as Broward County's oldest restaurant serves up fish caught that day with spectacular views of the water... and even better views into South Florida's checkered past.
Sign up here for our daily Miami email and be the first to get all the food/drink/fun in town.