One of the worst decisions you can make in America's Southernmost major city (seriously, screw Honolulu!) is... well, one of these 23 things... but it'd also be a pretty bad decision to think of Miami as an American city. It's really an international city that happens to be in America, which means that among other things, you can find sweet food from a slew of different countries around the world. We picked the best restaurant from each one here...
Bahamas
Bahamian Pot Restaurant (address and info)
Liberty City
What you're getting: Boiled fish & grits served with buttery a johnnycake
Eating fish for breakfast is a thing, apparently. Especially at Bahamian Pot, which resembles the fish shacks you find in it's home country, right down to its blue paint.
 
Cuba
Molina's Ranch Restaurant (address and info)
Hialeah
What you're getting: Frituras de seso (aka pork brain fritters)
We already told you this place kicks ass, so for now we'll just say that anyone can make a mean vaca frita and lechon, but eats like the previously mentioned pork brains fritters take things to the next level.
Jamaica
Jamaica Kitchen (address and info)
Glenvar Heights
What you're getting: Jamaican Patty
People loved this Jamaican-meets-Chinese restaurant waaayyy before Guy Fieri deemed it cool. At least he got something right... and not just because the open kitchen lets you see the pot on pot on pot action while ordering.
 
Haiti
Chez Le Bebe (address and info)
Little Haiti
What you're getting: Griot
You're not coming here for the ambiance... you're here for the excellent food in huge portions. But don't get us wrong, it's still an authentic looking spot with sweet Haitian art on the walls, rustic tables, and kompa music.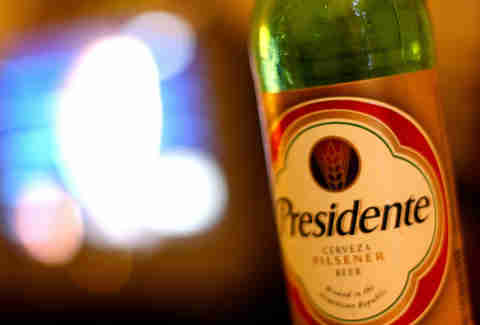 Dominican Republic
El Guayabo (address and info)
Flagami
What you're getting: La Bandera (white rice, red stewed beans, meat & salad) and a Presidente beer to wash it down
This bodega-like restaurant bursts with Dominican flavor thanks to walls boasting the signatures of popular celebrities, politicians, and musicians from the home country; merengue, salsa, and bachata music; and authentic spicy eats.
 
Puerto Rico
Benny's Seafood (address and info)
Fontainebleau
What you're getting: Mofongo Marinero (includes shrimp, octopus, conch, fish)
Recently moved to a newer location, the restaurant provides a pseudo outdoors experience with a water fountain in the middle of the restaurant and paintings of little village homes. It's like you're in a plaza in the middle of Old San Juan eating the best mofongo.
 
Trinidad
Joy's Roti Delight (address and info)
Lauderhill
What you're getting: Goat curry roti
Luckily, no distance is too far for a taste of home because this place is Broward, not Miami-Dade, but that's okay since it is the essential spot for Trinis that miss the spices/peppers they grew up with... or just want a soca and reggae fueled night out.
Mexico
Taqueria Morelia (address and info)
Homestead
What you're getting: Tacos al pastor
Sure there are great spots for Mexican food on Calle Ocho, but the experience is best down in Homestead where locals and discerning foodies go for sweet street-style eats, and 'cause it's close to Mexico Market and La Michoacana.
 
Guatemala
Tikal Bakery (address and info)
Little Havana
What you're getting: Tostada w/ sweet potato, radicchio & queso seco
Guatemalan food in Miami is rare as it is, but a Guatemalan bakery? Fresh bread, custom pastries, and imported Guatemalan products like atol and golosinas are the saving grace for the Chapines living in Miami.
El Salvador
La Nueva San Salvador Restaurant (address and info)
Flagami
What you're getting: Pupusas -- a traditional Salvadoran dish of thick corn tortilla stuffed with cheese
The restaurant is styled after an old-school cafeteria with counter seating that is popular in certain parts of El Salvador. If that's not your thing, there is also a small section in the back that offers normal tables. The homey atmosphere is like stepping into someone's country home.
 
Honduras
Paseo Catracho (address and info)
Little Havana
What you're getting: Baleada -- a common street food in Honduras, a flour tortilla that is folded and stuffed with refried beans, quesillo, and sour cream
With a mash up of mismatched Honduran knickknacks and roof-tile trimming, it's one of the only places in town you can get an authentic baleada. Wash it all down with an Honduran tropical soda, available in interesting flavors like grape and banana. Fun fact, a catracho is the name used for a male from Honduras.
 
Nicaragua
El Madroño (address and info)
Sweetwater
What you're getting: Antojitos Platter & Tres Leches
While Los Ranchos and El Novillo are the original Nicaraguan kings, this simple restaurant in Little Managua has managed to shine above the rest for its consistent food and cheaper prices... plus, once you're done you can head next door to La Pulperia (also owned by El Madroño) for Nica treats, to-go.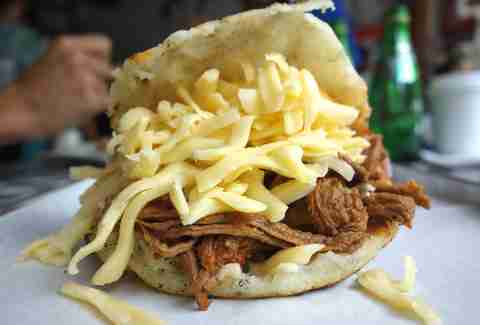 Venezuela
Doggi's Venezuelan Cuisine (address and info)
Shenandoah
What you're getting: Arepas
Don't let the stylish digs fool you, Doggi's is still a favorite with Venezuelans looking for arepas that are overly stuffed with traditional ingredients. Oh, and about the décor, it takes cues from Wynwood with art on the walls, Mason jars, and checkered tablecloths.
 
Colombia
Restaurante Monserrate (address and info)
Shenandoah
What you're getting: Sancocho -- meat and vegetable stew
Sancocho is a popular stew throughout Latin America and not strictly Colombian, but they've made it a mainstay there, just like Miamians from Colombia have made RM a mainstay, not least 'cause it offers a refined environment and some damn fine food.
 
Ecuador
Barzola (address and info)
Flagami
What you're getting: Humita -- steamed corn cake
Few people know about Ecuador's rich culinary tradition. It's one that's incredibly diverse thanks to the country's unique landscape (mountains in the East and the Pacific Coast in the West). With owners from both Guayaquil and Quito, this place offers it all.
Peru
Dr Limón (address and info)
Kendall
What you're getting: Any of their ceviches. There are 19 to choose from.
The ceviche doctors are in and their prescription is a goofy medical theme, which is evidenced everywhere from the menus to the server's outfits, none of which keeps people from waiting up to two hours for a bowl of their sweet citrus-flavored fish.
 
Bolivia
Las Americas Restaurant (address and info)
Miami Springs
What you're getting: Salteña -- a sweet, baked empanada stuffed with shredded meat, boiled eggs, raisins, olives, and tomato sauce
Posted up right next to their country's consulate (good move Las Americas!), LAR resembles a colorful Central American home, with country-style paintings of houses and fruit on the walls, and presumably a team of Grandmas in the kitchen turning out awesome authentic eats.
 
Chile
Pamela's Restaurante Chileno (address and info)
Westchester
What you're getting: Pastel de choclo -- beef and corn Shepherd's Pie
Part restaurant, part bakery, part market, this is Chilean central in the middle of Wechete. In early 2014, the restaurant moved locations to a brighter, newer space, but still retained its cozy, Old World charm.
Argentina
Graziano's (address and info)
Westchester
What you're getting: Vacío (flank steak) with a glass of Malbec
Located in the suburbs, this is ground zero for the homegrown mini empire that got its start in 1990. The large restaurant features ample space with two dining rooms separated by a cozy bar and racks of Argentinian wine. The centerpiece of the restaurant, however, is the fire pit where the meats are cooked.
 
Uruguay
Doña Paulina (address and info)
Westchester
What you're getting: Chajá -- dessert with meringue, sponge cake, chajá cream & peaches
Named after the owner's Grandmother, this restaurant has a few locations, but the one in Westchester is our favorite. Walking into this dark cave-like restaurant is a minor shock to the eyes, but once you get a bite of their food, you won't care.
 
Brazil
Boteco (address and info)
Shorecrest
What you're getting: Feijoada & caipirinhas
Located in the little Brazil area of Miami, this space is the official hub of Brazilians. This indoor/outdoor restaurant features all the allures of Brazil -- beautiful women, exotic language, dance classes, and fútbol viewing parties. Saturday is the day to go for all-you-can-eat feijoada. Did we mention the beautiful women?
UK
The Seven Dials (address and info)
Coral Gables
What you're getting: Fish & chips
Recently opened on the quieter side of Coral Gables, this funky spot is owned by a Londoner, Chef Andrew Gilbert, and local favorite Katie Sullivan. They're taking modern American cooking and infusing it with British twists, slowly re-introducing English food to the Cuban dominated Miami palate. More British-inspired specials like sausage hot pot and tea crème brûlée have already crept onto the menu. Plus, those fish & chips are as delicious as their counterparts across the pond.
 
France
Petit Rouge (address and info)
North Miami
What you're getting: Steak frites
We have some French heavy hitters in town, but this one keeps it sophisticated and charming without the hefty price tag or snootiness.
Spain
Las Tapas de Rosa (address and info)
Little Havana
What you're getting: Mix of cold and hot tapas
Our picks for said cold & hot tapas... Cold: Boquerones en vinagre (anchovies in vinegar), ración de queso manchego, and ración de lomo embuchado (plate of loin). Hot: Pulpo a la gallega (Galician-style octopus) and chistorras (Spanish sausage). For dessert, order the crema catalana (crème brûlée).
 
Italy
Macchialina (address and info)
South Beach
What you're getting: Beet-filled mezzaluna with a glass of Lambrusco
Scarpetta alum and proper Italian boy Michael Pirolo is serving rustic Italian food at affordable prices in an equally rustic eat space that boasts wood fixtures, red lighting, and a casual neighborhood vibe.
Germany
Schnitzel Haus (address and info)
Shorecrest
What you're getting: Bratwurst Dinner -- veal pork sausages with sauerkraut
The restaurant's front exterior may not look like much, but inside it's an all Bavarian affair with a hidden biergarten, German radio, and wayyyy better prices than you'll find in South Beach or Coral Gables.
 
Eastern Europe
Mainzer's German Deli (address and info)
Pinecrest
What you're getting: Fresh baked bread and pretzels on Saturday mornings and Hungarian sausage (hazi kolbasz)
Catering to the Eastern European crowd, you'll find imported products, home-cooked salads and sandwiches, plus all sorts of hidden treasures in a tiny spice that's almost completely stuck in time. In a kitsch-y version of the 1950s, specifically.
Greece and Turkey
Mandolin Aegean Bistro (address and info)
Design District
What you're getting: Meze Sampler, in both Greek and Turkish varieties
As the name suggests, the restaurant is an Aegean eatery offering the best flavors from both Greece and Turkey, plus it offers one of Miami's sweetest/most romantic outdoor eat spaces, complete with a canopy of trees and umbrellas that make it bearable even in the hottest weather.
 
Iran
Shiraz Kabab Café & Food Market (address and info)
Pinecrest
What you're getting: Dandeh Kabab -- grilled rack of lamb served basmati rice, cucumber yogurt dip, grilled tomatoes, and pita
Miami has a very small Persian community, but it only takes one to provide great food, as evidenced by this local favorite that's been around since the early aughts, has a small food store attached to it, and offers a sweet buffet on Sundays.
 
India
Bombay Darbar (address and info)
Coconut Grove
What you're getting: Tandoori chicken -- a whole chicken marinated in yogurt, ginger, garlic, and freshly ground spices, then cooked in a clay oven
We told you about this place when it first opened back in 2010, and it's still slinging can't-miss Northern Indian eats from apps like the honey garlic shrimp, to entrees like the aforementioned tandoori chicken or chicken patiala w/ yogurt sauce & curry.
China
Kon Chau Restaurant (address and info)
Westchester
What you're getting: Dim sum
Located next to Lucky Oriental Mart in a Chinese-dominated strip mall, it's the Asian food-lovers dream. More mistress hideout than fancy restaurant, you go here for the food, specifically the dim sum, which unlike most dim sum places they offer all day. Every day.
 
Vietnam
Pho Thang Restaurant (address and info)
Palmetto Bay
What you're getting: Pho
What you should do: order one bowl for the table 'cause the portions are huge. What you're gonna do: screw everybody else and keep all that glorious noodle soup for yourself.
 
Thailand
Panya Thai Restaurant (address and info)
North Miami
What you're getting: Curry
Why do restaurants insist on combining Thai food and Japanese food? It's not the same, so just stop it. Cue Panya Thai. Not only does it have some of the best Thai around, but it also clearly observes the separation of state and... um, state.
Korea
Gabose Korean & Japanese (address and info)
Lauderhill
What you're getting: BBQ Stovetop
Our neighbor to the North gets bashed a lot, but it really isn't all that bad. Hey, they are home to one of the rare Korean BBQ spots in the tri-county area, so that's saying something.
 
Japan
Sushi Deli and Japanese Market (address and info)
North Bay Village
What you're getting: Omakase (aka the chef's choice)
Located inside a Japanese market, this small food counter (with a strict no cell phone policy) survived for years on word of mouth, but the word is out: it's got some of the best sushi in Miami.
 
Ethiopia
Ethiopian Restaurant at Yellow Green Farmers Market (address and info)
Fort Lauderdale
What you're getting: Yemisir Kik Wot -- split lentil soup
Sheba has resurrected, well, kind of. Lewam Ford, who used to work at Miami's former Ethiopian destination, has opened this unique restaurant inside the Yellow Green Farmers Market. The only catch is that they are currently only open on Saturdays and Sundays from 10am-4pm, but be on the lookout for any changes.
 
Jewish Deli
Josh's Deli (address and info)
Surfside
What you're getting: Tricky Ricky
Chef Josh Marcus needs no intro. He's Miami's deli savior, making the best non-kosher deli fare in town, right in the heart of kosher central. The hole-in-the-wall spot is too close for comfort in a good way, with an open kitchen, counter-style seating, and Mel Brooks movies all day, every day. Lately, he's gone rogue, offering non-deli eats at night.
Sign up here for our daily Miami email and be the first to get all the food/drink/fun in town.