Mac
Blue Collar (address and info)
MiMo
This treif-tastic number from Blue Collar's Danny Serfer is perhaps the most un-kosher menu item ever made by a Jewish guy, all thanks to cavatappi pasta tossed with trugole, cheddar, Parm, and -- if you really want to disappoint your mother -- bacon (gasp!) and rock shrimp.
Truffled Mac and Cheese
Bourbon Steak (address and info)
Aventura
Yes, Aventura can be a little bit of a trek if you happen to live anywhere but, well, Aventura. But after trying their duck fat fries, and Michael Mina's decadent, black truffle-filled take on mac and cheese, and maybe even one of Miami's best burgers or best steaks (or both!), you might start thinking about moving, and then wearing nothing but Tommy Bahama silk shirts, obviously.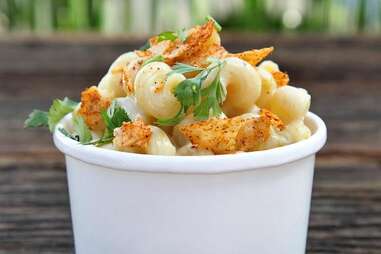 Mac n Queso
Huahua's Taqueria (address and info)
South Beach
Because a cheese- and bread-filled side isn't QUITE the coronary-on-a-plate coup de grace required when eating their fried chicken tacos, the folks as HuaHuas cook this pasta in a pan with queso blanco, Oaxaca, Jack, and cotija cheese, then top it off with their own, housemade version of Doritos. Take THAT, Taco Bell.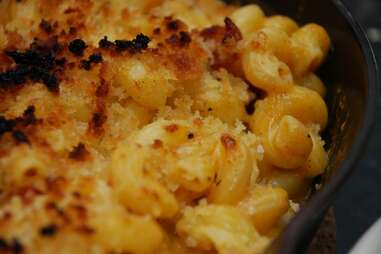 RPP Bacon Mac and Cheese
Royal Pig Pub & Kitchen (address and info)
Ft. Lauderdale
Oh, you hate vermouth cream, Parm, white cheddar, Oaxaca cheese, and Andouille bread crumbs, do you? Then stay away from this Las Olas drinking den that's serving it all up alongside their massive menu of pub favorites.
Mac and Cheese
Maxine's Bistro (address and info)
South Beach
Serving what is easily the best mac and cheese you'll ever have in a hotel that had its own reality show, Maxine's Bistro in the Catalina takes al dente penne, then tops it with a mixture of fresh mozzarella, sharp blue cheese, creamy ricotta, and nutty Parmesan, bakes it 'til it's golden brown, and serves it to you 24hrs a day.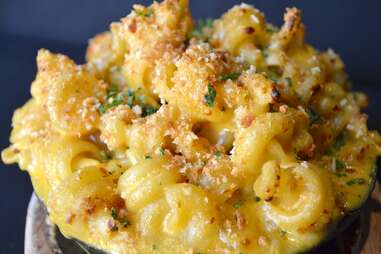 Traditional Mac and Cheese Skillet
American Social (address and info)
Ft. Lauderdale
South Florida's famous for its identity theft. But since a mac and cheese skillet full of stolen credit cards really wouldn't taste very good, AmSo is taking something else we're famous for -- seafood -- and filling that skillet with it: Maine lobster, lump crab & jumbo shrimp are tossed with creamy cheeses, shiitake mushrooms, and trottole pasta, then topped with truffle oil and Medicare fraud, presumably.
Black Truffle Mac and Cheese Pot Pie
The Forge (address and info)
Miami Beach
This Mid-Beach mainstay's new chef takes preserved black truffles, truffle oil, truffle vinegar, and truffle jus, combines it with three kinds of cheese and elbow mac, and then, since this place is in an old blacksmith shop, cooks it all up in a cast iron skillet, and serves it with a very serious warning that "This plate is hot." Like you're actually going to listen.
Mac Attack
Batch Gastropub (address and info)
Brickell
The guys at this Brickell craft beer-and-'tail emporium know they make a pretty good mac and cheese, but also know that you can probably make it better, so they start out with gnocchi mac topped with aged Gruyere, then let you add gulf shrimp, caramelized onion, pork belly, truffle oil, or whatever else you think makes your mac the best on this list.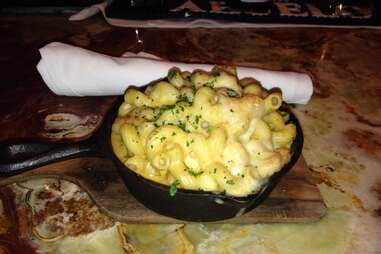 Lobster Cavatappi Carbonara
Gibraltar at Grove Isle (address and info)
Coconut Grove
Don't let that giant, intimidating guard at the end of the bridge to Grove Isle intimidate you. As long as you tell him you're there to visit the place slinging this Lobster Cavatappi Carbonara mac and cheese with bacon and peas, he'll wave you right through. He may or may not also ask you to bring some back for him. Dude didn't get that big eating salad, ya know.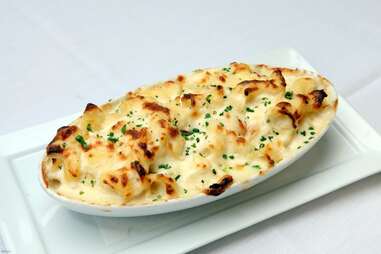 Lobster Mac and Cheese
RED, The Steakhouse (address and info)
South Beach
You might say LeBron would be the best Cleveland transplant to take his talents to South Beach, but since he doesn't actually play in South Beach, that title goes to Peter Vauthy, who's not only got one of Miami's top five steakhouses, but also one of the best off-menu items, best donuts, some of the best tapas, and now, thanks to this Béchamel-, fresh herbs-, and lobster-filled dish, some of the best mac and cheese, too.
Sign up here for our daily Miami email and be the first to get all the food/drink/fun in town.