American Social
American Social
Mac & cheese is possibly the South's greatest edible contribution to American culture, and Miami's technically in the South, ergo Miami's got good mac & cheese, right? Riiiight... except as you'll see from our list of Miami's 12 best mac & cheese dishes, the 305's takes on this classic, which are packed with lobster, truffles Gruyère, etc., owe wayyyy more to the fact that this is America's most European city than to the fact that it's also the most "Southern." Feast your eyes...
OTC Mac & Cheese
OTC (address and info)
Brickell
It changes its mac & cheese dish on the regular, but its current one with cauliflower and its signature cheese sauce is... um, as good as something with cauliflower in it can possibly be?
Mac n' 3 Cheese
FINKA Table & Tap (address and info)
Kendall
Macaroni & cheese at a Cuban-ish restaurant? Eso no pasaba en Cuba, chico! Maybe not, but here it comes with carne asada, bacon, scallions, and three (!) cheeses.
Gnocchi a la Parisienne
Brasserie Central (address and info)
Coral Gables
Mac & cheese hooked up with a Parisian and came out covered in Béchamel and Gruyère cheese. It could very well be the most decadent thing you've had all year, but since it's French, decadence is a given.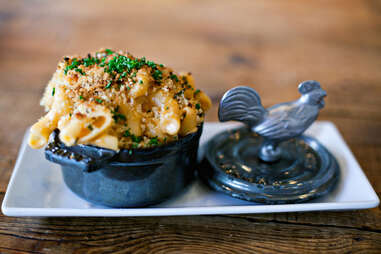 Mac & Cheese
Swine Southern Table & Bar (address and info)
Coral Gables
In 50 Eggs land, Yardbird usually takes the cake, er, cheese in the mac category, but we say, move over cause "pig tail" macaroni, bacon, five cheeses, and toasted bread crumbs sounds like stiff competition.
Lobster Mac N' Cheese
Devon Seafood + Steak (address and info)
Kendall
You're probably going to be hungry after all that making out on the outdoor patio. Continue the romantic vibe with a side of Lobster Mac N' Cheese, which actually comes with a generous amount of the sexy (read: expensive) ingredient.
Mackin Melt
Ms. Cheezious (address and info)
MiMo
Mac & cheese meets that other acceptable kid favorite: the almighty grilled cheese. This thing boasts creamy Gouda mac and bacon between two slices of sourdough bread, and... um, somehow still isn't the best sandwich at this truck, not when they're also making Southern Fried Chicken & Waffle Melts.
Mac and Cheese
American Social (address and info)
Brickell
Last year, we told you about its sister restaurant's Traditional Mac Skillet, but Brickell takes it up a notch with orecchiette and Vermont cheddar with add-on options like short rib, grilled chicken, rock shrimp, wild boar, and black truffles.
Lobster Mac and Cheese
RED, The Steakhouse (address and info)
Miami Beach
Now that LeBron's gone, Peter Vauthy can go back to being the most famous Clevelander around these parts. His Béchamel, herb, and lobster mac & cheese is still so HOT, it's managed to make its way onto this list again.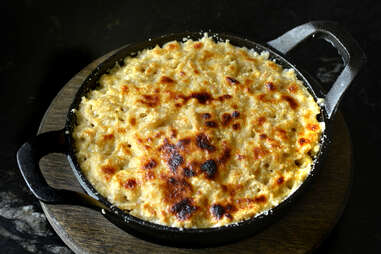 Orzo Mac + Goat Cheese
Vintro Hotel and Kitchen (address and info)
Miami Beach
We don't blame mac & cheese for wanting to change it up now and then, maybe go on vacation. In this case, orzo replaces macaroni and goat cheese reigns supreme. Spinach is also thrown in for healthy measure.
Crab Mac and Cheese
Shula's 347 Grill (address and info)
South Miami
No offense steak, but when we're in a cheesy mood, this crab mac & cheese is the man of the hour with elbow pasta, Boursin cream sauce, lump crab meat, Parmesan, and crushed garlic croutons.
Gratin de Macaroni
Bistro Cassis (address and info)
Midtown
This new restaurant has been a hit partly due to this little number, which adds some French flavor into an American original with elbow pasta, smoked bacon, green peas, and Parmesan and Gruyère in a light cream sauce.
Gratinée of Mac and Cheese
Meat Market (address and info)
Miami Beach
Sometimes, it's best to not mess with an original. Chef Sean Brasel keeps things simple at his mainstay steakhouse with noodles, cheese, and a quick toasting under the salamander for a crispy exterior.
Sign up here for our daily Miami email and be the first to get all the food/drink/fun in town.