Miami's Best Mexican Restaurants You Can Enjoy From Home
It's margarita season.
Remember that meme that was floating around in December talking about all the cool dates in the upcoming year, like, "Halloween is on a Saturday, 4/20 is literally an entire month...2020 gonna be lit!" Yeah, that aged well. Regardless, Cinco de Mayo still falls on Taco Tuesday, and if you're wanting to celebrate, the good news is all your tequila-infused bad decisions will be limited to the confines of your own home. And you won't have to physically drag yourself into work the next day. So read on for the best Mexican restaurants in Miami, who will deliver the tacos -- and the party -- right to your door.
Wynwood
The airy patio and best-in-Miami selection of mezcal make early spring dining at Bakan a delight most year. So might we suggest taking some of its specials out to your lanai or balcony and buying a cactus to recreate the experience? You can still wolf down stuff like Asado a la Lena, tacos de carnitas prensadas, and aguachiles – items you'll be hard pressed to find anywhere else in Miami. And you'll get some of Bakan's famous guacamole free with any order over $20.
How to order:
Call 305.396.7080 or order delivery from
Uber Eats
Coral Gables
Though typically Caja Cliente prides itself on being Miami's original Cuban taco shop, in times like this we can't let a little thing like the Gulf of Mexico get in the way of a good Cinco de Mayo. Especially when you can get their lechon or chicken tacos with black beans and caja aioli for a scant $5. And even more so when every takeout order comes with (wait for it) free beer!
How to order:
Call 786.398.5137 or
order online
Multiple locations
Remember back when Coyo had a line wrapped around the corner in Wynwood? Almost miss it, don't you? Well, fret not because it's replaced that line with literal gallons of margaritas to go, along with rosé sangria, and its regular menu of heavy, meat-filled burritos, flavorful tacos, and over a dozen different fillings from cactus to pastor to crispy duck. If you're looking to feed your whole Zoom call, you can buy fillings by the pound with tortillas on the side. Or go a la carte and enjoy $4 tacos and $5 margaritas. And if you're missing the Wynwood back bar, DJ Damaged Goods will be
live streaming
from there all day.
How to order:
Call 305.573.8228 (Wynwood); 786.773.3337 (Brickell); 786.629.7929 (Coral Gables) or order online
Multiple locations
The bulk of Miami's down-and-dirty, old school taquerias have closed their doors during the pandemic, but you can still find the gut-bomb deliciousness of authentic family style Mexican food to go at El Rinconcito. The Miami classic is serving up its traditional meats like cochinita pibil, chorizo, tongue, and cow cheek, as well as the rice and beans that make you feel like you're eating in a family backyard. Though we know it's probably the same coffee table you've been staring at for the last two months.
How to order:
Order from any location
online
South Beach
If you missed the Snoop-tastic opening of this LA taco transplant late last year, and the impossible-to-miss taco truck hasn't stopped in your neighborhood yet, you can still almost be part of the party by heading to its Ocean Drive storefront for some takeout. On some days, the spot even has the speakers blaring by the take-out table, where you can grab $35 pitchers of margaritas (which includes a bottle of Cuervo and a bottle of Grand Marnier), and fried lobster tacos to take home. Or, as of this week, enjoy in Lummus Park across the street.
How to order:
Order online
; free delivery on orders over $20
Ft. Lauderdale
Ordering from Rocco's might be the easiest way to re-create a raucous Cinco de Mayo party at home, where you can order a Cinco Fiesta Box with 12 tacos (including three choices of protein), yellow rice and black beans, guacamole and salsa, and churros for $65. Then add one of Rocco's bottles of tequila to go, jump up on your kitchen counter, and start pouring shots on everyone who walks by while incessantly blowing a whistle.
How to order:
Call 954.524.9550 or
order online
Kendall
In Miami's southwest suburbs, the undisputed king of tacos is located, as you might expect, in an unassuming strip mall on SW 104th Street near the Turnpike. The interior is done up in tattoo art and the menu is full of Mexican-Caribbean fusion tacos that might not be as authentic as the stuff you find down in Homestead, but offers flavors you just can't duplicate elsewhere. T&T's also offer the best options for delivery if you're a proud Kendallite, with its signature
@ChromeJones
menu, and all the taco standards, available in most of southwest Dade.
How to order:
Order
online
Coral Gables
Even if you can't order in the moles that made this spot a Coral Gables Mexican staple, you can order all kinds of other deliciousness from Stay Home by Talavera. The temporary, contactless delivery and take out menu is made up of heat-at-home kits for stuff like veggie and chicken enchiladas, skirt steak tacos, Yucatan Conchita pibil, and queso fundido with
chorizo.
How to order:
Call 305.444.2955 or
order online
Little Havana
Since being taken over by the team from Ball and Chain, this longtime taqueria has gone from hole-in-the-wall to legitimate Mexican heavyweight. The much-improved menu is bolstered by an upstairs speakeasy hidden behind a candy shop. But since you can't really hit Los Altos this Cinco, just go ahead and order the margarita kit with a bottle of Olmeca Altos tequila, 25 ounces of marg mix, five limes, and salt. Then pair it with an epic taco pack that includes Mexican rice and chips and salsa for $49.99. Did we mention that luchador masks and sombreros can also be delivered?
How to order:
Order online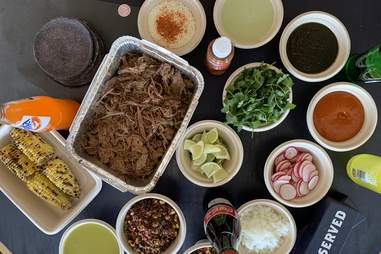 Taquiza
North Beach
The big, fluffy blue corn tortillas that have become the trademark of the South Beach taqueria can add some variety to your delivery order. Ordering a full party pack with meats and veggies with those addictive tortillas will have you
almost
glad you had to stay home. Also adding to the at-home advantage: $5 margaritas, $20 margarita pitchers, and $2 shots of any open bottle of liquor Taquiza happens to have laying around. Also, the restaurant is partnering with Mi Campo to give out-of-work service industry folks two tacos, elote corn, and quinoa salad free on May 5.
How to order:
Call 786.588.4755 or
order online
Sunset Harbour
Once upon a time, there was this spot on Lincoln Road called El Rancho Grande where pretty much everyone with an office job in South Beach -- all 40 of them -- would gather after work for the best margaritas in Miami. Of course, it was eventually priced out and moved over to Sunset Harbour, then reopened at Tequiztlan. You used to be able to sit and sip those same margaritas, but that's not happening this year. Still, order them to-go and Tequiztlan will happily bring them out to your car. Though please, do not linger in a moving vehicle with a margarita in your hand.
How to order:
Call 305.397.8442 or
order online
Sign up here for our daily Miami email and be the first to get all the food/drink/fun in town.