A Comprehensive Dining Guide for Miami International Airport
If you've ever flown through Miami, then you know the routine. Confused TSA employees. Long security lines. Spanglish. Lost luggage. Confused TSA employees yelling at you in Spanglish while you're standing in a long security line trying to find your lost luggage. It's a huge mess that usually ends with you sprinting to make your plane after a last-minute gate change, only to find out your flight has been delayed four hours due to inclement weather.
Fortunately, whether you're on the run or have plenty of time to waste, one thing MIA does right is the food. There are a ton of places to grab a bite in the airport, but you're a beautiful, discerning individual with a hunger for the best. So, we're here to give you what you want: a list of the best places to eat and drink in Miami International Airport.
What you're actually looking for: booze
Airport bars have become a travel staple. Whether it's because we're stressed from our recent pat down at security or we're just so damn happy to finally be on vacation, for travelers across the globe, having a drink or four at the airport has become somewhat of a tradition. Here are the sit-down bars where you can keep the custom alive.
North Terminal: The Counter (D32/D33, Open 6am-11pm daily), Bacardi Mojito Bar (D50, Open 6:30am-10pm daily), T.G.I. Friday's (D34/D35, Open 8am-10:30pm daily), The Clover Irish Pub (D31, Open 6am-11:30pm daily)
Central Terminal: Samuel Adams (E7, Open 9am-9pm daily), Budweiser Brew House (F12, Open 11am-8:30pm daily; G10, Open 9am-8pm daily)
South Terminal: Heineken Bar (H6, Open 11am-8pm daily), Budweiser Brew House (H12, Open 11am-8:30pm daily)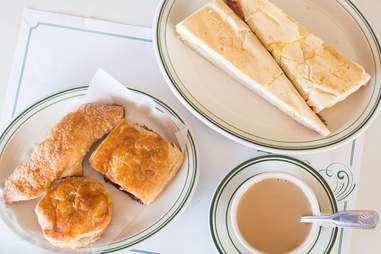 Café Versailles

| Zeinab Kristen/Thrillist
Where to find your food
Checking in:
Have plenty of time to kill and can't wait for that early morning bagel and schmear? Here are the best spots to fuel up before security pats you down.  
Café Versailles
Central Terminal, F, Open 24 hours
This is Miami's most well-known Cuban spot. The food is cheap, the plates are huge, the cafecito is strong, the Versailles Palace-style decor is over the top, and the people watching is some of the best. Everyone from your neighborhood celebrity to Pitbull goes to Café Versailles.
Café La Carreta
Central Terminal, F, Open 5am-9pm daily
This is the airport ventanita version of La Carreta, another Miami Cuban staple. Stop here to pound a café con leche before you marathon sprint to your gate.
Gilbert's Bakery
South Terminal, J, Open 4am-11pm daily
Gasp! A third Cuban option?! Slightly different than the last two, more traditional spots, this bakery combines its inventory of Cuban bread and croquetas with pastelitos stuffed with creative fillings like apple, coconut, spinach, asparagus, and bacalao.  
North Terminal Market Place
Is there such a thing as too many croquetas? Nah. Thanks to the newest addition to MIA's dining, North Terminal Marketplace (which runs from D26 to D29), you can get a taste of the Miami we locals actually want you to remember.
305 Pizza
Open 6am-11pm daily
There's pizza, and then there's 305 Pizza. The first is already delicious, and the second steps it up a notch with to-go Neapolitan pizza "al taglio." Be sure to order the, well, pizza. But, more specifically, the Meat Lovers pizza with Mozzarella cheese, ground Angus Beef, honey smoked bacon, Italian pepperoni and sausage, and ham.
Chefs of the Caribbean
Open 6am-10pm daily
Escovitch red snapper. Curry and jerk chicken. Conch fritters. Creole-mashed plantains. Jamaican, Haitian, Dominican, and Bahamian beers. Oxtail. Does this sound like your typical airport food? If all these options seem slightly intimidating, relax. Order up some Jamaican beef patties for a little clarity... and then get some plantains.
Estefan Kitchen Express
Open 6am-10pm daily
The brainchild of superstar duo Gloria and Emilio Estefan, this is an outpost of their Cuban fine-dining spot in the swanky Miami Design District. In true Estefa... -- er, Miami -- fashion, the party starts here before you even get on the plane. There are five different types of mojitos, as well as margaritas, piña coladas, and the do not miss "Cuban Party in the Sky." It's a $15 box of croquetas, mini-medianoches, bocaditos, plantain chips, coconut, and cream cheese Cuban turnovers.
Fig and Fennel
Open 6am-10pm daily
Icebox Cafe has long been a South Beach staple -- one with a strawberry chiffon shortcake that Shaq and the queen herself -- Oprah -- approves of. At MIA, this neighborhood spot opened a healthy Mediterranean outpost called Fig & Fennel with all natural, grab-and-go breakfasts, sandwiches, wraps, an organic juice bar, kale smoothies, and desserts that health-centric travelers go nuts over. The play here is getting The Breakfast Power Smoothie with milk, peanut butter and bananas
Half Moon Empanadas
Open 5am-11pm daily
This buzzy South Florida grab-and-go chain started on 79th Street in 2008 and has since made its way throughout the city. Half Moon's made from scratch empanadas are stuffed with everything from classic beef and chicken, to pulled pork with hot sauce, chimichurri bacon and three cheeses, omelette-style eggs and pinto beans, and even "Spicy Chicken Cordon Bleu." The namesake Half Moon Special with ground beef, mozzarella cheese, pinto beans, olives, pepperoni and hot sauce is our personal favorite.
My Ceviche
Open 5am-10pm daily
This South Beach-born, chef-driven spot uses wild-caught seafood and Florida Keys stone crabs to create the freshest fast-casual ceviche, poke bowls, burritos, tacos and salads around. Try the signature My Ceviche with wild-caught seafood, red onions, jalapeños, cilantro, tomatoes and a "Tradicional" citrus dressing.
North Terminal - Terminal D
This is the largest terminal at MIA, and it's probably where you're waiting for your American Airlines flight to JFK, which will probably get rerouted to LGA.
Café Versailles
D5, Open 5am-10pm daily; D21, Open 5am-12am daily
Three locations on this terminal alone? In Miami, there's no such thing as too much Cuban coffee.
Icebox Café
D8, Open 5am-11pm daily
You already heard about Fig & Fennel, but MIA has the O.G. of the franchise, too. Get a table here for healthy(ish) plates like Kale and Quinoa Fritters, Buffalo Cauliflower Wings, Short Rib Empanadas, and of course, those desserts.
La Carreta Restaurant
D35, Open 5am-10pm (café) and 5am-12am (restaurant) daily
This sit-down restaurant is where you get the Cuban staples. Straight outta Abuela's kitchen, go here for café con leche before your morning flight, or ropa vieja, roasted beef tongues, stuffed plantains, chicken al ajillo and flan when you find out it's delayed.
Shula's Bar & Grill
D17, Open 7am-10:30pm daily
The product of Miami Dolphins legend Don Shula, who started the ever-popular Shula's Steak House in Miami Lakes in 1989, this casual bar-restaurant promises quick service and better food.  Open for breakfast, lunch and dinner, the real treats are the burgers. We're talking: the French Onion burger, the Surf and Turf burger, the House of Blue (cheese) burger, and one called "Wine Country," which is topped with roasted peppers, fresh goat cheese, balsamic greens and roasted tomatoes.
Sushi Maki
D29, Open 5am-10pm daily
Miami sushi lovers love this tiny, Miami-born chain. While the original opened in South Miami in 2000, the Sushi Maki express at the airport has to-go plates of the restaurant's signature spring rolls, salmon miso, sushi tacos, Kobe Beef sliders, and more.
Central Terminal - Terminals E, F, G
If you're on a United Airlines flight, you'll leave from here. We recommend the Cuban coffee from Café Versailles -- you know, to keep you extra alert.
Café La Carreta
E28, Open 5am-9pm daily
If you passed it the first two times... get it now.
Café Versailles
E28, Open 6am-6pm daily
I don't know if you've picked up on it yet, but you should really get over to Café Versailles.
Half Moon Empanadas
F11, Open 6am-10pm daily
Because one empanada is never enough.
South Terminal - Terminals H, J
Since you're walking through terminals H & J, you're probably going somewhere foreign like Iceland, Norway, or France. Lucky you. Here's where to eat before the long haul so you don't starve.
Gilbert's Bakery
South Terminal Food Court, Open 4am-11pm daily
Yes, more Cuban food. It just happens to be what MIA specializes in.
Sign up here for our daily Miami email and be the first to get all the food/drink/fun in town.
Jennifer Agress is a Miami-based food and travel writer who spends a lot of time in airports. Follow her on Instagram at @jenniferagress to see what she eats while she's there.