You don't even have to walk out the doors of Miami International Airport to know you're in Miami. Sure, that first blast of humidity once the sliding glass opens is the way we all know we're home, but just making your way onto the concourse feels distinctly Miamian. Think about it: You'll probably hear Spanish before any other language. It takes forever to get from one place to another. There's slow-moving tourists blocking everything. And it has some really nice hangout spots—right next to places that look like no one's been there since 1987.
And, much like the city itself, MIA's is also home to some incredible food. Loads of local restaurants operate outposts inside the terminal, inviting travellers to stop and sip Cuban coffee, scarf ceviche, or stuff themselves silly with ropa vieja before getting on a plane for nine hours (proceed at your own risk). Our beloved airport still isn't back to 100% after COVID-19 closures—and note that you'll have to wear a mask right up until you sit down with your food—but here's a list of our picks for where to eat and drink inside the one and only Miami International Airport.
PRE-SECURITY
Terminal J
Pretty simple grab-and-go sandwiches, but literally your only pre-security option without having to walk half a mile to the other terminals.
Concourse E
Sometimes,it's fun to act like a tourist and do stuff like down a margarita and a cheeseburger before you even check in for your flight. If that's your game, this Buffett-inspired spot outside Concourse E is the move. It's also not the worst place to wait out an incoming flight delay when you've been charged with inlaw pick-up duty.
Concourse E
Hanging around baggage claim and need a Cuban coffee to shake off the long-haul fog? Hit up this lower-level outpost of the Miami Cuban favorite, where you can also fuel up on croquetas and other quick Latin hits.
Concourse E
Set in a long stretch of no-man's land between the American and United check in desks, Chef Creole gives you a good (for the airport, anyway) runthrough of Haitian cuisine's greatest hits. It's seafood-heavy, though, so maybe don't get yours boxed to-go for inflight enjoyment (your seatmates will thank you).
At Miami International Airport Hotel, 7th Floor
Want a sit-down meal with a view of Wilcox Field? The only place to go from here is up—more specifically, high atop the Miami International Airport hotel near Terminal E. Here you'll enjoy a farm-fresh menu and pretty solid wine list as you watch the take-offs and landings. And you don't even need a boarding pass to enjoy the experience as this pre-security spot is open to everyone.
D TERMINAL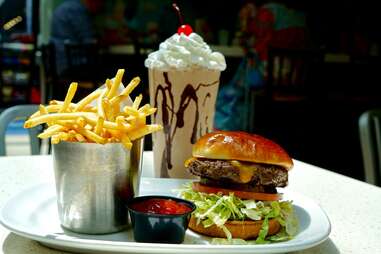 Closest Gate: D22
The literal last stand for what was once Miami's best fast casual fried chicken is just to the right of security in Terminal D. Expect oversized chicken strips, biscuits, and one of the most impressive bourbon collections in South Florida. Never give up the ship, Spring Chicken.
Closest gate:
D7
It's not exactly sitting on a beach in Barbados, but at Islander Bar you will find plenty of fruity drinks and people changing planes on their way to the Caribbean. Probably yelling something about "starting vacation early!"
Closest gate:
D8
If you want a little glimpse into the healthy food scene in South Beach, grab a table at Icebox where stuff like kale and quinoa fritters and buffalo cauliflower wings highlight the menu. If you wanna delve into the not-so-healthy, the desserts here are to die for. So good, in fact, Opera named it her favorite cake in the world a few years ago.
Closest gate:
D12
This is MIA's best option for Mexican food, where you'll find a menu on par with any mainstream Mexican restaurant with plenty of tequila to boot. There's even "outdoor" seating on the concourse so you can watch people go up to the Amex Centurion Lounge next door.
Closest gate:
D17
The original Shula's is still one of the top steakhouses in Miami, and if you're the type of person who goes to the airport for the prime steak dinners, this is your spot.
Closest gate:
D19
Though you won't be sipping mojitos with a cool island breeze here, at least you can drink in the relative dark, and enjoy some Cuban food if you get hungry. If the name is a little confusing, say it out loud—that's how most Cubans pronounce the island nation just south of Miami. The food here is all Cuban classics. There's also a café counter if you want your lechon para llevar.
Closest gate:
D24
The Corona Beach House stands as the sort of post-security incentive, a bar visible from TSA Checkpoint 2 that you can gaze at as you shuffle through the line. Once through, you'll find breezy, beachy, Mexican-inspired stuff like chicken tacos and fresh salads. Priority Pass members get a $30 credit here with your membership cards, too.
Closest gate:
D27
The smell of this stuff fills up the concourse for about three gates, and the line for it can sometimes stretch just as far. The big, square slices are reminiscent of local late-night fave Pizza Rustica, but are far gentler on your stomach.
Closest gate: D28
This grab-and-go Mediterranean spot is an offshoot of Icebox Café, where you'll find the best healthy options in the airport. Think kale smoothies, whole wheat vegan wraps, an organic juice bar, and colorful salads. For travelers who don't use airports at "cheat days," this is the go-to.
Closest gate:
D29
This empanada stalwart has been around a dozen years, and somehow worked its way into airports and stadiums around the city. But its success makes sense, as Half Moon's combination of quality of flaky, savory turnovers are unrivaled. It's got the classic beef and chicken, but also offers more interesting creations like chicken cordon bleu, chimichurri bacon, eggs and pinto beans, and other stuff that'll give you a taste of Miami without stepping outside.
Closest gate:
D33
This bar's about as Irish as the guy on the Lucky Charms box, but it's a great place to grab a quick pint between flights, or before shopping in the Miami Heat team store next door.
Closest gate:
D36
This is the only bar in the airport where you can smoke, as in addition to its location next to D36 you'll find an outdoor section complete with its own bar. Just note, if it's raining, there's not much cover. And your cigarette will get damp.
Closest gate:
D39
The original location of La Carreta on Calle Ocho might best be described as Cuban Denny's, where laminated menus with big pictures show you exactly what to expect. The airport location is a little more laid back, but still the best in-terminal option if you're looking for a sit down Cuban food experience.
Closest gate:
D53
Located just up the escalator from the "bus station" gates where flights to places like Tallahassee and Greensboro depart, you'll find all the mojitos, cuba libres, and other rum-based specialties you expect in Miami.
Closest Gate: D23
If you've got a painfully early morning flight and know you won't make it without coffee, skip the line at Starbucks and try this Colombian coffee stand instead. The stuff is strong, so if you've got a pile of work waiting for you to reach 30,000 feet, a dose of Juan Valdez is a must.
Closest gate: D-29
God bless 2021, when even vegans can find cupcakes in an airport. And the long-suffering animal-free folkas aren't the only ones indulging at Misha's, where cakes, cookies, and loads of other treats from Miami's favorite bakery entice passersby.
Closest Gate: D29
If Miami's glut of sushi restaurants wasn't enough for you, you've got one last chance to partake before heading out at this grab-and-go location. There's also a sit-down option if you've got some time, and it's not even a minimal drop-off in quality from those found on the outside.
D-33
Though this custom-built burger joint didn't make it as a stand-alone joint in Aventura, its spirit lives on in the hidden corner of the D terminal near the Heat team store. Expect creative toppings from pesto sauce to buffalo mozzarella at this creative sit-down restaurant.
E TERMINAL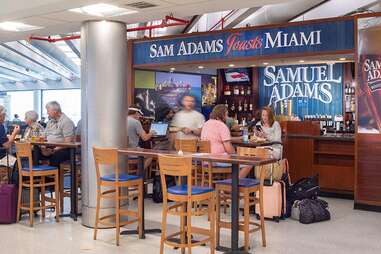 E Central Terminal
Make sure not to get too into the spirit of "wasting away" here or you'll probably miss your flight. But plenty of Buffet-inspired fun if you set an alarm to leave.
E Central Terminal
Chef Creole is probably one of the more underrated restaurants in the airport as its location makes it easy to miss. But here you'll find Caribbean specialties like conch fritters, griot, jerk wings, and oxtail at prices that seem downright cheap for an airport.
Closest gate:
E5
Miami's most prolific Cuban chain can also lay a pretty good claim to being its best. Though this location is only a cart near the main terminal E-gates, you can still grab a solid Cuban sandwich to take with you on the plane.
Closest gate:
E7
If you've been to a Sam Adams airport bar, you've been to this one. Plenty of beer and limited seating.
E Satellite
If you've got to take MIA's
other
(and original!) train, you're headed out to the lightly trafficked satellite terminal. Oddly, it might be home to the airport's most local feeling bar at this Wynwood-themed spot where parking is much easier than in real-life Wynwood.
E Satellite
Grab-and-go sushi isn't limited to those fancy folks flying out of Terminal D. The long-forgotten E satellite terminal also has a Sushi Maki outpost, where you might not be able to sit down but you can still grab a roll or two or the plane (go easy on the uni, pal).
E Satellite
Classic Miami Cuban coffee and quick service counter, available at the E satellite terminal. Enough said.
F TERMINAL
Currently, all food and beverage outlets in the F terminal are closed.
G TERMINAL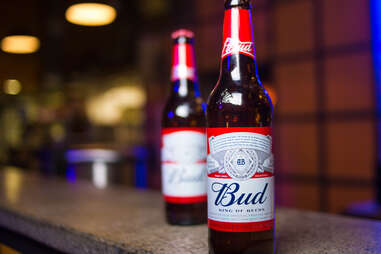 Closest gate: G10
As the only viable drinking spot in the G terminal, lines here can get long. But the beer is still cold and delicious, so do your thing.
Closest gate: G9
For morning departures, ditch Dunkin' and 'Bucks and hit this fresh-faced operation for a classical Miami experience. Pair guava-spiked pastelitos with Cuban coffee, or any other number of fragrant bakery items and jazzed-up coffee drinks.
Closest gate: G8
It ain't much, but this bagel and panini place is about the only option at the G gates that's not called Pizza Hut. And not to knock Pizza Hut, but sometimes that kinda grease just ain't gonna fly (literally).
H TERMINAL
Closest gate:
H6
This bright silver bar near most of the Delta gates is probably the easiest place in the airport to just walk up and grab a drink. Just understand as the name might imply, the beer list is long on Heineken.
Closest gate:
H7
The H Terminal dining options are limited, which you'll realize when you step up on this Subway counter and see it has an inexplicably long line. If you've got time to kill, and promise not to bring your three-meat trio on the plane with you, it's a solid choice.
Closest gate:
H9
Listen there, Joey Chestnut, scarfing as many of these as you can before your flight is probably gonna lead to a pretty miserable three hours back to JFK. But stop at one and maybe throw in some crinkle cut fries, and you'll fly home satisfied.
H-J Connector
MIA's quintessential "meal with a view of the airplanes" is at La Pausa, where you can watch jets from two different terminals take people all across the world. The menu is simple—think panini sandwiches, ahi tuna salads, and burgers—so you won't have to think too hard while deciding what to order. The food's still solid, but happily takes a back seat to the view out the window.
H-J Connector
As you breeze through the mall-like H-J connector, you may find yourself hankering for something a little more substantial than fast food. In a hurry? Check out Gilbert's, where made-to-order sandwiches, cookies, and salads arrive perfect for the plane.
J TERMINAL
Closest gate: J11
It might seem a little odd to have a Mexican-themed beach bar in the terminal where the bulk of Air Canada's flights once departed. Then again, flights to Canada haven't been a thing for a while, so you might as well lean into this bill of chicken tacos, salads, and seafood entrees while you wait for the Québécoise to return.
Closest gate:
J8
This Florida Turnpike favorite has landed in the airport, too, offering hearty deli sandwiches for those who need to eat in a hurry. They've got a long list of specialty sandwiches made both hot and cold, but you can also customize whatever you want if you're deathly opposed to condiments.