Meet Thrillist Miami's Best Chefs of 2016
Courtesy of Giorgio Rapicavoli
Editor's Note: This article is part two of Thrillist Miami's year-end look at the best of our city's local food and drink scene in 2016. In addition to our annual Best New Restaurants award, this year, we're spotlighting the men and women behind the dishes we love to tell you to eat. Whether they bucked the national trends, revived classic local flavors, or otherwise drove the city's culinary scene, these are the chefs that stood out this year. Check out our picks for the rest of America's 2016 Best Chefs, and then catch up on Best New Restaurants.
If you happen to be an outsider who thinks that Magic City cuisine is namely Cuban street food, Cuban food from Versailles, Cuban-influenced food, and the occasional overpriced cocktail on South Beach, then… well, you've definitely been to Miami. But ask the locals and you'll find that Miami is blowing up with award-winning restaurants, chefs, and tasty hole-in-the-walls that finally give diners a reason to go out to eat that doesn't involve a Chris Bosh sighting or a waterfront view. 2016 was yet another fantastic year for Miami's culinary scene. And if you're wondering who you can thank for it, start with these guys: the real MVPs of kitchen supremacy and Thrillist Miami's Chefs of the Year.
Courtesy of Scott Linquist
Scott Linquist
Aside from a handful of tasty taco spots, Miami has never been known for real Mexican food. That is until Scott Linquist entered the scene. Starting as a dishwasher at an LA pizza spot in high school, Scott worked his way up through the kitchens of some of the best restaurants in America: Lutece and Gotham Bar and Grill in NYC, Boulevard in San Francisco, and Citrus and City in Los Angeles. He graduated from the Culinary Institute of America, and was executive chef at Border Grill in LA, Arizona 206, and Pershing Square in NYC. He led the opening of seven Dos Caminos Mexican restaurants during his 10 years as national corporate executive chef and partner of BR Guest, released a modern Mexican cookbook, and even taught classes at Le Cordon Bleu to mold the minds of future chefs. Basically, he's the go-to guy for all things Mexican in Miami.
Today, he's redefining Mexican cuisine in South Florida. First with his fast-casual spot Coyo Taco, and most recently with the upscale authentic Mexican spot on Lincoln Rd, Olla, which opened in November 2016. In short, Linquist has taken the Miami Mex scene by storm, which is not surprising when you get a taste of his out-of-the-box tacos (like Coyo's charred octopus tacos with salsa veracruzana and pickled jalapeños), made-from-scratch guac, King crab marisco enchiladas, and, of course, his moles.
"Moles are possibly the most misunderstood dishes in the Mexican repertoire," Linquist says. "Most people believe it to be a weird chocolate sauce, but of all the moles, there are very few that actually contain chocolate, and for the ones that do, the chocolate is actually a very small component of the recipe." And yet, despite how hard they are to make, the guru himself put four on the menu. "I'm working on a mole tasting menu with wine pairings," he says. "I really want people to understand that certain wines pair beautifully with the cuisine."
And when you head to Coyo or Olla and try Scott's modern twist on real Mexican cuisine… trust us: You'll understand.
What's your favorite restaurant right now in Miami?
Scott Linquist: I like a lot of them! It's not new, but my best meal in recent memory was at Pubbelly, the original one. Jose Mendin's flavors are always on point and the ingredients are interesting. He does this one short rib soup dumpling with a sweet corn broth that is killer. The restaurant that I go to most often, though, is Toni's Sushi. The fish is awesome, I love its old-school Japanese sushi bar vibe (without all the bells and whistles of the trendy spots), and I love drinking my sake out of a box! Lastly, MC Kitchen. It reminds me of some of my favorite NYC spots. Plus, chef Dena Marino's pasta is the shit.
What makes the food scene in Miami so special?  
Linquist: "It's on fire… finally. Miami has long been an outpost for NYC restaurants that overcharge and underdeliver, and it's nice to see young chefs and restaurateurs on the scene that actually live in Miami and are excited to be here. It reminds me of NYC about 15 years ago. The camaraderie among chefs is special and everyone in the scene here is super-excited about it. Not to mention that Miami is not just about tourists anymore. We have a multifaceted dining scene and the locals can no longer be overlooked. They're as important as the tourists.
This is your second Mexican concept in Miami. Why are you so passionate about Mexican cuisine?  
Linquist: Mexican food is so misunderstood and poorly represented in many cases. I have been studying the cuisine and culture of Mexico for over 20 years; the complexity of flavors, the multitude of chiles, and the unique ingredients that exist in Mexican cuisine are like no other cuisine in the world. It is truly special. And of course, there are great tequilas, mezcals, and margaritas... enough said!
What's your favorite dish on the menu to prepare? To eat?
Linquist: Mole, mole, and more mole. More specifically, my favorite dish at the moment is our duck two ways, with mole Coloradito and sour cherries. Mole Coloradito is a very complex, fruity, nutty red mole that includes Mexican chocolate and about 27 other ingredients. We have a mole section that will feature four of the "seven moles of Oaxaca." My favorite to eat is menudo, a rich broth made with three types of feet and tripe. So in this case, yes: I do have a foot fetish.
It's your last meal. What are you eating?
Linquist: Sushi would probably be my answer; either Izaka-ya in Manhattan Beach, Takahachi in NYC, or Toni's in Miami. So really, I guess it would depend on my location when I meet my demise. Of course, the other obvious choice is Taco Bell! Seriously, I'm not joking.
Giorgio Rapicavoli
While most Miamians in their early 30s are happy to drink and not get a hangover, 31 year-old chef Giorgio Rapicavoli has already won Food Network's Chopped and Chopped Champions, been listed on Forbes' "30 Under 30," opened a series of pop-ups and three must-try restaurants (Taperia Raca, Eating House Miami, and earlier this year, Glass & Vine), and been a James Beard Award semi-finalist… three times. So yeah, he's somewhat of a big deal.
Of course, those who knew Rapicavoli as a child aren't surprised at all. While most kids were watching cartoons, Rapicavoli was already an overachiever; watching cooking shows and spending Sundays in the kitchen with his Italian "Ma" nailing down her pomodoro sauce. And for a chef known for his out-there plates -- Cap'n Crunch pancakes and Tang mimosas -- it seems fitting that his path to get where he is today was a little out there, too. As a top student at Johnson & Wales University, Rapicavoli dropped the program a semester short of graduation to dive right into the chef world. And considering this Miami native helmed the kitchen at Chispa Doral at just 21 years old, nabbed a three-year stint as executive chef at 660 at The Angler's on Miami Beach, and today, is a household name for some of the best brunches around (because seriously, those pancakes)… well, it's safe to say he did something right.
What's your favorite restaurant in Miami right now?
Giorgio Rapicavoli: That's a tough call. I love so many places; Kon Chau, El Atlakat, Rio Cristal, Chinese Guy, Yakko-San. It's impossible to name just one.
What makes the food scene in Miami so special?
Rapicavoli: Miami has always harbored creatives, but in the past few years, a lot of the creativity has been geared towards food. Today, there are lots of young, ambitious chefs trying to help create a real food culture in Miami.
You're known for your creative, out-of-the-box plates. What foods do you like to experiment with the most?
Rapicavoli: I love to cook vegetables. They are just great to work with. So versatile. Vegetables are often an afterthought, as a side dish to meat or chicken, blandly sprinkled with salt and pepper. I love making them the star of the show, like our charred head of cauliflower with chickpeas, tahini, and dehydrated olives. It's flavorful and satisfying, regardless of whether you're a vegetarian or not.
What's your favorite dish on the menu to prepare?
Rapicavoli: My favorite dish on the menu is the grilled sweetbreads, both to cook and prepare. I like the challenge of using underutilized cuts, so it makes me happy to surprise guests with something they love and don't usually eat.
It's your last meal. What are you eating?
Rapicavoli: Simple is best: fresh pasta with butter, Parmigiano, and white truffles.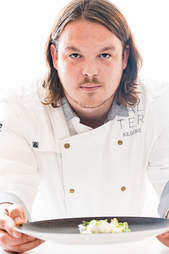 Courtesy of Brad Kilgore
Brad Kilgore
Some people believe cooking is a work of art and when you try Brad Kilgore's dishes, you'll understand why. Hailing from Kansas City, Kilgore has spent more than 10 years firing up the kitchens at fine-dining spots across the country, like L2O, Alinea, Epic, Boka (in Chicago), Azul (in Miami), and finally, J&G Grill, where he served as executive chef. What more can we say about Kilgore? OK, well he started cooking at a diner at the age of 12, graduated from Johnson & Wales University, is the brains behind Wynwood's famed Alter, and after this past year, became a two-time James Beard Award semifinalist. Let's not forget he opened BRAVA by Brad Kilgore in the Adrienne Arsht Center where he was named culinary director. Ladies and gentlemen, we give you... the incomparable Brad Kilgore.
At Alter, Brad has coined a style of cuisine that he calls "food with no boundaries," serving artistic dishes that are as fun to look at as they are delicious to eat.
"The Fallen Tree course at Alter is fun, intriguing, and a collaboration between me and an artist. Mark Diaz, of MAD Design, made the box-plate it is served on," said Kilgore. "It looks like a fallen tree in the forest, and is presented in a glass-topped box made with birch trees and lichen. The main component is heart of palm, which is also a tree, so you are eating a fallen tree on a box of fallen trees. The dish took six years from the first time I thought of it to its current stage."
Outside of your restaurants, what's your favorite restaurant in Miami right now?
Brad Kilgore: I have always loved the calzone at Lucali, but La Mar and Pubbelly are always great. I'm also excited to try Upland.
What makes the food scene in Miami so special?
Kilgore: It's so eclectic. There are people of so many cultures and, in general, the food is robust and aggressive, with lots of flavor.
You've worked at many different restaurants in Miami, all with different styles. What is your favorite type of cuisine to cook and why?
Kilgore: I really like to cook inventive, thought-provoking cuisine like the tasting menus at Alter and the re-creation of classics, like at BRAVA. These styles are what I love as a chef. They keep me driven and inspired.
It's your last meal. What are you eating?
Kilgore: Caesar salad, roast chicken, and mashed potatoes.
Sign up here for our daily Miami email and be the first to get all the food/drink/fun in town.
Jennifer Agress is a Miami-based food and drink writer who can't cook to save her life. She counts on Miami's chefs to make sure she eats. Follow her on Instagram at @jenniferagress.