Group dinners in Miami are always an adventure. Not just because you'll inevitably only have all of two people there at the time of the actual reservation (and at least one person won't show up until dessert), but also because this city parties so hard, group dinners are essentially a giant pregame with food. So where should you take your big group for its big night out? Or your family, if you actually want a group dinner without the chaos? Here are 13 spots around Miami serving great food, and designed to hold lots of people.
Recommended Video
Debatable: Is Shake Shack Really Fast Food?!?
SoFi
The towers of SoFi are full of people with a lot of money, and not much desire to share their dinner experience with "the masses," and the Canadian wine gurus behind Cibo know it. So while a big group dinner in the high-ceilinged main dining room here is a boisterous, energetic experience where everyone can watch their pasta being made, the private dining options here are what make it stand out. The rooms on the main floor feel like little secluded villas -- like eating dinner in your tasteful Italian friend's living room. And the rooftop offers pleasant alfresco group dining with a sprawling view of SoFi.
How to book: Call them at 305.442.4925 or use OpenTable.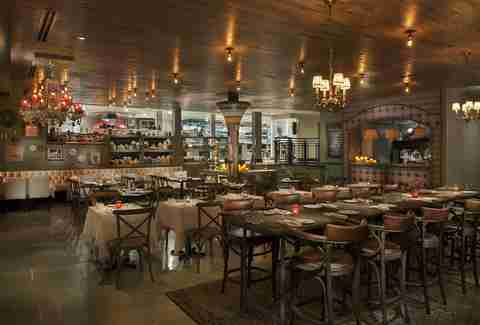 South Beach
This Mediterranean spot at the Redbury Hotel is big on savory sharable plates of which you'll only need a few to feel full. For less than the price of a 10-minute call to its namesake psychic (RIP), each person in your party can enjoy Cleo's fresh baked bread and homemade spreads, then follow it up with clay-pot cooked meatball, lamb tagine, or lemon-basted grilled octopus. It's a festive, laid-back atmosphere with reasonable prices, and a perfect way to start out a big night in South Beach.
How to book: Call them at 305.534.2536 or use OpenTable.
Wynwood
To say group dinners at this sprawling outdoor Wynwood beer garden require patience would be kind of like saying living on Fisher Island requires money. While in theory a place with big, communal picnic tables, steins of beer on draft, and a literal butcher's case of fresh meats, house-made sausages, and specialty hamburgers would be the optimal place for group dining, the service here is so notoriously slow that group lunches can become daylong events. So, you've been warned. If you aren't in a hurry to be anywhere or aren't particularly hungry, it can be a fantastic time.
How to book: Call them at 305.846.9120.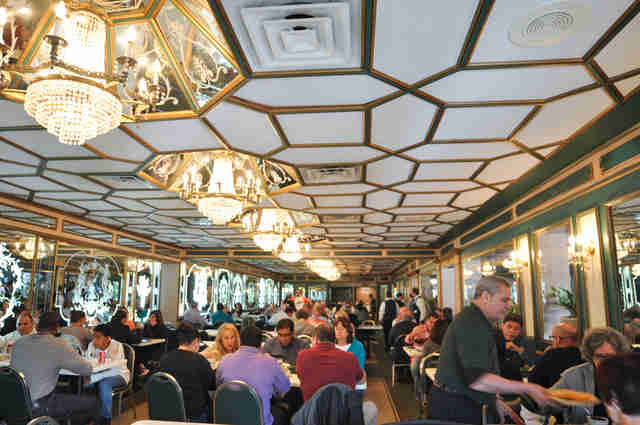 Little Havana
When, literally, entire tour buses can stroll in, have a gut-busting Cuban lunch, and be back on the bus in time to make their 2pm boat tour at Bayside, you know this place is doing something right. But even beyond having a private dining room in back set up perfectly for huge groups, this iconic bucket list restaurant seems to always be hosting some family of 28 who get their food quickly and seamlessly. It's the rare place that's perfect for both visitors and locals, and a quintessentially Miami group dining experience.
How to book: Call them at 305.444.0240.
Miami River
When owners Klime and Anita Kovaceski invite you in for what they describe as "an orgy of food and wine," they're not lying. Because the restaurant is so reasonably priced, your whole crew can go to town on the epic menu of house-made pastas, specialty pizzas, meatballs, and risottos without thinking too much about how much cash you're dropping. And you can wash it down with a selection of wines that features some stuff you won't find elsewhere, all priced so that you won't have to think twice about ordering a fifth bottle.
How to book: Call them at 305.371.7065 or use OpenTable.
Miami Beach
The Forge is about as subtle as an anvil to the face. This former blacksmith's shop is done up like someone's medieval fantasy of royal feasts; full of crystal, oversized chairs, and room-filling chandeliers. But the private dining rooms here are on a completely different level, whether it's the room of kings' chairs, the library, or even the wine cellar. It's not a place to go for a casual group get together, but if you're looking to splurge, no place does over-the-top like The Forge. And with one of the best wine bars in Miami, the options for drinks are as varied as the crazy décor.
How to book: Call them at 305.538.8533 or use OpenTable.
SoFi
Steak is hands-down the greatest group-dinner meal, especially if you're not stressing too much about the bill or throwing an epic bachelor party. So if you're going to go big on steaks, you may as well go to the best steakhouse in Miami. But the cool thing about Red is that if your group has that ONE person who doesn't eat steak, they're not stuck awkwardly nursing a mediocre iceberg salad. The menu here is also long on Italian favorites, made with Peter Vauthy's signature "Red Lead" sauce. The VIP group dining room in the front has big windows looking out on Washington Ave, perhaps the best "Hey, look at me, I'm private dining!" venue in South Beach.
How to book: Call them at 305.534.3688 or use OpenTable.
Brickell
For the odd Brickellite who ISN'T using his or her condo to hide illicit offshore earnings, and actually, you know, lives there, it's nice to have a bar to call home. But Batch is more than just a neighborhood drinking hole; it's the best place in Miami's condo corridor to watch a big game with a big group, with giant padded circular booths all angled towards the massive TVs. The best part of Batch is in the middle of the table, where individual tap systems let groups pour their own beer, wine, shots, and craft cocktails right at the table, upping the peer pressure by a factor of about six.
How to book: Call them at 305.808.5555 or use OpenTable.
South Beach
If you've never had Haitian food, Tap Tap is the way to try it. It's not only Miami's best-established Haitian restaurant, it's probably also the environment where the less-adventurous in your group will feel the most comfortable. It's a clean, colorful, spacious spot with large tables designed for family dining. Because traditional Haitian meals are all about eating with family, much of the food here is served family-style, and allows everyone at your table to try a lot of new things. The seafood is the way to go, with the pwason neg (grouper in lime sauce, or blackened) and the labni nan sos (stewed conch) as your go-tos. But it also serves grass-fed beef and free-range chicken on the menu too -- if some people in your party are only up for one adventure at a time.
How to book: Call them at 305.672.2898 or use OpenTable.
Coral Gables
The name -- pronounced "BOO-yah" -- means something like "joyful noise," so already you know this is going to be a perfect spot for a high-energy group dinner. Add in an all-tapas menu that's all about sharing the iberico ham croquettes, king prawn paella, or short ribs in red wine sauce, and you've got all the ingredients of a great dinner party. But if you want to go all out and book the rooftop private dining areas that look out over the Coral Gables skyline, you've got a runaway winner for the best group dining destination in Miami's coolest suburb.
How to book: Call them at 305.441.0107 or use OpenTable.
Kendall
The team behind Bulla has group dining pedigree, and instead of trying to open their Peruvian concept in a trendy, sexy, expensive area east of 95, they instead decided to make money. So they opted for Kendall, and the energy coming out of this place -- even on a random Tuesday night -- shows it's been a roaring success. The shared-plate ceviches and giant fish here are perfect for big groups of Kendallites looking for an alternative to the area's glut of chain restaurants, and that's why you'll find the long tables packed from about 7-11pm every night of the week. The new location in Doral doesn't disappoint either, but for large-group dining, nothing beats the original.
How to book: Call them at 305.630.3844 or use OpenTable.
South Beach
Korean barbecue is a time-honored group dining activity, and the best one in Miami is hidden in a nondescript Alton Rd strip mall between a Subway and a Domino's, under a giant red sign that says "Market." The place does the grill-your-own-meats thing with barbecues in the middle of each table so everyone can play pitmaster. But the rest of the menu here is strong, so the grilling isn't the only part of what makes it great. Throw in an extensive menu of Asian-inspired craft cocktails, and your group will almost forget it's paying a premium to cook its own food.
How to book: Call them at 305.397.8556 or use OpenTable.
Westchester
Chinese restaurants ostensibly invented group dining in America, and even though Miami is more lacking in Chinese restaurants than it is in honest politicians, you'll still never go wrong at Tropical. A dim sum brunch here is like eating on the floor of the New York Stock Exchange, with trays and plates of chicken feet being tossed around in a cacophony of delicious chaos. But even for a casual weeknight dinner, nowhere serves up traditional Chinese food better, and if that's what your group is in the mood for, it's more than worth the trip down Bird Rd.
How to book: Call them at 305.262.7576.
Sign up here for our daily Miami email and be the first to get all the food/drink/fun in town.