Broken Shaker

| Broken Shaker
Broken Shaker

| Broken Shaker
In theory Christmas dinner is a great time. That is, until about round three of cocktails when someone accidentally drops a political comment, and all hell breaks loose. Then, once the dust settles, there's only one person left to clean up the literal and figurative mess—you. While Miami's best restaurants can't help you control your family, they can help with that second part as many are open on Christmas Day, serving dinner they'll gladly clean up after. Here's a look at the best restaurants in Miami open on Christmas, whether you're craving prime rib or Chinese food at a bar.
Okay, so Christmas in Paris didn't happen this year. It's cold over there anyway. Much better to enjoy the French brasserie experience in balmy Bal Harbour, where Le Zoo is open all day serving its entire menu. If you're seeking something a little more Christmassy, try the holiday specials like grilled oysters al pastis, lobster bearnaise, and crepes suzette.
Cost: Menu prices vary.
Some years you have a Christmas goose. Some years you have Phuc Yea Pho and Millionaire Fried Rice. If 2022 is the latter, swing by Phuc Yea, which will be open and serving its entire regular menu. The Pho is perfect for a big group, with each order serving hearty bowls of hickory smoked beef short rib, pho spiced beef broth, rice noodles, beef meatballs, onions, beans sprouts, and jalapeños. And yes, you can get all of it to go.
Cost: Menu prices vary.
No better time than Christmas to check out the newly renovated Mayfair, whose signature restaurant is open serving its regular Southwestern dinner menu. You can also opt for the special prime rib, served with duck fat fingerling potatoes, French green beans, and Yorkshire pudding. Then finish off with an apple tart tartine with bourbon vanilla ice cream
Cost: Prime rib is $35. Other menu prices vary.
Avoiding the family this holiday season, and content to spend the 25th eating at a sushi bar with a nice glass of cold sake? Tanuki feels you, and will be open Christmas Day with its regular menu of sushi and other pan-Asian classics. For those whose holiday traditions include Chinese food, Tanuki's offering Peking Duck with traditional scallion pancakes.
Cost: Duck is $39 for a half portion, $75 for the whole ducking thing. Other menu prices vary.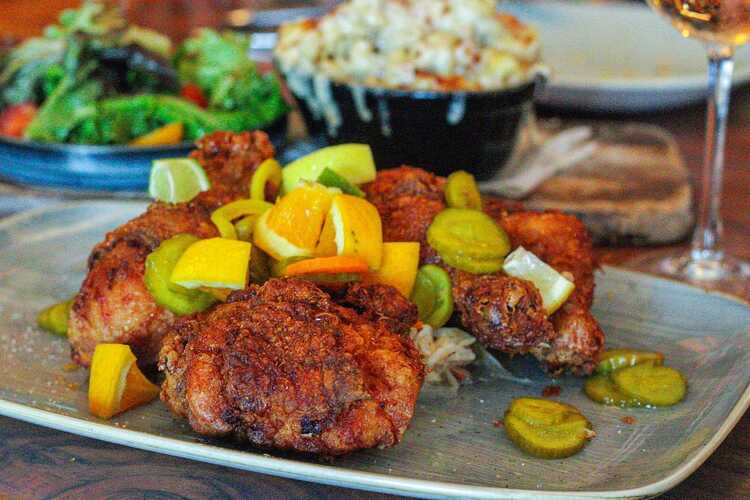 Red Rooster

| Red Rooster
If you're longing for a family-style dinner, head to Marcus Samuelsson's Overtown outpost where they'll be dishing up shareable plates for you and yours from 5 - 10 pm. Guests can pick two small share plates like Krazy Kale Salad or Marcus' Cornbread. Then order an entrée, sit back, and wait for the family-style feast of sides including green beans, sweet potato casserole, mac 'n cheese, and St. Augustine shrimp. Red velvet macaroons, German chocolate cupcakes, and sweet potato challah bread pudding finish off the parade.
Cost: $75 per person; $20 for kids.
Sometimes after a rough Christmas Eve with the fam, all you want on Christmas is some good drinks and Chinese food. Broken Shaker is your holiday miracle, serving its fabulous cocktails alongside chef Jimmy Lebron's special Chinese takeout menu. Choices include General Gui's Chicken, Pork Char Siu, dumplings, and dan dan noodles. All of which can be enjoyed in the lush, tranquil courtyard, away from shouting relatives.
Cost: Menu prices vary.
How to book: Show up for first-come, first served service.
For a Christmas dinner that'll be talked about for years, head to this over-the-top steakhouse for its three-course prix-fixe offering. All Dirty French's Instagram stars are part of the holiday menu, including the unforgettable mushroom mille feuille as an appetizer, and prime filet mignon or blackened snapper as your main. Everything comes with sesame spinach and pomme frites, and you can even order the infamous opera cake for dessert.
Cost: $150 per person.
Is there anything more Miami than spending Christmas at a pool party? Those up north might call it sacrilege, but down here we just call it a great way to work on your tan during the day off. Strawberry Moon won't be throwing its regular weekend rager, but it will have a Christmas menu featuring poached pear & burrata, herb-roasted prime rib, and dover sole.
Cost: Menu prices vary.
How to book: Reserve via Sevenrooms.
Christmas dinner doesn't need to be an onslaught of red meat and indulgent carbs. If your tastes lean a little lighter, stop into this Mediterranean bistro from the crew behind Mandolin, whose full menu of kebabs, salad, and entire roast chicken is available for your holiday enjoyment. The pizza is low-key, some of the best in South Beach too.
Cost: Menu prices vary.
If you're like a lot of Americans, your older relatives reside in Aventura and refuse to eat outside a two-mile radius. Our solution: Take them to Turnberry. Bourbon Steak has an epic Christmas dinner planned, featuring a three-course menu that kicks off with oysters, tuna tartare, or spice beef lettuce cups. Entrée selections include filet mignon, veal chop, and ahi tuna. And everything's served with family-style sides of mac 'n cheese, garlic mashed potatoes, and creamed spinach.
Cost: $170 per adult, $80 for kids.
How to book: Call 786-279-6600.
This new art-deco Northern Italian gem is special occasion dining at its finest. And what occasion is more special than Christmas? Use it as an excuse to splurge, and sample the special prix fixe menu with all the house hits like meatballs aldo, ricotta gnudi, spicy lobster rigatoni, and roasted turkey. The finish off with pumpkin ice cream and Boston cream pie.
Cost: $150 per person.
Maybe you're feeling a prime rib dinner, but not feeling sitting through an entire restaurant meal. STK is open on Christmas Day, and will happily serve you anything off its menu. But if you'd rather take the prime rib special home–along with the confit fingerling potatoes, green beans, and port wine shallots it comes with–it'll give you the whole shebang for two in a lovely to-go container that's ready to unpack as soon as you get home.
Cost: Prime rib special is $79 per person, $154 for two.