Sometimes in Miami, it's just best not to ask too many questions. Like "How do you afford that new 7-series when you still live in a veritable shack?" or "Where's all this water going to go?" But a question absolutely worth asking is "Where should we have dinner?" Our culinary options have exploded over the past decade, and neighborhoods that were once only dining destinations for feral raccoons now house some of the best restaurants in the country. Debate rages on about which Miami neighborhoods are the best, but when looking at variety, affordability, and creativity, these are our top 10.
Recommended Video
This Restaurant Gives Brunch a Punjabi Twist
10. Doral
Essential restaurants: Bulla, Pisco y Nazca, Dragonfly Izakaya and Fish Market, Ocio, Brain Freeze.
Hard to argue with any neighborhood that has a Chili's, Hooters, Ale House, AND Flannigan's all within walking distance of a vast Walmart parking lot. But believe it or not, there's more to dining in Doral now than Galloway's chain restaurant heaven. The Downtown Doral development has seen the opening of outposts of Bulla and Pisco y Nazca this year, as well as Dragonfly Izakaya and Fish Market. Recently opened Italian joint Ocio gives Doral some legitimate Italian cred. And for dessert, Miami's most expansive and inventive liquid nitrogen ice cream is available at Brain Freeze. Making once-drab Doral a legitimate culinary contender in 2016.
9. Wynwood
Essential restaurants: Wynwood Kitchen and Bar, Coyo, Pancho's, Wynwood Diner, Panther Coffee, Alter, Kyu, Beaker and Gray
Thankfully, it seems the panic over possibly-virus-carrying mosquitos is over. Which means we can all return to Wynwood and eat under rotating murals of stuff we really don't understand. The stalwart here will always be Wynwood Kitchen & Bar, but if you don't need the walls to make your meal, there's plenty more to choose from. For fast-casual, you'd be hard pressed to beat the tacos at Coyo, except for maybe the ones served out of an old Mercury Commuter at Pancho. Some of the best breakfast food in the city is here too, whether you like it quick at Panther Coffee, or more elaborate at Wynwood Diner. Last year's culinary darling also came from Wynwood, with Brad Kilgore's Alter. And this year has seen some solid additions with Beaker and Gray and Kyu. Wynwood might not have the variety that some other, more-established areas do, but if you've got visitors in town and want to avoid the Beach, it's still a top destination.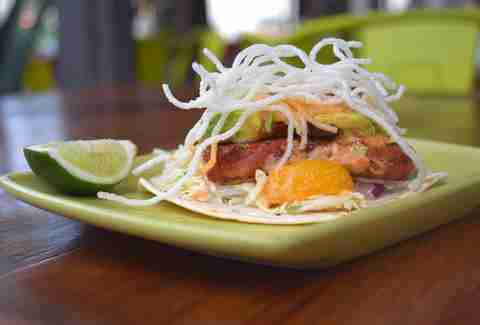 8. South Miami
Essential restaurants: Rok:Brgr, Mellow Mushroom, TacoCraft, Whisk, Town, Station 5, Deli Lane
Ironic that the megamall that was once anchored by a Virgin Megastore and Niketown -- and built to revitalize Downtown South Miami -- is now a complete afterthought when it comes to food in this UM-adjacent 'hood. The restaurants here skillfully cater to the M5-driving college crowd, with high-end options for burgers (ROK:BRGR), pizza (Mellow Mushroom), tacos (TacoCraft) and sushi (RA). Those spots are complemented by a wonderful variety of options for South Dade locals, from southern specialties at Whisk to the modern cuisine at Town or Station 5. And if there's a more classic breakfast in Miami than Deli Lane, we haven't found it. So even if Sunset Place never has another big-time tenant, South Miami will never have a shortage of great places to eat.
7. Downtown
Essential restaurants: Wolfgang's, STK, DB Bistro Moderne, Burrito San, Sparky's, 180 Degrees at DRB, Fooq's, Zest, Mike's at Venetia
Yes, there's more life in the Dolphins' playoff hopes than there is in Downtown Miami after dark. That said, there are some truly outstanding places to eat that don't include the words "Bubba Gump." If you're willing to spend, spots like Wolfgang's and STK have some of the best cuts in Miami, and DB Bistro Moderne could make a claim as the best restaurant in the city. But even on a budget, you can get sushi in a burrito at Burrito San, first-rate barbecue at Sparky's, or a gut-busting burger at 180 Degrees at DRB. Add in the neighborhood gem that is Fooq's, Cindy Hutson's new spot at Zest, and the pizza at Mike's at Venetia and the food scene Downtown begins to look really alluring.
6. Coral Gables
Essential restaurants: Eating House, John Martins, Copper 29, Uvaggio, Bulla, Swine, Ms. Cheezious, Talavera, Books & Books, Pincho Factory
Miami's coolest suburb really hates being called a suburb (City Beautiful, we get it). And when you've got the innovative food options of Coral Gables, it does feel more like its own urban area. Eating House is the obvious leader here in terms of trendy, creative options, but don't sleep on Miracle Mile, where you can have one of Miami's best burgers at John Martin's or meander down the street to the meticulously crafted bar food at Copper 29, and then even further down to the wine-designed delicacies at Uvaggio. Ponce de Leon Blvd could be the best food street in Dade County, with Bulla, Swine, Ms. Cheezious, and Talavera all staking legitimate claims as top performers in their respective categories. And for fresh, healthier stuff the food at Small Tea or Books & Books  is tough to beat. Did we mention the second-ever Pincho Factory was in the Gables too? Because it is.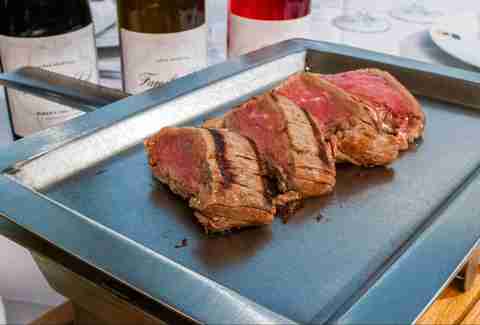 5. Brickell
Essential restaurants: NAOE, La Mar, Azul, El Churrasco, Perricone's, Bonding, Stanzione 87
Though you'll work up a powerful hunger fighting the teeth-clenching traffic in Brickell, the reward at the end of the gridlock almost makes it worth it. Brickell Key could qualify as a top food neighborhood with Miami's best sushi at NAOE and best Peruvian at La Mar, joined by the consistently great Azul and Miami's most underrated fast-casual joint at Burger Love. Also, Brickell's finally got a legitimate, non-chain steak spot at El Churrasco, which takes advantage of sweeping bay views and serves grass-fed steaks with family-made Spanish wines. And even though west of Brickell Bay Dr, there's not a whole lot of remarkable other than Perricone's, you can still find little hole in the wall gems (for now) like Bonding and Stanzione 87.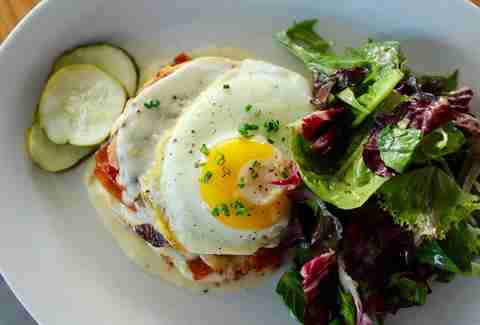 4. MiMo
Essential restaurants: Blue Collar, Vagabond, Phuc Yea, Anderson, Schnitzel Haus
Don't you DARE call it "The Upper East Side." A neighborhood with this much character deserves a lot better than some sad wannabe Manhattan moniker, especially with block after block of amazing restaurants that have landed here over the past decade. Start with Danny Serfer's Blue Collar, effectively the first place to take an old Biscayne Blvd joint and make it cool again -- a trend followed at Vagabond. And this stretch of Biscayne just got a great new addition when the team from The Federal opened up the Viet-Cajun Phuc Yea. Further north is NE 79th St, a thoroughfare that boasts '80s-themed bar food at the Anderson and Miami's best German food at Schnitzel Haus. What's special here is how much everything is rehabbed, where a once rundown area is home to some of the best new concepts in the city. And MiMo's ranking here will improve in the coming years.
3. Sunset Harbour
Essential restaurants: NaiYaRa, Tequiztlan, Icebox, Lucali
If you don't plan right, you will literally find yourself sitting in your parked car at the Sunset Harbour parking garage arguing with your significant other over which restaurant to eat at. And they're all within about two blocks. There's not a bad choice in the place, whether you're hankering for spicy Asian food at NaiYaRa, Mexican at Tequiztlan, healthy vegetarian at Icebox, pizza at Lucali... you get the drift. So let us play relationship counselor for a second and suggest getting takeout from a couple of different spots and eating it all by sunset at Maurice Gibb park.
2. Coconut Grove
Essential restaurants: LoKal, Bombay Darbar, Spillover, Glass and Vine, Spasso, Green Street
Unlike that college football team that houses itself nearby, the Grove actually IS back! But not as the debaucherous college hangout it was during UM football's heyday, but rather as one of Miami's best new dining destinations. It started with the unbelievable burgers at LoKal, but since then signs of life have showed up in long-abandoned shopping centers, including Bombay Darbar's new digs on Florida Ave, and Spillover, which might be the first new restaurant at Streets of Mayfair since the Clinton administration. Add to that some impressive new fine dining at Glass & Vine, fantastic new Italian at Spasso, and the always-consistent Green Street and all of a sudden eating outside in the Grove this winter seems like the best idea since firing Al Golden.
1. SoFi
Essential restaurants: La Locanda, Big Pink, Izzy's Fish and Oyster, Cibo Wine Bar, Lillikoi, Dirt
If you've been here long enough to remember, there was a time when all the cool, new stuff in South Beach landed north of Fifth St, and South of Fifth was relegated to being the set for Band of the Hand. But the tables have turned, and as NoFi fast becomes an urban wasteland, SoFi has become the best food neighborhood in the city. It's accomplished this by keeping its great old standards like La Locanda and Big Pink, and adding some fantastic new concepts like Izzy's Fish and Oyster and the sprawling Cibo Wine Bar. SoFi literally has something for everyone in every price range, from a European deli to slices to high-end steak at not one but THREE different restaurants. And even actually delicious healthy food at Lilikoi and Dirt. We'd say we wonder how everyone who lives here doesn't weigh 500lbs. But this is Miami, and it's probably best not to ask such things.
Sign up here for our daily Miami email and be the first to get all the food/drink/fun in town.