6 sweet new desserts to try right now
Miami Admit it: you saw they took the garbage bags off all the "Port Tunnel" signs and got all excited to spend the weekend seeing what $800 million pays for these days... only to find out it isn't going to open for another three weeks?! Well, unlike those teases from the Port of Miami, we've got something you can definitely do this weekend: try these six sweet, new desserts that're available RIGHT NOW, and cost significantly less than $800 mil.
La Bomba at ToroToro
Don't have a Dexter flashback when your waiter brings a giant sheet of plastic to your table: that's just to minimize the mess he's about to make when he drops a globe-sized chocolate ball filled with dulce de leche mousse, strawberry ice cream, almond cookie crumbles, berries, and edible orchids, and it explodes into a berry, vanilla, and dulce-covered mess of deliciousness for you to scoop up.

Continue Reading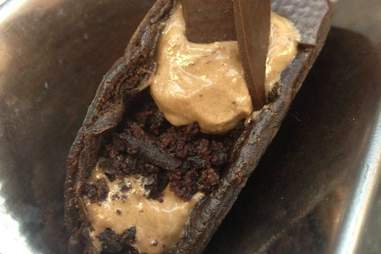 Chocolate Mousse Cake Taco at B.C. Cafe
If you see this homemade, chocolate tortilla filled with layered chocolate cake and chocolate mousse on the menu at Davie's top taco joint, make sure you take full advantage and order it, because much like the one person at Comcast who can help you with your bill, it's not available every day.
Textures of Chocolate at Shikany
Michael Shikany's new Wynwood restaurant/cooking lab is rolling out this dish in a glass, filled with caribe chocolate cream, cocoa CIB powder, pretzel mousse, cocoa tuile, and caramel chocolate rock... a marked improvement over the kind of "rock" you used to get in Wynwood, but just as addictive.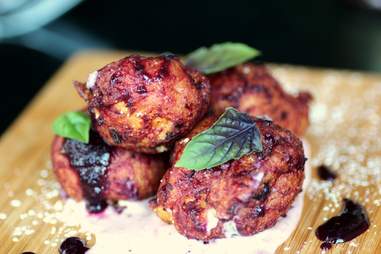 Tarta de Queso de Cabra at Taperia Raca
Ryan Harrison's taking pieces of goat cheesecake, wrapping them in donut batter, deep-frying 'em, and then tossing them in blueberry butter, which transforms them into giant blue balls (but the good kind!), and finishes 'em off with strawberry jam and a combination of goat/cream cheese.


Megan McCrink
Chocolate Fondue at The Forge
Because nothing at The Forge is ever understated, brand-new pastry chef Alycia Delaney is rolling a giant vat of homemade milk chocolate to your table and flanking it with caramel-crunch marshmallows, Rice Krispies treats, jelly donut holes, strawberries, and eclairs for you to dip in it, while sitting under a 10ft chandelier in a chair four times your size, obviously.
Mini-Indulgences at Seasons 52
While the dessert-in-a-shot-glass trend has been kicking around longer than Adam Vinatieri, the people who originated the under-150-calorie dessert have dropped a whole new set of them, including carrot cake, Rocky Road, chocolate-peanut butter mousse, mocha macchiato, pecan pie, and S'mores.
Or you can drink your dessert at one of these 57 boozy brunches...