It's been a long time since we told you about Miami's best pizzas. Almost as long as it's been since you went to the beach, waited in line at a club, or did any of the other silly things tourists do this time of year instead of checking out Miami's six best new pizzas like you're about to...
Diavola
Ironside Pizza (address and info)
Little River
The only way this new casual pizza joint in the "should we really be parking here" hipster 'hood West of MiMo could be any better is if each of the wood-fired Neapolitan pizza from the Toscana Divino crew -- like this one with mozzarella, fresh tomatoes, and spicy salami -- came with a free Transformer.
Green Stripe
Blaze Pizza (address and info)
Fort Lauderdale
Sure, your boss might not be thrilled when you pop into his office and say, "Hey man, I'm going to Blaze for lunch.". Or he might be jealous since this brand-new shop offers 40 toppings, seven sauces and cheeses, and has a wood-burning oven that cooks your three-topping, 11in pizza in three minutes... all for just $8. Oh, and they've also got signature pies like the Green Stripe with pesto drizzle over grilled chicken, roasted red peppers, chopped garlic, and mozzarella.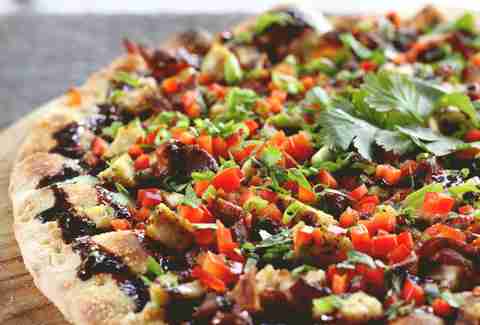 Korean BBQ Pizza
Batch Gastropub (address and info)
Brickell
Even though they're not set up to let you grill food at your table, that's not going to stop the guys at Batch from jumping on the Korean BBQ bandwagon like they're early-season Dolphins fans. Their contribution to the craze is this new pizza with five-spice chicken, pork belly, crackling bacon, scallions, red pepper, and cilantro with Korean BBQ sauce.
Motorino
Stanzione 87 (address and info)
Brickell
Being named one of the best pizzas in Miami is no reason to slack like D-Wade in a playoff game, so Neapolitan wonderkid Franco Stanzione is keeping his menu fresh with a bunch of new pies, the best of which has roasted Brussels sprouts, pancetta, mozzarella, Parm, and Calabrian-infused honey.
Burnt Pepperoni
Siena Tavern (address and info)
Miami Beach
You already know that the dough here was cooked by some master pizza chemist called the "Heisenberg of pizza" who measured Miami's humidity to make sure the dough is just as good as the stuff back in Chicago. But which pizza to get? Easy: the Burnt Pepperoni with spicy tomato sauce, red chilis, char-broiled pepperoni, and mozzarella.
Oxtail Mozzarella
Proof Pizza & Pasta (address and info)
Midtown
If you're not so much into culinary ateliers and more into... well, pizza, you'll be delighted to learn that the old Copperbox spot in Midtown has been turned into a Neapolitan pizza and pasta joint (now with windows!) where Justin Flit of DBGB and Bourbon Steak is slinging pies like the Oxtail Mozzarella with black garlic, thyme, and caramelized onions.
Sign up here for our daily Miami email and be the first to get all the food/drink/fun in town.