Summer in Miami means that 1) you've got these 13 things to do, so get busy, and 2) the town's not as busy with tourists, so there's less traffic on the road, fewer people telling you everything is sooooooo much better in New York, and plenty of time to check out Miami's 10 best new restaurants, which we've helpfully assembled for you below...
Recommended Video
Here's Our Travel Guide to This Nation of Over 7,000 Islands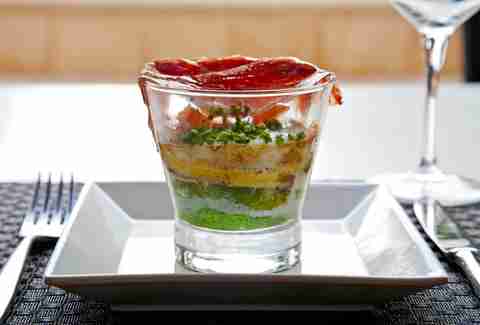 Sunny Isles
If we told you Green Eggs and Ham and SpaghettiOs were for dinner, you'd probably expect that meal to come with a high chair and a Mr. Potato Head sippy cup. But Dewey LoSasso's taken these toddler-chic favorites and seamlessly transplanted them into Acqualina's crystal-studded dining room via dishes like baked eggs, chives, ibérico ham & mascarpone, or circle pasta w/ mushroom crema and serrano peppers. Of course, you could just go with the herb-crusted filet mignon, but in keeping with the theme, you should probably have your date cut it up into really, really small pieces before you eat it.

Coral Gables
For years you've driven by this Calle Ocho mega-sign next to a tiny barbecue shack and thought, "I bet that place is either really good or really terrible". Or, worse, went in and said, "Why on Earth are they serving vaca frita and tostones?". But after a major fire shut it down and new ownership took over, Miami's oldest barbecue joint is once again a barbecue joint, and it's bringing back the original cinnimony-sweet sauce from a recipe created by Uncle Tom himself. It's got a big new menu that's highlighted by a brisket or pulled pork stuffed mac 'n cheese that totally would have made this list if they'd opened a year ago.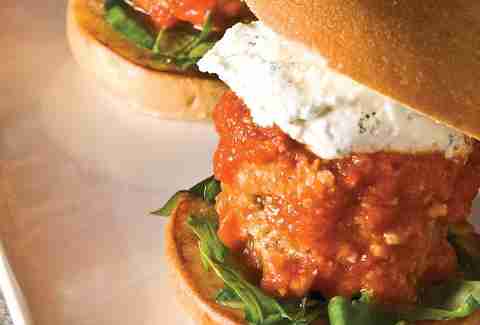 Fort Lauderdale
Listen, just because they've got "balls" in the name, and a menu divided into sections like "Balls on Top" (pastas) and "Balls in Between" (sandwiches), doesn't mean you need get all giggly… but you're totally gonna because this sweet new Las Olas meatball shop from the Vibe/Yolo/S3 people has also got 12 wines on tap that you can use to wash down the five kinds of balls (beef, chicken, spicy pork, veggie, and F&B blend) they're putting on pasta, in sliders, in chili, etc.
Wynwood
Michael Shikany is doing stunningly inventive plates at this meticulously decorated new culinary lab. Think you know what an arepa is supposed to look like? Try the soft-shell crab arepa with smoked gouda and goat cheese, smart guy. Thought you had a grasp on how a steak was supposed to look? The Seared A5 BMS 12 Miyazaki Wagyu Tenderloin & Caviar will blow your mind. Actually, just reading it blows your mind... hopefully not bad enough you forget to order the Beets on Fire, which has Pop Rocks in places you didn't even know Pop Rocks could go. Seriously.
Brickell
The last time you read an actual printed newspaper was so long ago you probably used it to see what that night's Miami Vice episode was about. But you've got an excuse to do it again with the new, custom-printed newspaper menus at this Brickell Italian spot in the old El Vato space, where in addition to wine taps and a menu with stuff like Asian BBQ pulled pork pizzettes, rich homemade ricotta ravioli, and hearty pomodoro meatballs, they're holding monthly contests for best Italian recipes and printing the winners (with your picture!) in their menu every month.

Lauderdale-by-the-Sea
There're 5 million people between Dade and Broward counties and only three donut shops that aren't national chains. What does this mean? This means the line at this sleek new donut and fresh coffee spot in Lauderdale-by-the-Sea is probably going to be pretty long. But when you've got custom-made coffee blends and donuts like maple bacon, Oreo cookie crumble, homemade peanut butter-filled candy bar, white chocolate coconut, pistachio cream, and whatever other crazy stuff they come up with, you're gonna need more than one shop to satisfy South Florida. So look out for them in Las Olas, Sunrise, and Boca by the end of the year.

Coral Way
They say if you like laws or sausages you should never watch either being made, which means you should probably stay out of the kitchen of this new Coral Way craft beer hall, where in addition to a rotating menu of hard-to-find suds and large-format bottles, they're also house-making an impressive menu of sausages with beer-steamed pork, spicy beef, chicken gorgonzola mango, and even a sausage-of-the-sea with salmon, octopus, and sea scallions. Sausage not your thing? They've also got thick, house-smoked bacon and a burger w/ ground New York strip on brioche that's already getting raves.

Coconut Grove
The Grove. Remember that place? With all the trees and bad decision bars? Yeah, the last time you were there was probably around the same time you read a printed newspaper. But a GREAT decision you can make is visiting this totally revamped incarnation of Timo's with new Chef Maribel Gaynor, who's plating bacon and Brie tater tots, spice-rubbed bison sirloin with cheddar grits, and "adult sundaes" with Frangelico and Chambord in the same '80s Miami-meets-Texas living room setting right on Florida Ave.

South Beach
While a great many people in Miami struggle to legitimately explain what their jobs are, there's one guy at this high-end, South of Fifth, Mexican spot who does not have that problem: the Mezcal Concierge. That's right, this Mexico City hit is opening their first US outpost complete with a guy whose entire job it is to tell you which of their 100+ tequilas or mezcals to pair with your chicharron quesadilla, crab taquito, or chipotle meatballs. And if that's not enough for you, they've got a voluminous menu full of steaks, seafoods, tacos, fresh squashed guacamole, and a chili popsicle sampler for dessert.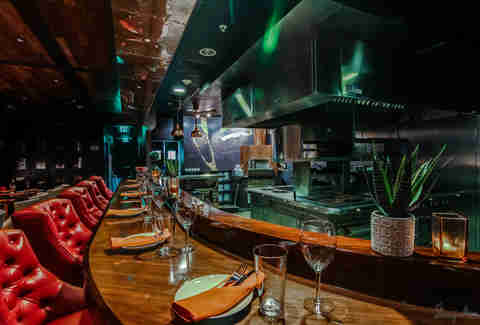 Midtown
Although your typical 1920s-era speakeasy didn't have cartoonish murals on its storefront, the food makes it easy to overlook the slight historical inaccuracies at this new restaurant and upstairs-lounge. Some examples: the lobster truffle mac 'n' cheese & spicy meatballs are great, and you can't miss the Wagyu skirt steak w/ green rice… yeah GREEN RICE, which you can get the courage to try after having a few of their Prohibition-era cocktails, including an Old Fashioned or a raspberry mojito. Because raspberry mojitos were totally a thing in the '20s, right?
This list -- and all the rest -- look even sexier in our iPhone app. Get it now!