Miami has a lot to be thankful for in 2014: the port tunnel finally opened, we... um, finally got rid of that LeBron guy, and, oh yeah, it's still 80 degrees in November, which means you've got no excuse not to hit an unmarked Asian barbecue in South Beach, a steakhouse with a famous chef, or the rest of Miami's best new restaurants of 2014...
Recommended Video
These Onion Rings Are Stuffed With Cheeseburgers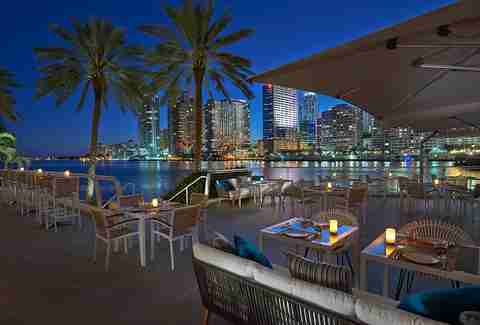 Brickell
When you share a hotel with a five-star resto like Azul, it's hard for a new restaurant to be much more than the culinary equivalent of the New York Mets. But Gastón Acurio has masterfully taken his creations to the bay-front Mandarin Oriental and opened possibly the best new restaurant of the year, plating causas (whipped potatoes served in a mini-boat under stuff like tuna tartare and grilled octopus), beef anticuchos, and adobo slow-cooked beef cheeks stew, all in a space with a sweeping view of Brickell and the bay.
Coral Gables
If there's anyone on Earth who knows more about wine than Heath Porter -- without making you feel stupid -- we haven't met him. In his pleasant Alabama drawl, Porter will explain to you exactly how he hand-picked dozens of wines, then with the help of Top Chef alum Bret Pelaggi, built an entire menu of food to pair with them. Or, if you happen to think you know more than Porter (you don't!), you can just pick one of the other 100+ wines by the bottle -- or 20+ by the glass -- to enjoy in this tiny Coral Gables bistro.
Miami Beach
Meatballs have Twitters. Yep. It's come to that. Then again, when you're a giant ball of Wagyu beef basted in hearty marinara sauce that's known all over Chicago like Siena Tavern's, it's at least a little justified. But there's a lot more to this Chicago Italian joint than meatballs. The spot, taking over the old China Grill space after a three-year vacancy, is helmed by celebrity chef Fabio Viviani and has a full menu of pizzas, pastas, and classic Italian entrees. But these 11 things are definitely what you'll want to know before you go in.
Miami Beach
Don't get all excited and think the Fontainebleau is finally jumping on the farm-to-pole bandwagon after the success of Touché. This is just the clever name of Michael Mina's second FB outpost that's taking over Gotham Steak's role. It's adding to the menu with caught-that-day seafood specialties, three cuts of Wagyu (including a 50oz Australian Tomahawk), A4 rib eye, A5 strip loin, and entrees of meat medleys like the Colorado Lamb Tasting and an American vs. Australian Wagyu platter.
Sunny Isles Beach
Not that we'd EVER encourage healthy eating (hello, Fat Kid Friday), but if you ever feel the need to take a break from cheese- and bacon-covered everything, your new go-to spot is this Sunny Isles eatery, where the heavily-vegetarian menu is highlighted with food grown in mini-farms in Broward. Meats are all free range, grazed, and hormone-free, and many condiments and sauces are made in-house with no processed or refined ingredients. But you'll never know because unlike most "healthy" stuff you've been force-fed your whole life, this stuff actually tastes good.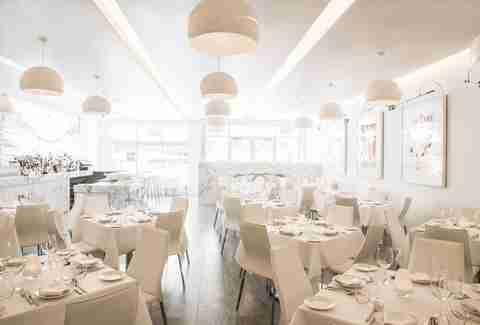 South Beach
In perhaps the single greatest attempt at creating a city-of-origin effect in restaurant history, this new whited-out SoFi Italian spot has put TWO sexy cities in its incredibly geographically confusing name, which they totally didn't need to do because the food here -- highlighted by the truffle Champagne ravioli and pesto gnocchi -- could be served in the middle of Downtown Buffalo and still be the best new Italian food you have all year. The free pre-meal bruschetta with mussels and fried zucchini doesn't hurt either.
South Miami
Because the guys behind this South Miami carb-topia know that the entire world loves bread, they traveled last year to get bread recipes for things like Indian naan, German pretzel rolls, buttery French brioche, and Italian ciabatta. You can pick one to pair with their big grill-able menu full of stuff like bourbon pork, Korean BBQ chicken, chargrilled sirloin w/ red sauce, and braised lamb w/ cucumber sauce.
Downtown
The fact that they opened a gourmet restaurant on the roof of a strip club should be enough for any men's lifestyle site to make this one of the best restaurants of the year, but throw in the fact that chef Carla Pellegrino could have a pretty solid backup career working downstairs, a panoramic view of Downtown from the outdoor lounge, plus a classic Italian menu (and sushi!), and it immediately becomes a must-visit restaurant for anyone coming to Miami.
Fort Lauderdale
This new Las Olas meatballeria definitely wins the award for funnest new restaurant name to say, but once you've stopped giggling you can start to appreciate the very affordable meatball-laden menu from the Vibe/YOLO/S3 people, which features items that either come with "Balls on Top" (pastas), or "Balls in Between" (sandwiches) that you can wash down with one of the dozen wines on tap. Finish with the best chocolate chip cookies in Broward and a carafe of warm milk.
South Beach
There are some who say they have an issue with paying to grill your own food. Those people must get all their tailgate food for free, and also haven't made it into this signless spot in an Alton Rd strip mall, which despite the nightmarish construction is still packed every night of the week. Diners grill their own steak, fish, chicken, or shrimp at an on-table grill... or if you'd rather have them prepare the food for you, there's an extensive menu highlighted by the rice cakes w/ sesame, ssamjang & herbs that will change the way you look at rice cakes forever.
Wynwood
LoKal -- the guys who make a burger so Florida it'll probably steal your identity -- decided to take their successes and open up shop in Wynwood. They're adding to the Florida grass-fed goodness of the LoKal burger with new menu items like a frita (w/ guava jelly & melted Gruyere that's stuffed w/ potato stix, crispy bacon & LoKal sauce), and the Kush Brownie, a bacon- and nut-filled dessert served w/ a dime-sized baggie of greens. This must be why it became a favorite post-game hangout for Heat players during the playoffs.
Sign up here for our daily Miami email and be the first to get all the food/drink/fun in town.