As the weather cools off, that can only mean one thing: snowbirds! Yes, just when you thought it was safe to roll down the Palmetto Expressway free from Quebec license plates, it's almost time for our annual influx of seasonal residents. Yay. So for all of you sitting in your rapidly cooling homes up north and counting the days until you come south for the winter, here are the best restaurants that opened while you were away. And for those who live here year-round -- here are the places to hit in the next few weeks, before they're all filled with snowbirds.
All of the restaurants on this list are part of our ongoing quest to find this year's best new restaurants in America, and we're combing through every opening in every Thrillist city. Get involved on Instagram -- #BestRest2016 -- to let us know your picks and your favorite dishes at each of these new spots.
South Beach
The spot that was formerly BLT Steak -- aka the one restaurant on Ocean Drive you'd actually admit to eating at -- has dropped the B and become the complete creation of chef Laurent Tourondel. He's shrugged off the chains of corporate management and created an even grander menu, packed with stuff like short rib bao buns and Japanese tuna tacos. And while it's still got all the signature steaks you'd expect going in, entrees like the black garlic charred short ribs will have you rethinking your traditional filet.
SoFi
If there's an area of Miami Beach you might -- ever -- describe as "laid-back," it's SoFi, which is why the married couple from Maui who run Lilikoi have decided to set up shop right at the foot of Portofino. This open, relaxed café focuses on healthy and organic foods without shoving it in your face, featuring a menu long on vegetarian specialties, like the falafel wrap, or an actually delicious vegan burger (probably why it's already one of Miami's best places for vegetarians). But Fat Duck alum Manuel Torterola can also plate meat perfectly, exemplified by his chicken & brie sandwich with sun-dried tomatoes, caramelized onions, and pesto. And if you're like so many in SoFi and "food" isn't really your thing, there's a juice and smoothie bar with all your detoxing favorites.
South Beach
Checking out one of the best hotel pool views in the world is reason enough to make your way to the top of the 1 Hotel. Of course, you can't really just stand there and look at the view without being hassled for a room card, so you might as well make the most of it and check out this Polynesian-Japanese spot that's plating all sorts of poke, sushi, and pork belly banh mi with sweeping views of the Ocean and Downtown.
South Beach
When you think of countries with great pan-Asian cuisine, your thoughts always turn to... Russia? Tanuki is one of the most renowned Asian restaurants in Putinland, and for reasons no one can explain, it didn't open in Sunny Isles. This shows that a) it's actually NOT a front for money laundering, and b) it's going to be your new late-night sushi destination, full of sushi, sashimi, specialty rolls, and grilled robata, served under LED lights until 2am. And if your late-night inner fat kid wants something more than raw fish, the raspberry cake with shiso sponge and four-berry mousse is like nothing you've ever had.
Brickell
Though you can't just roll in here in your swimsuit and flip-flops like you can at the original in Uruguay, the food here is no less spectacular. The sand at Parador la Huella has been traded in for a chic, cosmopolitan crowd at Brickell's new East Hotel, where they're plating Uruguayan favorites like white fish tiradito and octopus a la plancha. Speaking of that plancha, Quinto has an entire room devoted to its grill, where you can sit at the bar and watch chefs work their magic on your South American steak. Or opt for a cooler experience outside on the expansive patio.
Coconut Grove
Well, Miami finally has a mead bar. So when your viking friends come to pillage Coconut Grove, they'll have a place to fill up their drinking horns. The place is from the same guys who brought us some of the best burgers in Miami at Kush and LoKal, and they're doing to fresh seafood what their other locations did to burgers; namely, making it better than almost anyone in Miami, using all local ingredients for inventive creations. Try the Paul and Alba's Jambalaya with Proper Sausages, Gulf shrimp, and local grouper.
Brickell
When it comes to the quality of nightlife, Brickell has almost caught up to South Beach. When it comes to the quality of after-nightlife pizza, it's still light years behind. This summer the high-rise 'hood took a big step forward with Tino's, a wood-oven pizzeria serving hungry Brickellites until 5am. Though it's open normal hours too, the best way to experience this new spot is to grab a pie late at night and head out to the small patio. It's there you'll scarf down a Neapolitan-style pizza while sitting under strings of tiny lights, like a combination beer garden and Italian restaurant wedged between a jungle of condos.
Brickell
While Jeffrey Chen seems to have the monopoly on every Asian food trend from 2010 and beyond (ramen, dumplings, cash-only establishments), he's bucked that trend with the opening of a spot that has a pretty solid established competitor just north on Miami Ave. Believing there is indeed room in Brickell for TWO oyster bars, Chen set up this cozy little shop on SW 11th St. with over 50 varieties of oysters from the East Coast, West Coast, and Europe. But it's not just a place to get your shellfish on; the extensive seafood menu has lobster rolls, king crab legs, crab cakes, and even the occasional AYCE lobster.
Ft. Lauderdale
If only there were an absinthe & arepas bar nearby, you could add it to this place and get the square of a hypotenuse. As it is, you'll have to be satisfied with this new burger and beer bar (which is B Cubed, right?) on Las Olas that's bringing Broward its most inventive burgers to date. The most heart-stoppingly amazing is the Dad Bod, topped with melted Maytag blue, truffle mushroom, purple caramelized onions, and a sunny-side-up fried egg. Or go even crazier with the Decadent Dog, a foot-long Kobe beef hot dog with truffle oil, sautéed lobster, and garlic butter. It's all best enjoyed at the 28-seat indoor/outdoor bar, perfect for looking at the beautiful people of Las Olas and thinking "maybe I shouldn't be eating this."
Coral Springs
The long wait is over. The spot that all your friends from Central Florida kept telling you crushed any barbecue down here, and was named the best 'cue in the state by some legitimate experts, has opened its first SoFla outpost. Yes, it's all the way out in Coral Springs. No, there are no plans to open one in a sexier locale right now. BUT be excited that it'll now take you less than a day to get that 18-hour hickory-smoked Texas brisket, prepared by a chef who's been invited to cook -- multiple times -- at the James Beard House.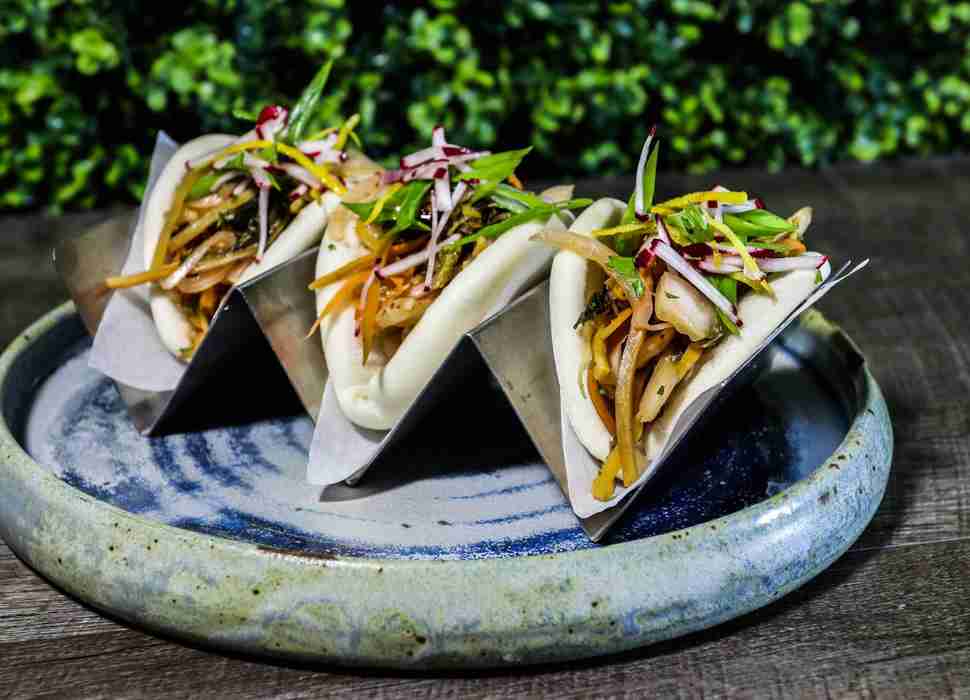 Coral Gables
In perhaps the most meta restaurant concept to hit Miami since we started opening actual restaurants, this new spot at Merrick Park is taking Latin-Asian fusion… and fusing it again! In physics, this would probably cause the Gables to explode, but in food it's just a gastropub-style joint with concrete tables and metal chairs serving up stuff like Vaca frita buns, skirt steak croquetas, and charred bok choy soup. So it's like fusion cuisine mixed with ramped-up bar food, served with cocktails from Thomas Merolla, who you may remember from Blackbird Ordinary and Living Room.
Brickell
When Miami's best pastry chef (so think the folks who nominated Antonio Bachour for a James Beard Award) teams up with a former chef/owner at Eating House, the result is going to be nothing short of spectacular. And when it comes to fresh-baked breads, pastries, croissants, and cookies in Brickell, there is no question where to find the best. Though it might be the new go-to for a not-so-healthy breakfast on the go, a quiet sitdown meal here can be just as enjoyable. The lunch menu is long on creative sandwiches, most notably the house specialty Butifarra with cilantro turkey and aji amarillo.
Sign up here for our daily Miami email and be the first to get all the food/drink/fun in town.