Miamians have a short memory. Despite the fact that the city could be in a torrential downpour for two weeks straight, by the time fall rolls around, we'll all be telling people "It pours for like an hour, but it's perfect the rest of the time!" That said, all the rain and gloom just means all the more time to go and check out the fantastic new restaurants that opened up this past spring. While the weather was still tolerable, stomach-rumbling spots opened up from Coconut Creek to Dadeland, and these are our picks for the best 13. If you like eating by the water, Chinese, or Indian food, your summer dining plans are all right here.
Recommended Video
Hooters Is Opening a New Restaurant Chain That's Hiring Guys
Overtown

The Miami River is a tough dinner destination. There's the freshest-in-Miami seafood at Garcia's, that while delicious is super-casual. Or there's getting turned away at Seaspice if you're not wearing Gucci loafers. But there's a new happy medium at Kiki, which combines beautifully created Mediterranean food with the serene view along the river. The interior is elegant without pretension, where families in shorts dine next to well-dressed couples, all eating food curated by Estiatorio Milos alum Steve Rhee. Highlights include the grilled octopus with capers and olive oil, fresh grilled whole sea bass, and perfectly grilled souvlaki. It's not cheap, but for an impressive meal on the Miami River, it should be your new go-to.
Sunrise
The Cuban sandwich on a stick is back! When Douglas Rodriguez closed his South Beach outpost, it seemed this only-in-Miami treat was gone forever. But D-rod is back, and so is the sandwich at this mojito bar in the newly renovated Sawgrass Mills Oasis. The mojitos here are no joke, made with real sugar (not syrup) and fresh mint, served in glasses that light up neon green. One is enough, because you want to be able to taste the incredible stuff coming out of the kitchen. The small plates include a braised short rib flatbread with smoked Manchego, Cuban fried chicken with an orange mojo glaze, and the matalo burger topped with ropa vieja and provolone. The music is loud and Sawgrass can be a drive, but the food here is worth any inconvenience.
Little Havana
Much like the meticulous design that went into this dockside bar for the yacht set, Dashi is all about creating a striking visual impression. Whether it's grilled fish served on a metal leaf, or a carefully placed transparent leaf in the middle of a colorful collection of sushi, the food here is as much about what you put on Instagram as what you put in your mouth. That said, you'll enjoy eating the creations of chef Shuji Hayakawa as much as you'll enjoy looking at them. Definitely try the toro tartare with Russian osetra caviar for pure indulgence. Or if seafood isn't your bag, the hot kitchen makes a mean wagyu sukiyaki, topped with a poached egg.
Coral Gables
The historic Hotel St. Michel had been lacking a good restaurant for a while. But a hotshot restaurant group out of Latin America with 60 years' experience dropped its first US outpost in the lobby this spring. This casual fine-dining Italian joint boasts an impressive cocktail menu and some of the Gables' best Italian offerings. Enjoy the big, open space with Cocktail Cartel created drinks like the Nona's Mule (basically a Moscow Mule with grappa) then move on to fried zucchini flowers for the namesake appetizer. Mains are hearty, with fresh pasta like the sedanini with beef tenderloin, or the 32-ounce, 21-day dry-aged T-bone if you're feeling strong.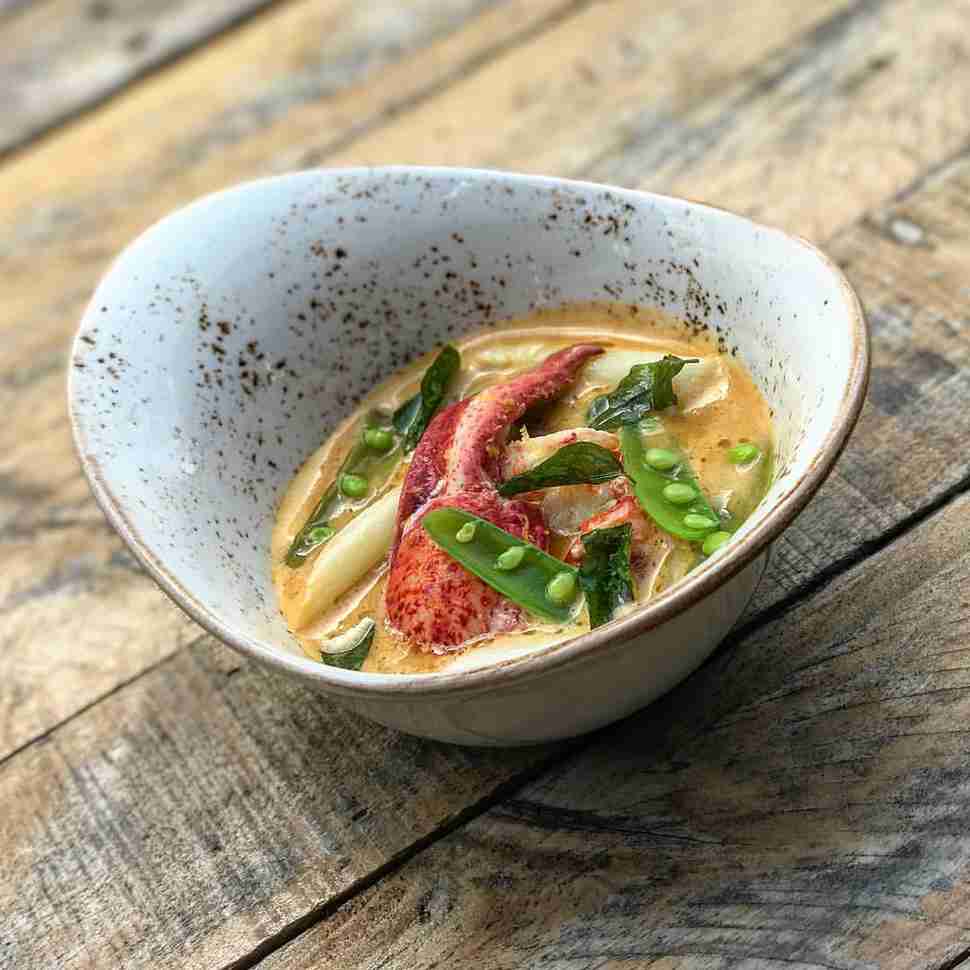 Dadeland
Miami may have less high-quality Indian restaurants than we do honest politicians. But Niven Patel, who cut his teeth at Michael's Genuine, is out to change at least one of those and has opened his own cozy, 70-seat restaurant with his wife Shivani. The décor will have diners thinking they've stepped from Dadeland to Delhi, with everything inside being crafted in India, down to the Mango wood tables. Don't go in expecting to order your usual chicken Vindaloo extra mild either. Patel has imported over 240 spices to create dishes you won't find at any other restaurant on the planet, and if you want it super-spiced, he can do that too. The menu changes every day, so go in with an open mind -- and plenty of Rolaids. Ghee is an Indian cooking adventure that's sure to join your routine restaurant rotation.
Doral
CityPlace seems to have a new restaurant opening every day, but the gem among them is this Broward transplant that's already among the conversation for best pizza in Miami. The indoor/outdoor space feels a little like an Italian market with a front-row seat to the CityPlace fountain show. The food is all you'd expect from the guy behind Lauderdale favorite Casa D'Angelo, with wood-fired pizzas topping a menu of Italian staples plus a stellar grilled salmon and linguine vongole. And for the less hungry, you can't go wrong with prosciutto, served with figs and balsamic vinegar.
Wynwood
If you're more sick of hearing people talk about the Paleo diet than you are hearing about condo prices, a good way to shut them up is taking them to Charcoal. For CrossFit-chic diners there may be no better new option in Miami, where fresh Florida meats and vegetables are thrown into a Spanish Josper grill, giving them the smoky, barbecued flavor unique to that style. The menu's all based on what's available seasonally, meaning Charcoal does a lot more than pay lip-service to sourcing local, uber fresh products. And it tastes especially good eating outside at the first full-service restaurant at Wynwood Yard.
Key Biscayne
Though no Ritz-Carlton has ever put out a bad restaurant, the new one at the Ritz-Carlton Key Biscayne is exceptionally fantastic. Start with a view overlooking the opulent Ritz pool, with Biscayne Bay peeking out from behind it, that would make any meal taste better. But no assistance is needed with this menu from Chef Raul Del Pozo. Seafood is the name of the game here, with the open-air kitchen serving out delicacies like Josper-grilled whole branzino and snapper with Key lime puree. For meat eaters, the petit filet absorbs the flavor of the Josper grill and is fantastic at every temperature. And any meal here must start with the honey-butter covered Keeper's Wife biscuits.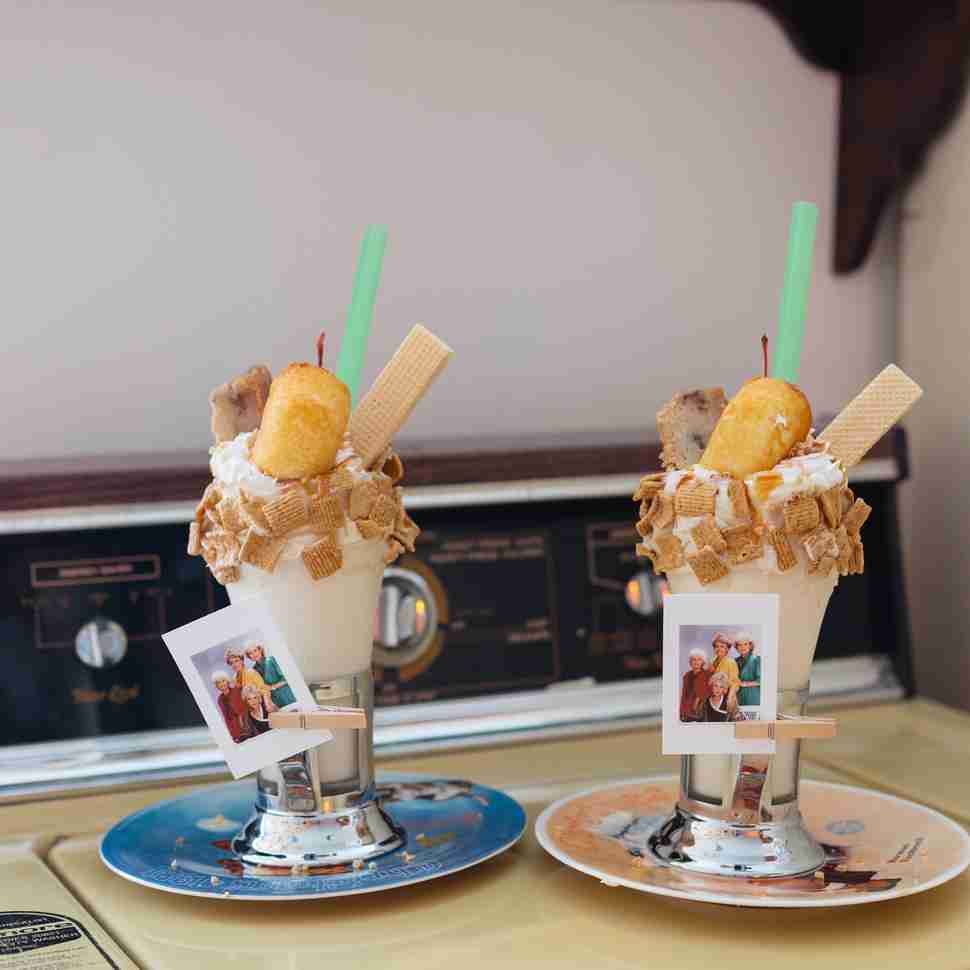 Key Biscayne
Eighties kids, you're gonna love this. Matt Kushner took the narrow space next to his hit burger joint Lokal and turned it into an exact replica of his mom's 1980s kitchen. That means appliances with analog clocks, yellow refrigerators with old report cards, TVs with knobs, and even an NES in the back. That fridge is filled with serve-yourself beer (but unlike your mom's kitchen, you'll have to pay) and the counter is serving up some of the most insane milkshakes Miami's has ever seen. Our pick: The Golden Girls, named after the greatest Miami TV show in history with a cheesecake-frosted rim, Golden Grahams, caramel, whipped cream, a Twinkie, a vanilla wafer, and a picture of the cast for you to take home.
Calle Ocho
It was only a matter of time before the Miami foodie scene met the swanky swamp scene and gave us alligator sliders. You can find them now at this new spot on Calle Ocho, with a menu from the mind behind El Cielo, highlighted and bolded by gator sliders with blueberry chutney and Sriracha mayo. But the place is much more that; it's a two-level gastropub with an industrial feel decked out in metal chairs and brick archways. The food is described as Venezuelan-American fusion, with stuff like Buffalo chicken empanadas and pabellon dumplings serving as the perfect post-work bar snack.
South Miami
Though the folks from Uvaggio, who started this stellar new SoMi spot, have about as much naming originality as the Cleveland Browns, it's clear their energy was better spent on the menu. In an area that's a Chinese food desert, this welcomed addition is boasting some wildly original Chinese creations, with crab chao fan with Thai basil and garlic, the angry dumpling with spicy chicken and chili garlic sauce, and grilled tenderloin au poivre with Sichuan pepper sauce being the absolute must-haves.
Coconut Creek
Try and contain your disappointment when you're not immediately greeted at the door by a 7'7" Sudanese man in a Warriors jersey. And though it would be cool if this new Asian joint at the Seminole casino was some kind of memorial to everyone's favorite awkward NBA center, it's actually much better. The wok-style 60-seater combines Chinese and Vietnamese dishes in savory bowls, a spicy and delicious break from your high-octane afternoon of nickel slots. The best picks on the menu are the Vietnamese Rice Dish with BBQ spare ribs and the Cantonese-style lobster. But since this place is open late, at a casino, pretty much anything is going to taste good post 1am.
Sunny Isles
Some people like their steak well-done. Some of those people also have their names on hotels in Sunny Isles. The meeting of that Venn diagram can be found at this new beachside restaurant in Sunny Isles, where you cook your own steak right on the sand, and won't have to get the judgy looks one does when they order a steak well-done. Within yards of the water, Gili's serves meat up with a hot stone, meaning guests cook their own food while sipping cocktails and gazing out at the water. Choices include an 8 ounce filet (pro tip: Get it as soon as you can, it cooks slowly), salmon, catch of the day, chicken, and other favorites. And for a relaxing dinner with tropical breeze, ocean waves, and ketchup on your steak if you damn well feel like it, nobody does it better than Gili's.
Sign up here for our daily Miami email and be the first to get all the food/drink/fun in town.