At some point you've probably said to yourself, "I really need to start eating somewhere other than Publix and Pollo Tropical". But sweet new restaurants can be intimidating, we know. That's why we've made it easy for you by assembling a list of the 12 best new restaurants in Miami. We even help you decide what to order...
Brickell
If you're one of those people who is about as adventurous with food as Penn State is with uniforms, eating escargot is a pretty foreign idea. But if there's ever a place to try it, it's at this French-staurant that's serving snails with a heavenly cream sauce that even escargot virgins will give it up for. And if you don't like escargot…
What you're getting: Short rib ravioli with a four cheese sauce, poached shrimp, and asparagus
South Beach
This Asian BBQ joint hidden in an Alton Rd strip mall next to a Domino's Pizza has become the hottest new restaurant in Miami. Here you can you cook steak, chicken, or seafood over a grill on your table, and if you don't feel like getting all Hank Hill during dinner, you can also choose from their extensive menu in the windowless, Asian-kink atmosphere.
What you're getting: Rice cakes with sesame ssamjang and herbs. Trust us, you'll never look at rice cakes the same way again.
Brickell
Relax, when that girl you met at Blackbird last week suggests you go here it doesn't mean she's bringing you up to PBC to meet her parents for dinner. It means she wants to hit this tiny spot at the bottom of The Vue where you can order gourmet burgers, nachos, and steaks while sipping on Mason jar cocktails outside and trying to avoid any discussions of trips North on 95.
What you're getting: The brie and bacon burger with bleu cheese fries
Brickell
If Belgians are known for one thing, it's Johnny Galecki. But because we're tired of talking about The Big Bang Theory, we're going to tell you about something else they're kinda known for: beer. As in the hard-to-find Abbey-style ales that this new Brickell spot has more of that any other place in Miami. Use them to wash down buckets (yes, buckets!) of mussels and other Belgian favorites.
What you're getting: Waffles topped with lobster tartare and stuffed with mussels, lobster, and dill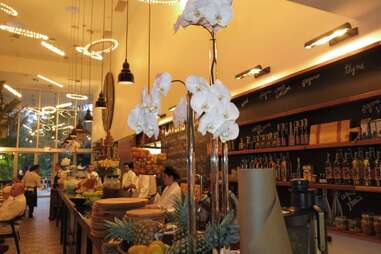 South Beach
If you're an only child, the whole concept of "shared plates" probably seems downright offensive. Well, the folks at Vintro feel your pain, which is why -- in addition to an extensive raw bar -- this new spot in a remodeled South Beach hotel is serving large entrees like lamb chops, rice with exotic mushrooms, and hanger steak frites with salsa verde that you could share... but should really keep all to yourself.
What you're getting: The grilled lamb chops with quinoa and roasted vegetables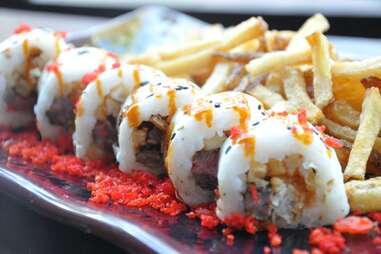 Fort Lauderdale
You know those nights when everyone (aka your girl) is all about going out for sushi but you want something that's actually going to fill you up? Then this new Asian resto is for you because it offers fresh sushi AND possibly Broward's best fried chicken.
What you're getting: The Pittsburgh roll stuffed with steak, French fries, and Heinz 57 sauce.
SoFi
The old-school NYC Italian staple goes 180 degrees from their Sunny Isles Beach outpost and gets all South Beach with some new whited-out SoFi digs. They're cooking a lot of the food in the actual dining room at remote cooking stations and serving bruschetta with mussels and fried zucchini before you even order.
What you're getting: Champagne truffle ravioli, which is especially delicious when mixed with their homemade Bolognese served with rigatoni.
Edgewater
Famous for serving some of the best pork in the city at Blue Collar, Danny Serfer's new venture is devoted almost entirely to... shellfish (?!), as evidenced by an oyster-heavy menu that's also filled with lobster deviled eggs, caviar, scallops with polenta, and croissants with lobster butter.
What you're getting: The "Fancy" Mignonette Tower -- 10 oysters, five clams, a shrimp cocktail, a crab cocktail, lobster tail, and king crab legs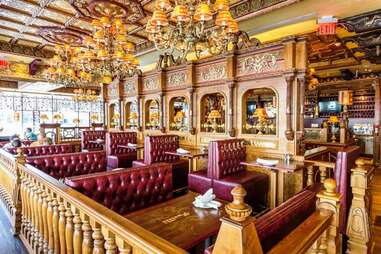 Coral Gables
If classic Italian is what you're after, head out to this Miracle Mile Italian joint that's decked out in Renaissance-style furnishings, including ornate chandeliers and engraved gold bar. It's serving favorites like thin, crispy pizzas, but best of all, their three-course executive lunch is only $13.99 and promises to have you in and out in 30 minutes or it's free.
What you're getting: Lasagna dello Chef -- layered lasagna with Bolognese, Béchamel sauce, and Parmesan cheese
Wynwood
If you're the kind of person whose soul gets fed by beautiful art, then finding lunch in Wynwood isn't that hard. However, if you need, like, actual food, the best new option is this lunchery in the Wynwood Building, where Chef Gail Goetsch of Yardbird and Essensia is making fresh salads, sandwiches, and cookies with locally sourced everything -- including breads from Zak the Baker and coffee from Eternity Coffee Roasters.
What you're getting: The Miami Club -- fresh turkey with avocado, bacon, mayo, and spinach on baked-that-morning bread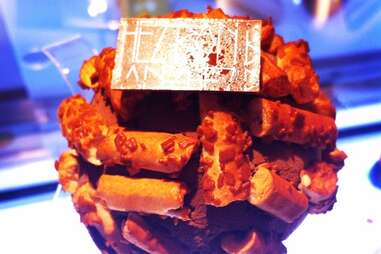 Miami Beach
The old coffee shop right off the lobby of the Fontainebleau is now using its '50s hey-day moniker and serving all the glorious desserts that the hotel makes in its Wonka Land-like basement. You can also get ready for a night at LIV with their exclusive black velvet coffee, try their fresh gelato, and nosh on fresh pizzas or caprese sandwiches, which may be the only things to eat in the whole place for less than $15.
What you're getting: The croquant -- a giant ball of chocolate mousse with praline and crème brûlée.
South Beach
The Iron Chef is finally taking his talents to… you know what? Let's end that joke. Like now. Just head to the back of the Shelborne and try some of his Asian creations poolside next to an open sushi kitchen and well-stocked bar.
What you're getting: Seafood Cocotte with lobster, scallops, clams, mussels, and red miso broth
Sign up here for our daily Miami email and be the first to get all the food/drink/fun in town.