Winter: In most of the country it means months of cold weather and perpetual blizzards. In Miami it means months slightly cooler weather and a perpetual blizzard... of tourists. Ugh. And while we made it easier for you to tell the tourists from the locals, you can also avoid 'em by ducking into Miami's 13 best new restaurants before everyone knows about 'em...
Recommended Video
These Onion Rings Are Stuffed With Cheeseburgers
Miami Beach
As much as you probably enjoyed the drive to Aventura to get Michael Mina's steak specialties at Bourbon Steak, sadly the SunPass lanes on 95 won't be getting as much of your hard earned money. That's because you only need to go to the former Gotham Steak spot in the Fontainebleau to get them, plus caught-that-day seafood specialties, three cuts of wagyu, and entrees of meat medleys like the Colorado Lamb Tasting and an American vs. Australian Wagyu platter.
Miami Beach
Michelle Bernstein has resurfaced to do something other than sling quinoa salad at Dolphins games with this spot in the swanky new Thompson Hotel. The long awaited "replacement" for Michy's, Seagrape has farmers all over South Florida growing ingredients especially for its menu, which starts with crispy veal sweetbreads w/ smoky cranberry beans & confit grapes, and moves onto Florida staples like snapper w/ recado verde & potato puree or squid ink spaghetti.
Downtown
There are two major problems with finding a pre-show dinner spot by the Arsht Center: 1) finding a good restaurant you can walk to, and 2) finding a restaurant where dinner doesn't cost more than your orchestra seats to Cats. Consider both problems solved at this new spot IN the Arsht Center, where you'll get a three-course prix-fixe menu every night (for $36 per person) that has inventive desserts and craft cocktails. Plus you'll still be in your seat in time to hear "Memory."
Fort Lauderdale
Live jazz is typically something people associate with South Florida about as often as they associate hard core rap with Portland. But that may change soon now that Chef Laurent Tasic is helming the kitchen at this quiet, cozy new live jazz venue in Lauderdale. He's serving Funky Buddha and other local craft beers alongside a menu full of burgers named after jazz greats, such as the Louis -- a Florida grass-fed burger topped with crab and Newburgh aioli. And if your dog is a jazz lover, their patio has a whole menu just for them.
Miami Beach
It's like Chef Danny Elmaleh and the guys who brought this LA/Vegas hit to South Beach spent a week here and said, "Oh God enough with the freaking techno," because they're uncharacteristically pumping classic rock to go with their Middle Eastern small plates -- like fresh-baked, wood-oven breads; Brussels sprout leaves with slivered almonds in red wine vinaigrette; and brown sugar marinated wagyu steak kebabs, which taste way better with Tom Petty than Skrillex.
Brickell
Once upon a time, if you wanted to have dinner around a bunch of hot FSU girls you had to drive like nine hours to Tallahassee. Then, as you may have read in our guide to drinking in the 954, all you had to do was hit up the original American Social on Las Olas. But now, just head to the Miami River, where all that fun has now added boats, plus a menu with red wine short rib flatbread, wild boar sloppy joes, and the only thing AmSo is more famous for than its female patrons, the AmSo mac & cheese.
South Beach
Although the words "affordable" and "South Beach" are typically used in the same sentence about as often as "Dolphins" and "playoffs," the guys behind Downtown's wildly successful Peruvian joint have brought their brand of affordable Peruvian deliciousness to the far end of Lincoln Rd, where you'll wanna get the Ceviche Seafood Orgy -- mixed, marinated, raw seafood swimming in tiger milk.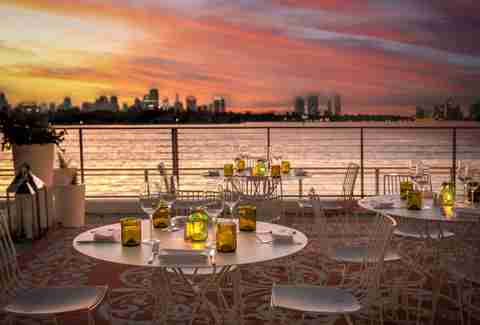 South Beach
Although you may find it difficult to convince yourself you're somewhere in the Mediterranean when you're sitting at the Mondrian South Beach looking out at turquoise waters and the Miami skyline, the food at this brand-new spot inside will help. So enjoy your Valencia rice with braised kale and tomatoes or the yellowtail snapper "a la parrilla" with chargrilled lemon and salsa verde, and try to ignore the blasting AC/humidity.
Brickell
Have you ever been on the Metrorail (okay, we know, no, but just go with it) and thought, "Man, I could REALLY go for some burrata from Puglia, the Italian region where it originated." Well, now you can easily satisfy that craving -- and cravings for all kinds of other Southern Italian food like Stufato stew and stuffed veal rolls with baked potatoes -- at this new spot from the Sardinia guys right next to the Brickell Metrorail station. Oh, and they've also got a killer prix-fixe lunch.
Sunny Isles
Although Sunny Isles hasn't been a place known to get rowdy since the regrettable closing of the Collins Ave bingo hall, the good times are rolling again in this 15,000sqft resto-club, where during the week they're plating prime veal burgers, house-made linguine w/ sturgeon caviar, and other delicacies. On the weekends there're musical acts onstage, a private karaoke room, and even an on-site day care.
Brickell
Remember Lippi? That fancy-pants place next to the Christmas tree plaza in Brickell? Well, apparently the people behind it thought it was a little TOO fancy pants and have created a just-as-delicious, but far more accessible, new spot with an impressive crudo bar and an Italian menu long on seafood like bigeye tuna w/ shaved fennel & orange, and sea scallops w/ caponata.
Miami Beach
You hear the term "locally sourced" thrown around a lot, but that could literally mean the chef bought all the produce at Winn-Dixie. Not the case here. Many of the ingredients come from the rooftop garden and the herbs come from the same backyard spot they use for Broken Shaker. This new restaurant, adjacent to Miami's best outdoor drinking spot, is a house that used to sit next to the Freehand Hostel and now serves Miami-inspired cuisine amid '30s décor and drinks from BarLab in an upstairs lounge.
Miami Beach
Though you'll be disappointed to learn the new EDITION hotel won't be boasting nightly performances from Bobby Brown and Johnny Gill, it'll be a lot easier to handle with a dinner at Matador Room, the centerpiece of the hotel's three new spots from Jean-Georges Vongerichten. This one is his take on Latin and Caribbean food, with stuff like Gulf white shrimp in "agua diablo," or devil water if you're new to Miami.
Sign up here for our daily Miami email and be the first to get all the food/drink/fun in town.