8 spots to get the best new seafood in South Florida
Sure, we live in the most international city in America and are known for great food from all over the world. But since we also live in a place surrounded by water, we should probably be known for great food from the ocean too, which is why we're bringing you this list the eight best new seafood dishes in SoFla..."
MATT MELTZER
Hollywood
What you're getting:
Spicy Thai prawn ramen
Your late-night ramen craving just got cured in Broward, where this spot in Downtown Hollywood is slinging authentic Japanese noodles until the wee hours (or during somewhat reasonable hours if you like your sleep). Plus there's fresh sushi, sashimi, fried avocado, and their specialty Gangnam wings, which you're undoubtedly going to use to make your next viral YouTube hit.
Midtown
What you're getting:
Oysters, duh
The folks behind Salumeria 104 are expanding their empire over all things un-kosher by opening this new shellfish palace in the middle of midtown. If oysters are just a little too adventurous for you, they've got a full menu with New York strip, shrimp-stuffed monkfish, vegetarian curries, and plenty of lobster.
SCARPETTA
Miami Beach
What you're getting:
Maine lobster scialatelli w/ basil & bottarga bread crumbs
The Fontainebleau's Italian masters just dropped a whole new seafood-intensive menu right in time for the influx of New Yorkers who'll show up and tell everyone how the stuff in "The City" is better. But perhaps this year they'll shut up after trying stuff like squid ink tagliolini, olive oil poached sea bass, and that Maine lobster scialatelli. But probably not.
Sunny Isles
What you're getting:
All-you-can-eat stone crabs
The trendy Sunny Isles eatery knows you're jonesing for stone crabs. And nowhere are you getting a better deal than here, where for a mere $59.95 you can eat stone crabs until you blow up like Veruca Salt. But redder.
Boca Raton
What you're getting:
The Fire Dragon roll -- eight pieces of lobster tempura avocado, asparagus, tobiko & tiger sauce
When the guy making your sushi wrote a book called
Sushi Fusion: A Unique and Artistic Presentation
, you're probably going to want to take pictures of it. And this high-tech Boca Asian joint makes it easy with camera-equipped monitors AT THE TABLE that let you post your food selfies to social media at the touch of a button, as well as check in, "like" items on the menu, and play video games against other tables.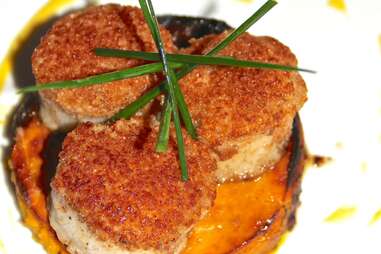 VILLA AZUR
South Beach
What you're getting:
Pan seared scallops crowned w/ crusted smoked salmon & butternut squash flan
The fine-dining folks over at Villa Azur know they've gotta keep it fresh to keep those high-dollar diners coming in, so they introduced a bunch of new menu items, best among them are the crispy foie gras tart, the meringue medusa, and those seared scallops.
South Beach
What you're getting:
Ceviche Seafood Orgy -- mixed, marinated, raw seafood swimming in tiger milk
The guys who brought actually-reasonably-priced ceviche to Downtown a few years back are finally producing the unthinkable: a trendy, delicious, reasonably priced seafood restaurant in South Beach. Rumors that the Easter Bunny, Santa Claus, and a model who'll go home with you are moving in next door are not yet confirmed.
Ft. Laurderdale Beach
What you're getting:
Miso-glazed black cod w/ maitake mushrooms & baby bok choy
Even though we already told you this was
THE place to get steak in the 954
, that doesn't mean those fish in the trippy dining room fish tank should feel safe. Not when Chef Jason Smith is finding ways to bring the Steak 954 touch to local specialties like grouper, branzino, wahoo, and swordfish, which is served with smoked corn salsa and corn broth.
Sign up here for our daily Miami email and be the first to get all the food/drink/fun in town.