Everyone knows that Miami's got a few problems (like 99 of 'em, at least!), but you might be surprised to hear one of them: not every great Florida restaurant is in the 305. Seriously! That's why we've scoured the state for the 12 best restaurants outside Miami. Feast your eyes...
Recommended Video
This Burger Comes on a Fried Cheese Bun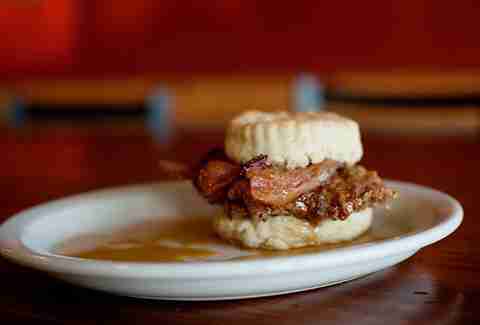 Jacksonville
Craving a homemade biscuit? Well the local chain Maple Street Biscuit Company has created a fine little niche for itself in Northern Florida thanks to standouts like the Loaded Goat (fried chicken with a fried goat cheese medallion) and the Sticky Maple (fried chicken, pecan wood-smoked bacon, and Bissell Family Farm maple syrup). Oh, and ordering is the best part: they will ask you about your favorite band or childhood TV show and use your answer to call out your order when it is ready.
Winter Park
Owners James and Julie Petrakis are dominating the Orlando food scene by using local purveyors to create seasonal menus that boast things like Canaveral Shrimp 'n Grits and a pork porterhouse. Don't forget to order a pint from it's sister restaurant Cask & Larder, which is located just across the street.
Key West
It's Sunday, you have a 3-hour drive back to Miami, and you're probably still suffering after last night. Better head to the island's iconic Heaven where you can sip on Bloody Marys and soak up the alcohol with one of their Blue Heaven Benedicts or Richard's Very Good Pancakes, all in an atmosphere that is more like your kooky uncle's chicken-and-cat-filled backyard than a restaurant.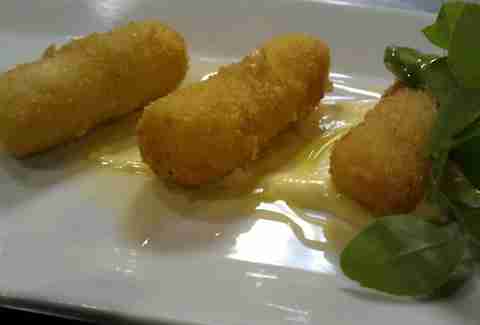 New Smyrna Beach
If you're in Eastern Florida between Orlando and North Florida you'd better like... um, NASCAR (?), presumably, or food prepped by in a strip mall by Henry Salgado, a James Beard nomination chef, who's banging out modern Central and South American barrio cuisine and killing it. Especially on the obligatory Taco Thursdays.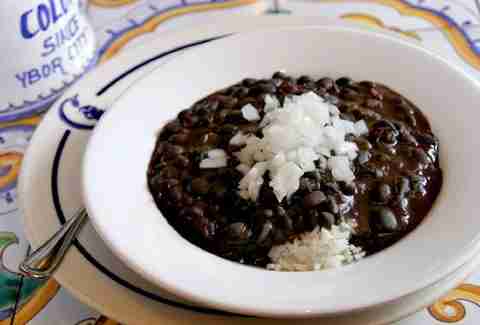 Tampa
Founded in 1905, this Spanish/Cuban eatery, which resembles a palatial Mediterranean home and encompasses an entire city block, is the oldest restaurant in Florida. Sure, there're a handful of other locations now, but the original in Ybor City is a can't-miss thanks to starters like chicken croquettes and authentic mojitos, plus mains highlighted by La Completa Cubana, which comes w/ pork a la Cubana, boliche criollo (Cuban pot roast), empanada de picadillo (beef empanada), platanos (plantains), yucca, black beans, and yellow rice. Don't forget to try the post-meal offerings like flan, cortadito (Cuban espresso coffee), and cigars, naturally.
Pensacola
Want to know what the best thing about Pensacola is? Um... yeah, we don't know either. But the best thing to eat there might be this dive's Reuben Eggroll, or their mile-high Reuben sandwich, which you'll eat in a dining room festooned with signed one dollar bills that people have been putting up since the place opened in 1977.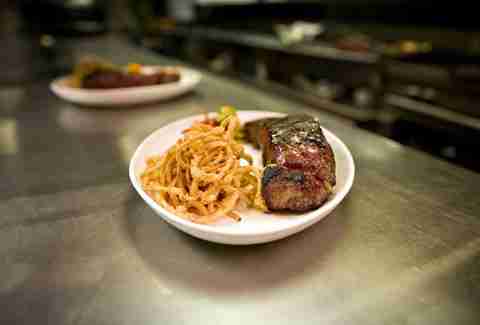 Tampa
Founded in 1956, this main-stay meatery evokes old-time glamour and boasts more than half a million bottles (from 6,800 different labels) that you can swill with your perfectly dry-aged steaks. You can also try something from their cheese cave (seriously!) or the separate dessert room. Pro tip: if you sit at the bar, you can score a sweet steak sandwich and a glass of wine for way less than their regular fare.
Gainesville
Located in the middle of a swamp, Satchel's is a kitschy and laid back pizza joint that slings the best NY-style pie in the state. To fully maximize your groovy experience, round up seven of your closest friends and huddle around the table inside the VW van -- it's the best seat in the house. After your meal, don't forget to visit the adjacent Lightnin' Salvage Enterprises, essentially the quirkiest gift shop you will ever encounter. FYI: this place is cash only, but there's an ATM inside.
Winter Park
From Chef Brandon McGlamery and the creative team behind Luma on Park, this rustic tavern-like spots is slinging next-level eats from the old country in an otherwise brand-new city. The menu changes daily and seasonally, but expect to stuff yourself on... err, stuff like meatballs, veal scaloppine, and mascarpone polenta.
Key West
This historic house, with the Old Bahama Channel as its backyard, is where one of the country's top chefs, Norman Van Aken, got his start. Caribbean-American fare is the norm here, from cracked conch to snapper sandwiches to sautéed Gulf shrimp. Everything on the menu's made with an emphasis on local ingredients and fresh fish.
Hawthorne
Named after author Marjorie Kinnan Rawlings' most famous book and located a short walk from her home, this is historic eating at its finest. Opened in 1952, the restaurant is basically a 20th century house -- complete with fireplace, a library, an odd seating layout, and tons of taxidermy -- where they're serving up good ole Florida grub, from frog legs and gator tail to venison and sour orange pie.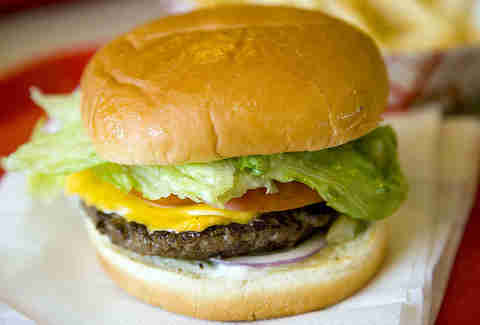 Fernandina Beach
This low-key local's burger palace is nestled inside a converted Exxon gas station, and it gives new meaning to gas station food while putting 7-Eleven's fluorescent lighting and luke-warm hot dogs to shame. Only open for breakfast and lunch, T-Ray's has all the offerings of a greasy spoon diner, such as eggs and bacon, chicken salad, and BLTs, but the burgers (the Little T and the Big T) are the stars here, and they are best enjoyed outside next to the retired gas pumps.
 
Sign up here for our daily Miami email and be the first to get all the food/drink/fun in town.