College town dining options are often limited to one depressingly cramped diner and a series of rank-and-file bro bars. But Gainesville isn't just another little city overwhelmed by its sprawling state school; it actually has quite a bit going for it on its own, so long as you know the hits. So here are our nine favorite places to dine -- get ready to try some tangy fried gator tail.
3545 SW 34th St
Deliver yourself from the dining hall with a steak, or sample the seafood -- the Atlantic grouper, for example, or a generous portion of Gulf-caught blue crab bisque. Entrees here all come with two sides to relieve you of all that a la carte decision making. Inside, it's all plush steakhouse, but outside is a Mediterranean-esque plaza, where Sabal palms and ruby-bloomed branches of crepe myrtles flank a citrine-colored courtyard furnished with garden tables, copper chairs, and a burbling, multi-tiered fountain in the dead center.
725 NE 1st St
Situated in Gainesville's Downtown Historic District, it's the sort of place that roasts its own roast beef, makes pasta sauce from scratch, and only prepares food according to the hard-won wisdom of three generations of Tuscan women. Nothing is prepared until you order it. While you wait, try the white wine sangria, which will make you more tolerant of the subtropical climate and/or boring conversations.

201 SE 2nd Ave Ste 101
Slick and gaudy, this martini lounge/mod-resto (that goes full club in the evenings) has in-house limo service, private rooms dressed in purple curtains, and something called Techno Tuesday, when you can presumably both gnaw on tiger shrimp ceviche and bob to the throb of au courant electro grooves. Party 'til late and then come back in the morning for $15 all-you-can-drink mimosas and funky takes on b-fast faves, like pineapple-infused Hawaiian French toast.
1642 W University Ave
Picture a mired aluminum boat with bikini-clad waiters riding alligators who serve drinks in Solo cups to Gator fans, because although this place isn't exactly that, it might as well be. Something of an icon for townies and frat kids alike, the food here is basic bar fare, but has a few novel inclusions like "gator bites" -- battered tail meat nuggets in a mango-chili puree.
1245 W University Ave
Leo's puts out a damn good slice, even by New York snob standards, plus five bucks for a face-sized piece of pizza and a drink is a decent deal anywhere. There are plenty of options, including a gluten-free one, if that's something you're into.

1222 W University Ave
Sitting at the totally bizarre intersection of American breakfast food, Thai and Vietnamese cuisines, and vintage golf themes, this whole operation is straight-up weird, yet somehow necessary. It's kind of like a shabby country club, if such a thing exists, and it's impossible to underdress if you're even wearing clothes at all (this is Florida…). It's not known for phenomenal service, but did you really think it would be?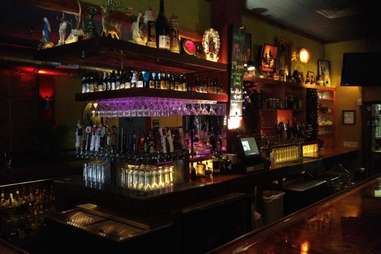 30 N Main St
Furnished with a pseudo-bohemian slant, the walls are adorned with local artists' works, plus it's lit by a smattering of funky red-bulbed lamps and vintage-y Christmas lights. There's a generous bar, leather booths, cherry-colored tabletops, sidewalk seating, and fantastic fried okra with scallion remoulade and mango slaw.
232 SE 1 St
Don't expect authenticity, but do try the pineapple-pesto sliders or the sesame-crusted ahi tuna tacos. For dessert, its twist on red velvet is the move: a vegan carrot cake cookie sandwich stuffed with cream cheese frosting sweet enough to soothe a savage beast.
7 SE 1st Ave
Order a bunch of different tapas, but definitely try the Buñuelos de Mariscos -- seafood fritters with a mix of conch, mahi mahi, shrimp, PEI mussels, onions, and peppers, served with aji amarillo aioli. It's a good place to bring parents, so just remember that everyone thinks it's a good place to bring parents, and you might end up explaining to a one-night stand's family how you know their kid.
Sign up here for our daily Miami email and be the first to get all the food/drink/fun in town.
John Marshall is an NYC-based writer; he collects coins and scruples, and formerly wrestled alligators. Follow him on Twitter: @brunodionmarsh.