Hialeah. It's like our own little Detroit: the run-down, hard-nosed city that's pretty much the butt of every joke. But you can actually find some serious food/drink gems in the City of Progress... if you have a little help. Our help came in the form of Miami's award-winning food blogger Fatgirl Hedonist -- a proud native of Hialeah who set out to show us there's more to Florida's fifth largest city than a messed-up street grid and Ñooo!!! Que Barato!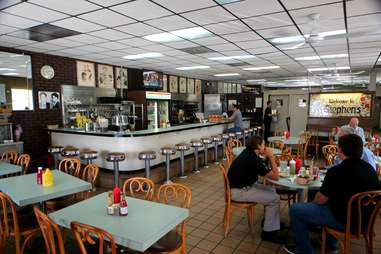 Why it's great: "This is like OLD-SCHOOL Hialeah in here. It's a New York deli that's been here for 60 years and had the same chef for 57 years. The food's all sandwiches and serious deli stuff and great matzoh ball soup. It's the only place in Hialeah where I walk in, and I'm a minority."
What you're getting: The Grilled Rachel Sandwich -- pastrami, Swiss, sauerkraut, and Thousand Island dressing
Don't forget to say hi to June, the chef who's been here for 57 years (and the grandfather of the Heat's Udonis Haslem).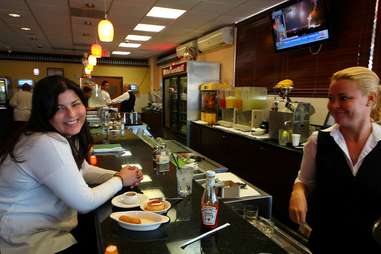 Why it's great: "To me, those places on 8th Street like La Carreta and Versailles, they're just tourist traps. This place has been here 30 years. It's good, legit Cuban food and my pick for the best in Miami. AND Celia Cruz was actually friends with the owners so there're pictures of her all over the place in here."
What you're getting: Vaca Frita if you're hungry, but the flan is the best in Miami if you just wanna stop in and have something with your Cuban coffee
Why it's great: "Sweetness is the famous one and Vicky is good, but it's almost a chain. This is THE place to go for Cuban birthday cakes, or patron saint cakes, or Spongebob cakes. Whatever. That's probably why it's also home to some very spoiled children."
What you're getting: A guava and cheese pastelito
Why it's great: "This is a relatively new spot with simple Peruvian fare. It's not La Mar or anything, but the spices are always on point, the service is always good -- and prompt, which isn't something you find a lot in Hialeah. And they've got this great mini-market with the best alfajores I've ever had."
What you're getting: Traditional ceviche cured in lime juice with hominy and sweet potato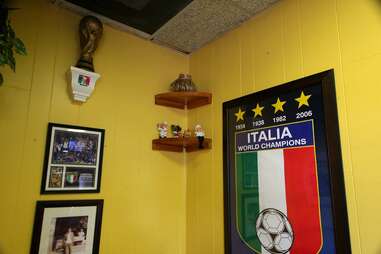 Why it's great: "There's like, a war in Hialeah over which pizza is better: Salvatore or Di Piazza. But this one is better. They're always consistent; you don't get half your slice charred or anything. But mostly the service is better, and that's something in Hialeah that sets you apart."
What you're getting: The large cheese pizza and a half dozen garlic rolls
Why it's great: "This is a tiny hole in the wall, but you go in and you feel like you're in the middle of Colombia. Besides, it's the only Colombian place my mom will go, and she's Colombian and a total snob about it, so clearly this is the best."
What you're getting: Bandeja paisa -- red beans, white rice, Colombian chorizo, fried egg, fried pork belly, and an arepa. It's easily food for two.
Why it's great: "This is like the Cheers of Hialeah. There're really no bars in Hialeah, except for the Dolphin Bar, which is sketchy as f**k and I've never known anybody who's been in there. But if you go to Flanigan's you're 100% guaranteed to see somebody you know from high school. I could walk in there right now and I'd know at least three people working. It's THAT kinda of place."
What you're getting: It's a Flanigan's. Figure it out.