People who say you can live in Miami without a car are almost as delusional as Gator fans after a big win over Presbyterian College (an actual team on the 2016 schedule). Sure, you might be able to navigate a neighborhood or two using the Metromover and Lyft, but if you really want to experience all that our great region has to offer, walking is out of the question. Case in point: some of the best restaurants you'll ever go to are within a couple hours' drive of the Magic City. So whether you live in the 561, 954, 239, or the Keys, or just like to go there to escape Miami, here are a dozen restaurants that are as good -- if not better -- than anything you'll find in Dade.
Recommended Video
Debatable: Is Shake Shack Really Fast Food?!?
West Palm Beach
Clematis St isn't exactly known as a culinary nirvana -- unless your definition of "culinary nirvana" involves pizza slices and tacos. But this relatively new spot from a couple of married chef/owners is aiming to change all that. Jardin brings stuff you've probably never seen -- like deep-fried hummus and gator grits (exactly what they sound like), and puts it in a busy, chic space with an open kitchen and a craft-cocktail stocked bar. It's the best example of modern cuisine in West Palm, and an oasis of creative plates for young professionals in PBC.
Marco Island
Forget the shells along the sand in one of America's best destinations for couples. The real hidden treasure is this steak and seafood joint on the bottom floor of the Marco Island Marriott. Here, chefs combine local seafood like nori-seared ahi tuna with steaks from the on-premises dry-aging room, then sprinkle the menu with creations like foie gras torchon. Throw in a staggeringly impressive wine list and a décor that's part '50s living room, part glass-walled penthouse, and you may well have the best restaurant in southwest Florida.
Palm Beach
The fresh, local ingredient movement isn't just for eco-conscious millennials in big cities. Old money is in on it, too, as best demonstrated in this Palm Beach restaurant. Though the crowd here ranges from the ultra-wealthy who have houses nearby to young professionals from other parts of PBC, the food is decidedly urban. Shared plates like Swiss chard gnocchi and brisket "Reuben" pizza dominate the menu, with larger plates like U8 shrimp scampi on grilled bread making appearances. It's a young- feeling restaurant in a more mature area, bringing a definite Miami feel to Palm Beach.
Key West
Getting seafood in Key West can be dicey, since even Irish Kevin's claims to have stuff "caught fresh that day." But this fine-dining spot in an old house on Duval not only lives up to that claim, it does it better than anyone on the island. The lobster ravioli uses a light tomato sauce, so you can enjoy it and still have room for the grilled octopus, which brings one of the biggest tentacles you'll ever see. The meats are done impeccably, too, including a Kobe beef Bolognese pappardelle, chipotle pork tacos, and a Florida grass-fed burger, all of which will have you completely forgetting you're eating dinner mere steps from bars with refillable plastic cups and Jimmy Buffett on repeat.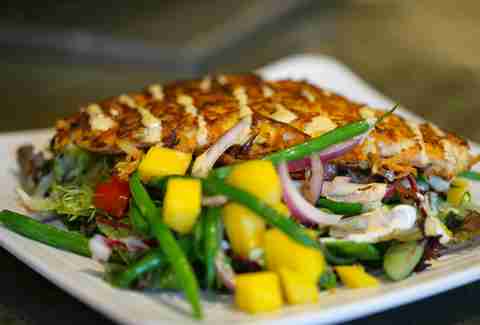 Jupiter
Anyone who's ever set foot in northern Palm Beach County -- even just to pay a parking ticket -- knows about this locals' favorite tucked into a nondescript Jupiter strip mall. The feel is unmistakably hipster, with hand-written paper menus and a funky, multi-colored décor. But it's not ironic, it's the opposite -- an authentic neighborhood gathering spot for Jupiterians. The food's chock-full of inventive twists on Florida staples, like the chimichurri-seared sea scallops and a daily fish crusted with boniato, habanero, and coconut. And the menu is changing almost as often as the bands who play there. But that doesn't keep locals and seasonal residents from packing this place pretty much year-round.
Coral Springs
Miami's best barbecue restaurants are officially on notice. The Winter Park BBQ joint that made that Orlando suburb one of America's best small food cities -- and was also named the best BBQ in Florida by some serious experts -- opened its first SoFla outpost in Coral Springs this September. The pitmaster here has cooked at the James Beard house, and seamlessly combines styles, with St. Louis ribs right next to an 18-hour hickory-smoked Texas brisket, and does it all without raising the ire of any barbecue traditionalists. For Miamians who've fled to the 954 but still miss a good Cuban, it's even got a smokehouse version, with smoked pork and ham added to the traditional mustard, mayo, pickles, and cheese.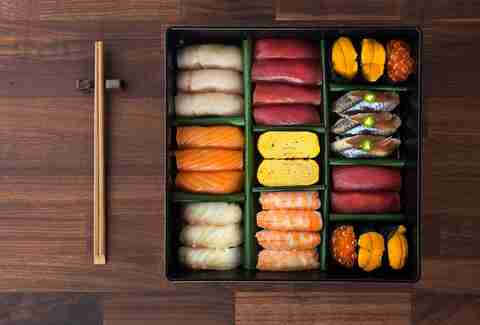 Hollywood
Imagine the fresh sushi and savory, smoky robata of Miami's Zuma, but rather than staring out at some dude's exorbitant yacht, you're staring out at the state pool at the Seminole Hard Rock. That's Kuro in a nutshell. An Asian fine-dining experience in Hollywood's biggest hotel, Kuro is adorned with a chandelier bigger than some apartments, high ceilings, and plenty of crystal. The chefs have put together a menu that blows anything in Broward away, with a hamachi pepper sashimi and avocado toro tartare that even the most hardcore carnivore will appreciate. The highlight of all the main courses is the Chilean sea bass miso, but any of the grilled steaks from the robata grill will make a perfect anchor to a multi-course Asian feast.
Ft. Lauderdale
It might not be the biggest restaurant on the list, but this tiny spot near Downtown Lauderdale packs more culinary punch per square foot than anywhere in South Florida. Chef Philip Darmon is no stranger to small spaces. He spent the better part of his career as the chef on yachts for the rich and famous, developing a cult following in South Florida that led him to open Hardy Park with his wife Jessica Rossitto. The menu's perpetually in flux, so check the chalkboard daily, and order what looks best. But if you want to sample the tried & true staples that have made this place famous, get the HPB Burger with crispy onions and tomato chutney, or the hoisin-glazed duck breast.
Ft. Lauderdale (& other locations)
There may be no greater way to spend a Tuesday in South Florida than crushing AYCE tacos and washing them down with margaritas at Rocco's. That's because north of the County line, there's a Rocco's on every party street in SoFla, from Clematis in West Palm, to Atlantic Ave in Delray, to Las Olas in Ft. Lauderdale. No matter which one you're visiting, you're always guaranteed fresh, spicy guacamole and house-made tortillas, surrounding flame-broiled meats and grilled vegetables. So even on the off chance you didn't go to Rocco's to drink, the meal's still worth making the trip.
Islamorada
Along the Overseas Highway, there's no shortage of restaurants serving fresh seafood complemented by sunset views. There's also no shortage of places that have tables that stick to your arm, and mumbling locals who look like they've been there since 1974. For Keys seafood and a sunset experience in a tranquil, island-paradise setting, no place in Monroe County beats Pierre's. The restaurant is set in an old plantation house at the Morada Bay resort, complete with a teak-wood bar downstairs with open-air access to the resort's private beach. Upstairs you'll find the requisite collection of daily caught seafood, plus a 16oz cowboy steak, ceviche, and the chef's most prized creation, the seafood curry.
Palm Beach
Perhaps you recognize Daniel Boulud's name -- or rather his initials -- as the "DB" in DB Bistro Moderne in Miami. His Palm Beach outpost is the same world-class dining experience, in a totally different setting. Here you'll dine alfresco in a Mediterranean courtyard adorned with fountains and perfectly manicured hedges. The menu is long on simple, fresh seafood and hearty meats like the bacon-crusted pork chop and dry-aged NY strip. And don't let the location near Worth Ave scare you away: Café Boulud also has a Sunday-Thursday prix fixe for $48 where you can enjoy the best restaurant in Palm Beach without having to own a house there.
Juno Beach
If South Florida is known for two things, it's great seafood and even greater scam artists. Shockingly, sometimes those two things converge in the form of restaurants that charge $39 for a piece of "Chilean sea bass" that is, in fact, farm-raised tilapia. This will never, ever happen to you at Captain Charlie's, one of the freshest, most trusted seafood restaurants in the state. Locals have been coming here for decades for simple seafood that is always the fresh catch it claims to be. The wait for a table can be painful (they don't take reservations), but always worth it. And the prices at Captain Charlie's are a fraction of what you might pay a couple of counties south, for seafood that's a fraction of the quality.
Sign up here for our daily Miami email and be the first to get all the food/drink/fun in town.