We pay a lot for things in Miami -- like bottles at LIV, bottles of Champagne, yachts, cabanas at Hyde Beach (when we aren't trying to sneak into them). Because of that, we appreciate when things are cheap, especially when those things are food, because if you haven't noticed, we spend, like, a lot on drinks. That said, here's a list of our favorite cheap sandwiches in Miami. All of them promise to keep your wallet AND your stomach happy.
The Ultimate Sub
Publix
Address and Info
South Beach (& other locations)
Price: $5.69
We take our Pub subs seriously here, and will fight you when you try to tell us any other sandwich place is better. Pick your poison, which is white bread, wheat bread, or a wrap, and watch as what must be the sandwich equivalent of Michelangelo's David is piled high with ham, turkey, top-round roast beef, Swiss cheese, all the veggies you could ever want, oil & vinegar, and salt & pepper. A masterpiece indeed.
Roast Beef sandwich
La Sandwicherie
Address and Info
South Beach and Brickell
Price: $7
God bless the French. They brought us crepes and sexy accents and a really big statue... and then they moved to Miami and brought us La Sandwicherie. Order the roast beef sandwich, which comes stacked on a French baguette with lettuce, tomatoes, cornichons, green & hot peppers, black olives, onions, cucumbers, mayo, and French dressing vinaigrette, and start singing "Frère Jacques" to show your respect.
Medianoche
Mary's Coin Laundry
Address and Info
Coconut Grove
Price: $4.50
What started as a hole-in-the-wall laundromat in 1982 eventually added a ventanita. And then no one went there for laundry anymore. It's open for 24 hours, is popular amongst both cops and the late-night drinkers they likely want to arrest, and makes a mean medianoche -- ham, roast pork, Swiss cheese, pickles, and mustard on a sweet bread made of egg dough, kind of like challah. Add a medium café con leche for just $1.75, and you've got a whole meal for under seven bucks.
Montaditos #1-#40
100 Montaditos
Address and Info
Liberty City (& other locations)
Price: $1 on Wednesdays
Everyone in Miami knows about Montadito Wednesdays. Go to the one on 14th and Brickell around lunchtime, and you'll see a line of hungry yuppies rounding the block to get a bag full of its hot, sweet, and savory little sandwiches. A staple in Spain, and dating back to the 15th century, "montaditos" are tapa-sized baguette sandwiches stuffed with all kinds of meats, vegetables, and cheeses. All day on Wednesdays, choose from 40 that are all $1 each, from chorizo & manchego cheese, Serrano ham & BBQ pulled pork, Philly steak, guava & cream cheese, meatballs & marinara, cheeseburger, and more.
Ham and cheese croissant
French Bakery
Address and Info
Palmetto Bay
Price: $2.50
A small storefront in a side-of-the-road strip mall doesn't necessarily scream "Paris," but at the French Bakery, it does. If you don't see the sign on the window, you'll be able to spot it by finding the throngs of Miamians AND French people who line up outside its doors every day. No matter when you go, order the ham and cheese croissant from the to-go counter; it's served warm, and is large enough to double as either a breakfast or lunch sandwich.
BLT
House of Bagels & Bialys
Address and Info
Palmetto Bay
Price: $4.95
Not craving French? Head right next door for a taste of America: a deli. Order the BLT -- bacon, lettuce, and tomato -- and get it on any bagel, roll, rye, or wheat bread, or on a wrap.
Keg Burger
Keg South
Address and Info
Pinecrest
Price: $5.25
Ah, Keg South; a gritty spot we probably should be ashamed of, but aren't... at all. It's home to the "World Famous" Keg Burger, which has everything you simultaneously love and hate about America: a 1/3lb, fresh, grade-A beef patty topped with a big ol' slice of cheese and numerous pieces of bacon.
8in Sarussi Original
Sarussi Subs
Address and Info
Flagami
Sarussi is a neighborhood Cuban sandwich shop that has been in Miami for more than 40 years. It's famous for its "Sarussi Original," which drenches baked ham, roast pork, mozzarella cheese, and pickles in its spicy "secret sauce," and throws it all on 16in of homemade bread. The Man vs. Food guy tried to eat the full one once, but you can get the half-size for just $6.99.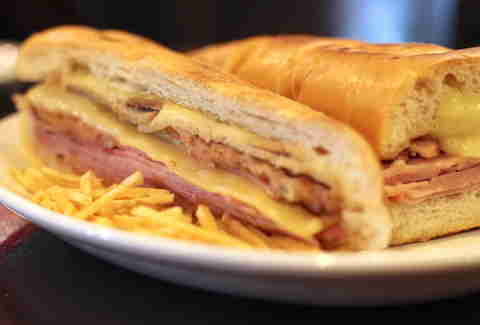 Croqueta Preparada
Islas Canarias
Address and Info
Tamiami
Price: $6.50
This is the most Miami sandwich ever, from the most Miami place ever. Islas Canarias has been around for more than 30 years, which is as long as we Miamians have been obsessing over its ham croquettes. To step it up a notch, this mainstay started putting its famous fried tubes between two slices of Cuban bread, and stacking them with pork, ham, and cheese. Islas Canarias… we salute you.
Elena Ruz Sandwich
Versailles
Address and Info
West Flagler
Price: $6.95
Named after a young Cuban socialite who used to order a sandwich no one else wanted, the Elena Ruz has made its way onto Cuban menus everywhere because apparently now people love them. It has turkey, cream cheese, and strawberry marmalade on sweet medianoche bread. We really can't explain this. Just eat it.
Cuban sandwich
Las Olas Cafe
Address and Info
Miami Beach
Price: $6
South Beach is mostly for tourists and Jersey Shore-lookalikes, except for Las Olas, where sightseers and people with fat pants can get hearty, authentic Cuban food. Walk up to the cash-only ventanita and order a hot Cuban sandwich. It's made up of buttered and toasted Cuban bread with pork loin roasted and sliced that day, cheese, pickles, and yellow mustard.
Pulled Pork sandwich
Uncle Tom's BBQ
Address and Info
Coral Gables (& other locations)
Price: $6.95
Outside of Homestead, which is convenient for no one, Uncle Tom's BBQ is about as down-home, old-Florida-BBQ as it gets. It's been around since 1948, which is well-hidden thanks to its new 21st-century LED sign. Yet it still has the same pit BBQ menu it had when it first opened. To pay Uncle Tom some respect, grab a draft beer and order the pulled pork sandwich. It's drenched in the same "special sauce" that made Tom's famous, and is served hot with coleslaw and fries.
Frita Original
El Rey de Las Fritas
Address and Info
Little Havana
Price: $3.25
A frita is both a Cuban hamburger and one of man's greatest inventions. It came to Miami in 1982 when El Rey first opened its doors, and tops a ground beef, chorizo, and pork patty with pretty much anything you want. The Frita Original is a staple, and packs a Cuban roll with potato sticks, raw onions, and ketchup. Since it's barely $3, you can throw in a "batido" (one of its famous fruit milkshakes) for another $3 and drift off into a happy, cheap-food coma.
Sign up here for our daily Miami email and be the first to get all the food/drink/fun in town.