Ask any former Miamian -- if you can even find one -- the thing they miss most about this city, and it's never the beaches or the warm weather. It's always the Publix Sub, or a late-night sandwich from La Sandwicherie. And why not? They're some of the best sandwiches of all time, and definitely the best in Miami... except for these sweet sandos that don't involve taking a number or dealing with French people.
Short Rib Grilled Cheese, ROK:BRGR
South Miami & Ft. Lauderdale
If putting trendy ingredients into grilled cheeses is the new black, then most places are Tommy Lee Jones and the dudes at ROK:BRGR are Will Smith, making this ish look gooood via pulled braised short rib, caramelized onions, Fontina cheese & a red wine reduction for dipping.
Saltimbocca Al Prosciutto, Spris Pizza
South Beach
You know what makes a sandwich made with imported prosciutto, melted mozzarella, baby arugula, and tomato slices the best one on Lincoln Rd? Pressing it between Spris's award-winning pizza dough that's glazed with olive oil and fresh Parm so it comes out extra crispy.
Lincoln Road Panini, Toasted Bagelry and Deli
Brickell
Spris might have the best sandwich on Lincoln Rd, but the best sandwich on Brickell is CALLED Lincoln Road, and is baked at a bagel shop. It's flame-grilled chicken, roasted red peppers, fresh mozzarella, pesto & a little balsamic on pressed panini bread.
Lobster BLT, Monty's Sunset
South Beach
It's lobster. It's bacon. We guess there might be some lettuce and tomato on there. But we also guess there might be articles in Playboy.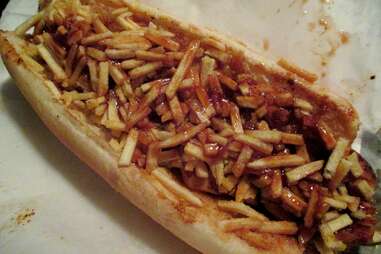 The Pincho Deluxe, Pincho Man
Oh, you like food trucks? Well, this dude's been serving food out of his unmarked white truck from undisclosed locations since Dade County had one area code, and Miamians -- who wait in line for nothing -– eagerly queue up for the Chicken Pincho Deluxe: a giant hot dog bun w/ chicken, potato strings & secret sauce. What's the secret? Pincho Man won't even tell you where his truck is. You think he's telling you that?