Given that the average American eats approximately 200 sandwiches each year, it shouldn't be too hard -- despite the proliferation of all the sweet new Miami bars and restaurants -- to eat the 16 best... provided you know where to get them. That's where we come in...
Wynwood
What you're getting: Croqueta Preparada
It made our list of the 21 best sandwich shops in the country, mostly on the strength of its Cuban, but we think the sandwich gets even better with some croquetas thrown into the mix.
 
Multiple locations
What you're getting: Honey Mustard Chicken Sub
We don't blame you for turning into a hungry bear every day around noon. Thankfully, this spot's got a quick in-and-out system for those who need their honey mustard chicken with grilled onions, mushrooms, and green peppers fix.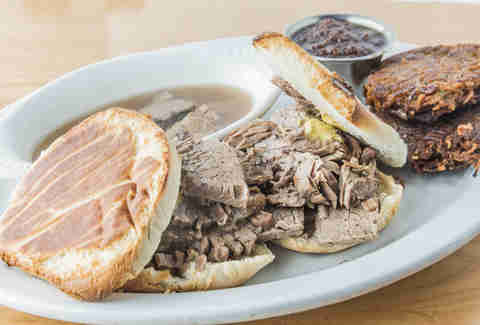 MiMo
What you're getting: The Corben
While Cuban sandwiches are our thing, this plate includes two sandwiches of braised brisket on Portuguese muffins with Dijon and dipping jus, along with a side of potato latkes and apple sauce.
Aventura
What you're getting: Chicken Heart Pita
Unless you've got a good tip from some locals, you might not even know this place exists, but you should. You'll receive a grand selection of salads with pita bread the moment you sit down, and it's one of the few places in town that serves chicken heart. Oh, and if that's not for you, they also have Moroccan spicy sausage, kebab, and falafel.
Multiple locations
What you're getting: Chicken Tender Sub
Oh, Publix, that Holy Grail sub stop. It's one of the things Miamians miss most when they are away. We were especially disappointed when that April Fools' joke came around about a year back. The best part is you can have it your way.
Little Haiti
What you're getting: The Zonker
Don't let the Pepto-Bismol-colored building with barred windows deter you. Inside, it's an ode to the Miami Dolphins and that perfect '72 season. The Zonker is named for Larry Csonka, and it's stuffed with ham, salami, and provolone. There's even a drive-thru window. Fins up!
Surfside
What you're getting: Jewban
This Jewish deli is anything but traditional or kosher. It mixes the best of Jewish and Cuban cuisines for the ultimate Miami sandwich that includes house-cured pastrami, pork, pickles, and Swiss cheese.
Flagami
What you're getting: Sarussi Original
Famous for decades before Adam Richman of Man v. Food paid it a visit, its sandwiches come as big as 16in (of course, you can get the more manageable 8in, too). Its original with smoked ham, pork, mozzarella, pickles, and secret sauce has been its claim to fame since 1960.
Miami Beach
What you're getting: Mama's Chicken Biscuits
John Kunkel's empire is growing and soon it'll be easier than ever to get our hands on these babies, thanks to the restaurant spinoff Lewellyn's Chicken & Biscuits. In the meantime, Yardbird it is. You will need to order more than one serving of his Grandmother's original recipe.
MiMo
What you're getting: Short Rib Melt
These guys are serious about their grilled cheese, so much so that they've created an empire, and it's built on a solid foundation: The Short Rib Melt with braised short rib, jack cheese, pickled onions, and arugula on sourdough bread. It is owner Fatima Mullins' favorite, and for good reason.
Design District
What you're getting: Falafel wrap
Calabaza hummus, cucumber, Kalamata olives, pickled onion, tahini, tomato, radish, and a house-made flatbread make for a wrap that's actually pretty badass.
Wynwood
What you're getting: Miam Club
This new-ish lunchery in Wynwood is the tops with fresh salads, sandwiches, and cookies, all locally sourced. Its Miam Club with avocado (of course!) is one we're proud to call our own.
Little Havana
What you're getting: Elena Ruz
The Elena Ruz, the oft forgotten sandwich of Cuban heritage, is a combo of turkey, whipped goat cheese, berry compote, bacon, and arugula. Cabrera tweaked it a bit. But, if you are looking for something more traditional, the Classic Cuban with pork belly rillettes is also awesome.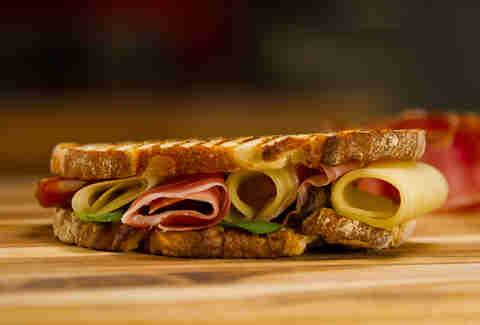 Wynwood
What you're getting: Curma
With all the fresh pasta and cannoli, people tend to overlook Italy's sandwiches. Well, don't. Made in Italy Gourmet features at least a dozen hot and cold ones. The Curma, a nickname for the Alp peak Mont Blanc de Courmayeur, is one of the most popular with Fontina, speck, and porcini mousse on ciabatta bread.
Multiple locations
What you're getting: Steak Sandwich
Miamians sure love their juicy steak, especially when it doesn't require a fork and knife. And while the Puerto Rican-ish restaurant is best known for its mofongo, its sánguche game is equally on point. Best of all, you can get all of this delivered to your casa without much effort.
 
South Miami
What you're getting: Fried Green Tomato Sandwich
Pimiento cheese, bacon, arugula, and house chips create a delicious reminder that, technically, we ARE in the South.
Sign up here for our daily Miami email and be the first to get all the food/drink/fun in town.