In case you didn't notice, Miami is surrounded by a lot of water. Naturally, our local restaurants are all known for their great selection of wagyu beef. No, of course they're not.. they're known for SEAFOOD, as in, every tourist who's ever hit you up for a restaurant recommendation says, "Where can I get some great seafood?" While this city is chock-full of great sushi joints and an avalanche of Peruvian places, we wanted to find out what the best pure seafood spots were in South Florida. From a tent behind a church in Brickell to a new spot at the Ritz-Carlton, here are the 13 best.
 
Ft. Lauderdale Beach Blvd
The Burlock Coast isn't an actual place (before you start looking). It refers to the coast of South Florida where rum smuggler William McCoy used to bring in his uncut rum from the Caribbean in burlap sacks that were hidden in the walls of his ships. (A true South Floridian, to be sure.) McCoy's quality rum has inspired the cocktail menu at this new spot at the Ritz-Carlton, which is pairing its quality cocktails with fresh-caught seafood specials, like lobster pappardelle and black grouper in lemon sauce.
North Miami
Though this restaurant and market have been open for about 16 years, a few years ago, new ownership breathed new life into what used to be a shoddy, run-down fish shack. Each day, the market's private boat goes out and brings back fresh catches that you can either buy in the front, or enjoy in the newly renovated restaurant space. The chef-driven menu is a lot more than just pieces of fish, though; the shrimp & grits might be the best in the city, and the non-seafood offerings, like chicken parm, are worth the trip by themselves.
Brickell
Beneath the towering condos of Miami's financial district, you might find a little hand-painted sign on Brickell Ave by the First Presbyterian Church saying "Fresh Seafood," with an arrow pointing towards the water. Follow it. You'll find fresh stone crab claws (when they're in season) for a fraction of what they'd cost at a restaurant. The shrimp quesadillas are not only spectacular, they give you epic portions of shrimp inside. And the ceviche is fresh, flavorful, and surprisingly unlikely to induce food poisonng for something that comes from a tent behind a church.
Riverside
Of course, there will always be a debate as to whether Garcia's is better than its next-door neighbors at Casablanca. The menu here is a little more upscale, with stuff like the signature crab-stuffed lobster, and an impressive raw bar full of ceviches and tiraditos. It also has a seafood market, so if you're not down for dining in at one of Miami's best boat-up restaurants, you can grab a filet to go and grill it on your boat.
Riverside
Go ahead and call it the anti-Seaspice. Garcia's, the family-run seafood market that's been sitting on the Miami River since it was filled with cocaine and corpses, has been THE go-to spot to buy daily caught fish for decades. And now that the neighborhood is finally cleaning up, you can hit up the restaurant upstairs for a panoramic view of the river and Miami skyline while enjoying said seafood, and pay a fraction of what you would a few doors down.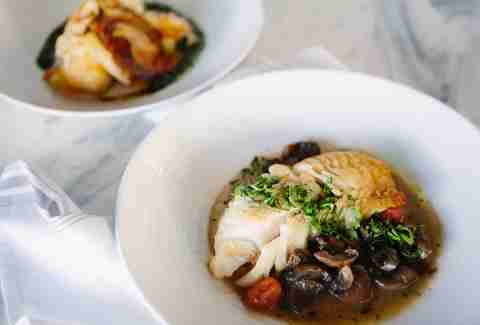 SoFi
In the few short months it's been open, Jamie DeRosa's follow-up to Tongue & Cheek has already landed itself on a very reputable list of the best restaurants in South Beach. And for good reason. DeRosa has an exquisite collection of oysters to begin a meal, adds in creative stuff like lobster poutine, then finishes up a menu of literal catches-of-the-day and one of the best burgers you'll ever see at a seafood joint, not to mention a menu of Boston-themed drinks that'll make you understand a little quicker how Patriots fans got so obnoxious.
South Beach
Almost every Miamian gets a little jolt of schadenfreude when a restaurant that was "huge in New York" closes within six months. Thankfully, that was not the case at Lure, where, despite being a tourist-driven restaurant in the Loews hotel, it still serves up some of the best seafood dishes in the city. The NYC heavyweight has adapted its Miami menu, and plates a miso-glazed salmon and nori-crusted tuna that make a trip there worth the South Beach hassle. Add in a rotating selection of inventive cocktails and you might actually be sad if this place ever shuts down.
Hollywood
We already told you how this new spot at the Margaritaville resort is one of the best steakhouses in Miami. But it serves double-duty as the seafood here is also some of the best in South Florida. The raw bar that greets you upon entrance is full of seasonal oysters from all over the hemisphere, curated to offer the best that's currently available. And while you won't find it anywhere on the menu, ask your server about the sushi menu, which uses all that fresh-caught stuff in ways you've borne witness to before.
Edgewater
Danny Serfer's Edgewater outpost takes the same creative, high-quality approach that made Blue Collar a success and transposes it to the world of seafood. In addition to fresh oysters and a Sunny Isles-worthy caviar selection, Mignonette is serving up dishes like croissants with lobster butter, popcorn conch, and andouille-crusted redfish. But the fish here is so well-selected that you can get a simple grilled filet -- or a seafood tower -- and your meal will be just as delicious.
Pinecrest
Though a trip down the Palmetto Expressway can seem like an interminable journey through the depths of hell, at least the end of it gives you a worthwhile reward. No, not the Golden Glades, the OTHER end of the Palmetto, where this longtime South Dade staple has been serving up fresh seafood to real locals since we called the place "Mia-muh." Any kid who grew up on a street that started with "Southwest" has spent at least a few family meals here. And as grown-ups, they realize the seafood at this spot is still better than most of the fancy places in "new" Miami.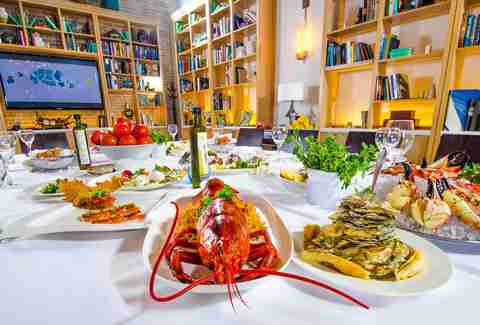 SoFi
When it comes to fresh fish selection, nobody is topping Milos. That's because the fish here is literally caught in the Mediterranean within 24 hours, and the menu changes depending on what the boys back in Mykonos caught that day. You won't find many of the traditional Miami staples like mahi or dolphin here, but rather, a daily rotation of light, simply cooked seafood that actually justifies the eye-popping prices. It's not a place anyone who's not living at the Continuum is going to go every day. But for a next-level, European-style experience, it's 100% worth hitting up for a special occasion.
Brickell
When you inevitably scroll to the comments to call us out for omitting your favorite seafood spot and end it with "unsubscribe," you'll no doubt point to the fact that we included a chain restaurant on the list. But Oceanaire is no ordinary chain. It's allowing chef Kareem Anguin serious creative control over the menu, which is why this is also one of the most underrated restaurants in Miami. Anguin uses his own selection of fresh-caught local fish, then adds in his Caribbean background to give the menu a distinct tropical flavor, exemplified by stuff like jerk fish tacos. That, plus the impressive, ice-packed raw bar up front, make this a fantastic dining destination if you've got out-of-town guests in Brickell.
Brickell
Somehow the condo-happy wrecking ball has spared this longtime happy hour hot spot (whereas Tobacco Road could not be saved). So get in while you can! The place was actually renovated recently, and still serves up locally caught seafood seven days a week. Plus, its nightly oyster happy hour is still one of the best after-work events in the city.
Sign up here for our daily Miami email and be the first to get all the food/drink/fun in town.
Matt Meltzer is a staff writer with Thrillist and a MONSTER seafood eater. Check out all the delicious Miami seafood he's absolutely eating on Instagram @meltrez1.