It's easy to forget how many great steak spots there are in Miami... until you walk into a sushi restaurant and, instead of specialty rolls, they start telling you about their actually impressive selection of wagyu. However, there are a handful of spots in South Florida that do steak better than anywhere else, and we picked the 12 best.
Doral
When you step up to this spot overlooking the 18th hole at the Trump Doral, you better come hungry, like a tiger at a Central Florida Perkins. This spot is catering to guys who need a protein jolt after 18 holes, with steaks no smaller than 10oz, including three cuts of American Kobe -- another guy who didn't care for the confines of marriage.
Hollywood Beach
Though "seafood" is often thrown next to "steak" in great steakhouses so that non-meat eaters know they have an option, it's a lot more than mere extra verbiage at JWB (which is just right of the giant flip-flop at the Margaritaville resort, in case you were wondering). Each day has a spear-caught special, essentially seafood that someone went out and nabbed spearfishing that morning. And while, yes, the prime cuts here are the main attraction in the Buffett-themed dining room, the seafood is what sets it apart. You won't even see most of it on the regular menu, but ask your server about the secret sushi menu.
Hollywood
It would be easy to walk straight past the fine dining steakhouse at the Seminole Hard Rock on your way to catch the Styx reunion tour. It's hidden right next to the garage escalators, and is purposefully nondescript, as it was once the "sorry you lost your house to the Seminole playing blackjack, here, have a steak" consolation spot for big spenders in the casino. But it's been open to the public for a while, serving prime cuts as good as any in South Florida from a butcher shop that'll let you pick your cut or, if you wanna go all out, your lobster, too.
Downtown
It would be hard for the legendary Peter Lugers in New York to be delusional enough to claim its steak is better because "it's in the water" since, well, they're making steak. That's why this spot on the Miami River, run by longtime PL headwaiter Wolfgang Zeiner, serves prime cuts as good as Lugers', dry-aging them on-site and complementing them with a menu of fresh seafood and an impressive raw bar.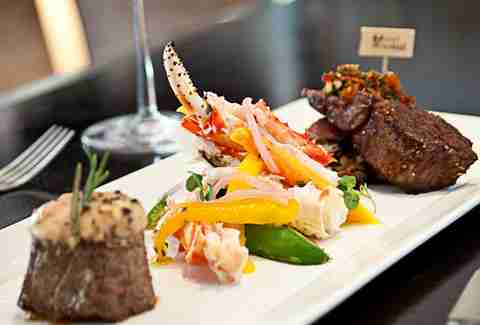 South Beach
If this list were based on craft cocktails and happy hours alone, Meat Market would blow every other place out of the water. This Lincoln Rd steakhouse has managed to have one of the Beach's longest-running happy hours, complementing its menu of prime meats and filets -- which you can also get in half sizes if your date's not so big on 12oz steaks. And the craft cocktails could stand up to anything from Regent or The Broken Shaker.
Miami Beach
Michael Mina manages to land two spots on this list with his steakhouse in the Fontainebleau. So why go here instead of his Aventura outpost? Well, first, it won't involve driving to Aventura. But second, the steak selection here is second to none, boasting the usual selection of Moyer Farms Angus, plus three cuts of wagyu, A4 and A5 Miyazaki cuts, a 50oz Aussie tomahawk, and a 32oz bone-in rib eye. For pure selection of top-of-the-line steaks, this place can't be beat.
SoFi
OK, sure, when you make an 8pm reservation here, sometimes you don't sit until 9:30. But have you ever NOT been able to make a reservation at Prime 112? When you run the spot that's been dishing prime steaks and truffle-sprinkled sides longer than anyone in South Beach, people want to come. So you either have to make people wait months to get a reservation, or an hour and a half for a table. And that 90 minutes is easily forgotten by the time you get to that holy grail of desserts: the s'mores pie.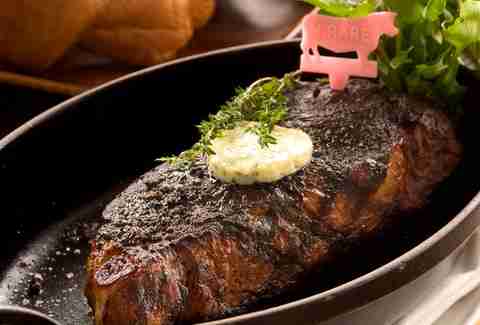 South Beach
The steakhouse on the ground floor of the Betsy is to Ocean Drive restaurants what Miami is to other US cities: technically it is one, but really, it's kind of not. Here you'll start with BLT's trademark popovers, then continue to a menu of Certified Angus beef with everything from bone-in rib eye to American wagyu, plus an impressive sushi selection, and jalapeño mashed potatoes.
South Beach
Remember the excitement you had the first time a Mexican restaurant rolled that big cart up next to your table and made guacamole... RIGHT IN FRONT OF YOU? Relive that magical moment when your server at this South Beach steakery grinds and mixes steak sauce right at your table. And while usually putting A.1. on a prime cut is a dead giveaway you might as well eat steak at Denny's, the stuff here mixes perfectly with the house-cut beef, like the 12oz filet, or the 24oz tomahawk bone-in rib eye. For an extra-healthy meal, you can also order the chicken parm pizza -- a 12in pounded-down breaded chicken, fried, then covered in sauce and cheese. It may or may not feed you for a week.
Brickell
To make this list, you gotta be more than a one-tool player, and Aaron Brooks might be the Raúl Mondesí of Miami steak chefs, thanks to inventive new sides like the cheesy spaetzle, possibly the best burger in Miami, award-winning lamb, inventive desserts, and a selection of Creekstone Farms steaks that you won't find anywhere else. Everything's cooked over a mesquite-chipped grill, giving every steak a smoky, outdoorsy flavor that'll make you forget you're sitting in the Four Seasons.
Aventura
Though some might argue Michael Mina may have cannibalized himself by opening this next to Stripsteak, the free duck fat fries, an extensive menu of wood-grilled steaks (including Japanese and American wagyu), and a famous dry-aged burger still make this easily one of the best steakhouses in Greater Miami. The name isn't misleading, either: the bourbon selection here is among the best in the city -- six whole pages of them -- as well as a curated list of barrel-aged cocktails and a daily happy hour that makes it all accessible to everyone.
SoFi
Defining who serves the best steak is not only difficult, but also pretty subjective given that, once you've got great meat, well, it's your dinner to mess up. But at Red, Peter Vauthy lets the Certified Angus beef speak for itself, then complements it with his perpetually evolving non-steak menu, with stuff like bucatini & meatballs with his signature "red lead" sauce, some of Miami's best donuts, mind-blowing lobster mac & cheese, and on occasion, a terrifyingly large 6ft Alaskan king crab. Throw in that Red is one of the few spots in Miami -- and the entire USA -- to bring in Miyazaki beef and its top-1% marbling, and you've got a steakhouse that can lay claim to being among the best in the nation.
Sign up here for our daily Miami email and be the first to get all the food/drink/fun in town.
Matt Meltzer is a staff writer with Thrillist. Gratuitous steak porn populates his Instagram @meltrez1.