Power-ranking Miami's top 5 steakhouses
Picking the top steakhouse in Miami is the culinary equivalent of picking which one-loss team should play in the BCS Championship Game. And since South Florida doesn't have an SEC-run steakhouse that ESPN can spend hours telling everyone about how awesome it is, we decided to power-rank the top five local spots in an effort to start a more rational discussion than you'd ever have with, say, a Gators fan.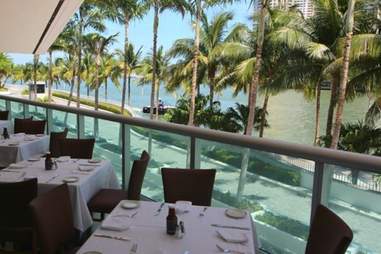 5. Wolfgang's Steakhouse
Downtown
Hitting Peter Luger's legendary steakhouse in NYC not only means waiting like 12 years for a reservation, but also GOING to NYC. Neither of which sounds as good as getting the massive porterhouse from Luger's longtime head waiter Wolfgang Zwiener that's just as good and dry-aged on site, then eating it on a warm dining deck with an unobstructed view of the Miami River and palm trees, neither of which you'll find in Brooklyn.
4. Gotham Steak
Miami Beach
This celebrity-/ porn star-filled haunt is right next door to Miami's most famous club. So, after consuming a 16oz bone-in filet mignon, a 14oz boneless rib eye, or a massive 50oz Tomahawk steak (all of which you can top with foie gras, black truffle crust, or grilled lobster), you can conceivably dance off all those calories. Or, most likely, not be able to move at all.
Red
3. Red, The Steakhouse
South Beach, Boca Raton
Whoever said nothing good ever comes out of Cleveland clearly has no appreciation for the finer works of Devo, and also has probably never been to Red, the south-of-fifth steakporium from Clevelander Peter Vauthy, who not only grills up some of the best prime cuts in the city, but also supplements his meatastic menu with fresh pastas like his famous Bucatini w/ meatballs & "Red Lead". Oh, and his grandma's zeppolis are some of the best donuts in Miami.
2. Prime 112
South Beach
There's no better place in Miami to watch celebrities, every pro athlete ever, and occasionally Bill Clinton chow down on as-good-as-anything dry-aged steaks, Miami's best mac n' cheese, creamy mashed potatoes, and deep-fried Oreos -- while the models they bring with them enjoy the finest in martinis, lettuce, sparkling water and whatever it is they keep going to the bathroom for.
1. Bourbon Steak
Aventura
Spurning South Beach for condo- and grandma-heavy Aventura, Michael Mina opened the Miami branch of his steak empire at Turnberry, where he's the Moby Dick of the County Line culinary pond, and is grilling steaks (the 10oz Florida grass-fed filet mignon) you won't find anywhere else, creating one of the best burgers in Miami, and giving away his duck fat fries – recently named the Best in America – for free at the start of every meal.