Though the words "taco explosion" sound kind of like a horrible mariachi cover band, they're the best words to describe what's happened in Miami over the past couple of years. With the seemingly weekly opening of chef-driven taco spots -- which apparently all come complete with a back-room speakeasy -- there's been great debate over which are the best. But lest we forget, Miami is also a city ripe with authentic street tacos in grimy little taquerias, many of which are just as good as (if not better than) places with AC and spotless sanitation. So which truly are the best tacos in Miami? Here are 12 we can't get enough of.
Al Pastor
South Beach
The pineapple-and-pork concoction that is al pastor is massively popular in Miami, but nobody does it with quite the perfection of this South Beach shop. The pineapple is flame-broiled, creating a smoky flavor that mixes perfectly with the pork, red onion, and cilantro. It's just as delicious at lunchtime as it is when you're leaving the bar in back at 3am.
Carnitas De Pato
Wynwood/Brickell
Some things in Miami are worth waiting in line for. Admission to a club? Absolutely not. Literally anything from Coyo? Absolutely. But if you want to experience the best chef Scott Linquist has to offer, try this taco, which combines traditional Mexican spices with slow-braised duck, an already-flavorful meat. It's one of the richest tacos you'll ever have, as it matches complex flavor with traditional spice.
Chorizo Taco
Little Havana
While the giant spit of al pastor behind the counter might look like the main draw at this Little Havana taco counter, the go-to taco is the chorizo. The tacos here are simple: meat, onion, cilantro, and a tortilla, so the flavor from the Mexican chorizo shines through as a meaty-spicy mix that pairs best with the smoky salsa roja served on the side. It's a taco not found many places, and while the whole menu here is fantastic, the chorizo taco is special.
Churrasco Taco
Kendall
First off: no, you cannot get a tattoo here, though the combination of hot needles and habanero salsa does sound strangely inviting. This Kendall taqueria tucked away in a tiny strip mall draws people from all over Miami for its inventive tacos like this one. Not content to throw some ubiquitous skirt steak on a house-made tortilla, this taco starts with a gooey layer of Mexican cheese mix and tops it with marinated, flame-broiled churrasco, then adds red cabbage for crunch and avocado salsa for a creamy finish. The bite is surprisingly complex for something as simple as a taco, but the combination of flavors and textures makes this one of the more intricate taco-eating experiences around.
Fried Chicken Taco
South Beach
This pioneering experiment in boosting cholesterol is the trademark menu item at this dog-friendly SoBe taco joint, and is a venerable platter of deliciousness served on a corn tortilla plate. This one is best eaten open-faced, so you can enjoy each bite of the hot fried chicken breast with a bite of jalapeño cornbread and ancho ranch. Healthy it is not. But one can be enough for a full meal.
#1 Ahi Tuna Taco
South Miami
Miami doesn't really "do" fish tacos, kind of like we don't "do" surfing, good driving, or other West Coast staples. But we DO do tuna exceptionally well, and the best seafood taco in town is this Asian-inspired ahi number. It starts with a piece of blackened tuna that's complemented with a creamy citrus kick from the mandarin oranges and avocado. The taco avoids being too mushy thanks to a tangy Asian slaw and crispy rice noodles to give it a crunch, creating a full entrée experience in a house-made tortilla.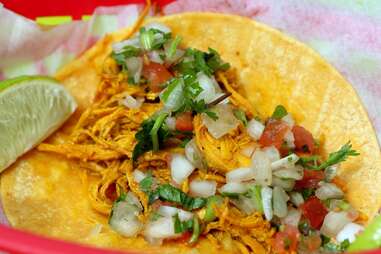 Pollo Taco
Little Havana
You want authentic? How about instead of a cool speakeasy behind your taco shop, you have a single stall bathroom that looks like it hasn't been cleaned since the Reagan administration? But that's just part of the ambiance at El Carnal, the closest to a real Mexican taco shop you're getting in the 305. The slow-braised pulled chicken taco is made up of salty, juicy white meat that melts in your mouth with an explosion of adobo spice. Top it with the spicy red salsa served alongside for a savory/spicy mix that's so addictive it'll be hard to eat less than three.
Pollo Asado
South Beach
For years, Rancho Grande on Lincoln Rd was the only place in Miami to get a decent taco. Even though they closed and re-opened as this Sunset Harbour Mexican spot, the tacos are still just as great. Everything on the menu is fantastic, but the intricate seasoning on the meats shines the most against the white meat chicken in this taco. Topped simply with cilantro, onion, and lime, it's a light bite that leaves plenty of room for the signature margaritas.
Carnitas Taco
South Beach
Though the cinnamon-and-orange-braised carnitas here can hold their own with any in Miami, what sets this spot at the HI Miami Beach Hostel aside are the tortillas. Blue corn is nothing new, but these hand-ground ones offer a warm, comfortable pillow to the spicy, juicy pork on top. The collection of sauces available are certainly worth trying, but with tortillas this unique and meat this well-prepared, you likely won't need them.
Taco de lengua
Little Havana
For the adventurous eater, hit this taco counter in the heart of Little Havana where diners are greeted with a menu board boasting ear, head, and tongue tacos. The last one on that list is its signature item, a tortilla filled with diced lengua -- beef tongue for you gringos -- that tastes just like beef, but a little more tongue-y. If you're intimidated, Viva Mexico serves it with a tray of about eight house-made hot sauces that can cover it up. But if you want to live on the edge of the glorious taco world, this is the place to do it.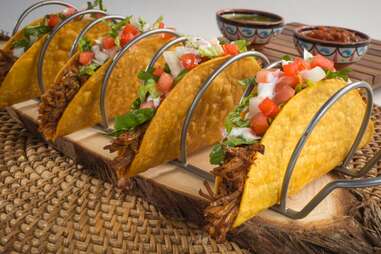 Barbacoa hard shell taco
South Beach (& other locations)
Hard shells are tricky, because even some of the more "authentic" taco joints tend to over-fry them and leave a taco tasting like nothing but oil. Other places leave them too dry, reminding one of Taco Bell. Pepper's strikes a perfect balance, with a warm, crispy shell that's not dripping in grease, but still adds texture to the experience. It's best used to wrap the juicy barbacoa, a savory, spicy pulled beef that can soak through soft tortillas. And the combination of the succulent meat, the cool lettuce, tomato, and onion, and the warm shell makes this a perfectly balanced taco.
Carne Asada Taco
Little Havana
Tacos The Fury isn't a food truck filled with hipsters serving up Korean kimchee tacos for $5 a pop outside of a brewery. It's a food truck in the real way, with an old Mexican lady making family-recipe tacos in the parking lot of a body shop. The finely diced carne asada here has a barbecued taste even when cooked on a flat grill, creating a salty-spicy flavor that could stand by itself. But when topped with the truck's signature red sauce -- which never tastes EXACTLY the same twice -- it's the kind of taco that makes you realize no matter how many gourmet taco places open up, the best ones always come from places like this.
Sign up here for our daily Miami email and be the first to get all the food/drink/fun in town.
Matt Meltzer is a staff writer with Thrillist who once had a taco in a matzo tortilla. Shockingly, it didn't make this list, but you can see it on his Instagram @meltrez1.