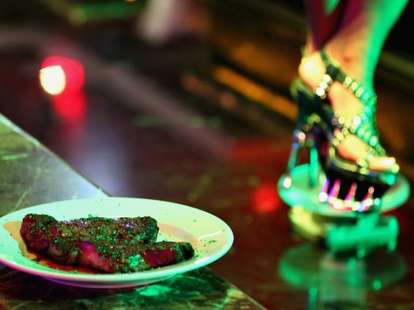 Thrillist
Thrillist
Did you know that stuffing dollar bills in G-strings burns up to 500 calories an hour? Of course you didn't, we just made that up, but you'd think it did the way Miami strip clubs are seriously stepping up their food game. To see who's doing it best, we took on the incredibly onerous task of eating at all of Miami's best strip clubs and finding the eight best things they serve...
8. Chicken kabobs
Scarlett's Cabaret (address and info)
Hallandale
Scarlett's flavors chunks of chicken in a lemon-garlic marinade, flame broils them, and serves them on a couple skewers with similarly fresh, grilled veggies. They've also got 'em with filet mignon and shrimp if white meat isn't really your thing.
7. Caprese salad
E11even (address and info)
Downtown
When you're at what might be the only strip club in the world where the female customers outnumber guys, you can't expect to eat stuff like Buffalo wings and deep-fried egg rolls. E11even knows this and has employed Top Chef alum Carla Pellegrino to put out light Italian fare like this caprese with Buffalo mozzarella and Kumato tomatoes in olive oil with herbs and avocados. Oh and the best part about it? Hit the Friday happy hour buffet and it's totally free.
6. Hot wings
Pink Pony (address and info)
Doral
Once upon a time, Pink Pony served the best strip club pizza in the history of strip club pizzas -- which we're guessing isn't all that hard, but whatever. Apparently the same culinary mastermind is behind the recipe for their wing sauce, which they're putting on wings that are almost as plump and juicy as the girls they've got dancing on stage, because remember, we're right next to Hialeah.
5. Buffalo chicken spring roll
Scarlett's Cabaret (address and info)
Hallandale
You never want the word "Buffalo" going through your head while you're at a strip club (because who likes thinking about dying industrial cities when you've got 10 grand worth of silicone in your face?), but don't worry, this spring roll filled with tangy, spicy Buffalo chicken and served with blue cheese and celery will totally make you forget about the four consecutive Super Bowl losses. And if it doesn't, the aforementioned silicone definitely should.
4. Chicken and waffles
Tootsie's Cabaret (address and info)
Miami Gardens
The line between late-night drunk food and brunch gets about as blurry as the stomach tattoo on a day-shift stripper when you're sitting at the rail at 4am, but who cares when you're eating hot waffles topped with fried chicken in a peppery buttermilk batter with maple syrup dripped all over the top? We'd say wipe your hands before tucking away any dollars, but let's be honest, it's not like those bills can get any dirtier.
3. Deep-fried cheesecake
Scarlett's Cabaret (address and info)
Hallandale
Yes, that's three from Scarlett's. You don't get to be one of America's 21 best strip clubs without some decent food. And since you haven't got a shot with any of the girls in here, you can go ahead and let that gut get a little bigger via a nice piece of deep-fried citrus cheesecake that's wrapped in pastry dough, filled with caramel, and served with whipped cream & berries.
2. Chimchurri skirt steak
Wonderland (address and info)
South Beach
Wonderland's already the best club in Miami to hit if you're sick of being hassled for tips, but you can pretty much ensure the girls will stay away if you down this massive skirt steak (with a side of mashed potatoes) that's covered in the garlic-heavy goodness that is their homemade chimichurri sauce. But don't worry, it's nothing a well-timed breath mint and $500 can't help you recover from.
1. BBQ rib sandwich
Club Lexx (address and info)
Opa Locka
When you're ordering a BBQ rib sandwich at a strip club in the middle of Opa Locka, you know it's either gonna be the most disgusting thing you've ever had or a sandwich you swear "totally makes going to Opa Locka during the day worth it". This is soooo the latter, and if you saddle up to the bar at Club Lexx, ask your waitress for the rib sandwich -- which is technically from the BBQ spot next door -- this open-faced pile of fresh smoked pork ribs smothered in tangy sauce is just one thing you'll get. The other is the girl on stage asking you for a bite.
Sign up here for our daily Miami email and be the first to get all the food/drink/fun in town.