Eat the Everglades for dinner
If you've ever thought it would be cool to live in the Everglades and survive on nothing but alligator, wild boar, antelope, and jackrabbit, but those whole "mosquitoes the size of Joe Mantegna" and "severe lack of a craft cocktail menu" things were dealbreakers, GOOD NEWS! You can now hit Box Park in Brickell to chow down on your favorite Florida swamp creatures in air-conditioned comfort without having to soak your clothes in DEET.
The restaurant from The Hoxton people is so-named thanks to the boxy look of the ceiling and has absolutely, positively, completely nothing to do with the famous shopping district in London.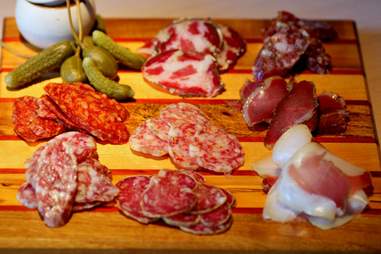 Get all your fears about eating weird meat out of the way early with the Box Park charcuterie. From the top left: whipped lardo, coppa, wild boar finocchiona, chorizo, piquant, duck prosciutto, saucisson sec, antelope salami, and lonza.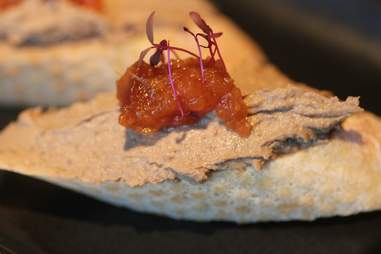 You'll understand Elmer Fudd's persistence a little better after trying this rabbit liver pate with smoked peach jam.
Here's the wild boar terrine with pickled okra, beer mustard, and pickled watermelon rind.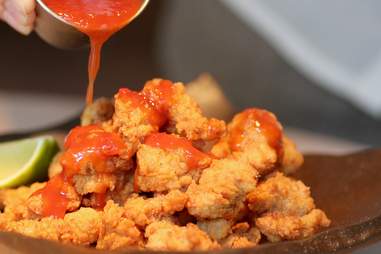 Even ESPN couldn't overrate these gators that're marinated in hot sauce and buttermilk, breaded, deep-fried, and served with a spicy Datil pepper sauce.
The homemade ice cream in this Ten-Fidy banana split is made with Oskar Blues' 10.5% porter, and will melt in about a minute because the alcohol content is so high. But you knew that already.
If you're too scared to order the rest of that stuff, you can select the "just send food" option and the chef will bring out whatever's fresh that day (the menu is constantly changing). Or you can work up the nerve with one of their specialty sake cocktails, like the sake tonic with fresh cloves, rosemary, and ginger, or the BoxMopolitan with grapefruit, bitters, and Chateau du Jau Muscat.