Rodizio is back where it began: bayside in Brickell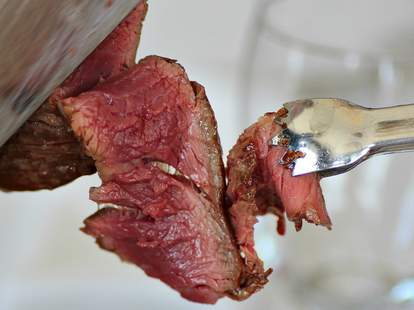 30 years ago, Brickell's fabulous Four Ambassadors was home to pioneers of many things. Like body disposal, and also Brazilian rodizio steakhouse Porcao, whose spirit lives on at Brasileiro, where they're bringing you meat on skewers until you beg for mercy in the same bayside spot that originally begat rodizio in Miami.
If you're unfamiliar with rodizio, black-clad gentlemen like this walk through the dining room with skewers of meat while you sit at a table with a card that you can flip to red or green. Green means, "I brought plenty of Tums and Lipitor. Give me some meat!" Red means, "I think I just felt an artery close. Dear God, make it stop."
It's all-you-can-eat, so fill up your plate with all you want, slyly nudge it to the side, and wait for more.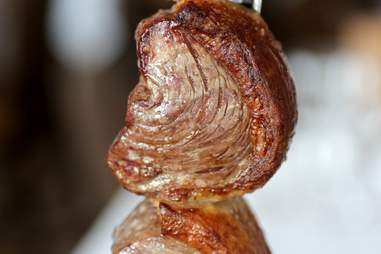 They've got a dozen cuts of meat, like this Brazilian specialty picanha, flank steak, lamb, chicken, sausage, and enough bacon to let the Big Bad Wolf take a much-needed vacation.
When you walk in, you can preview 'em all as they slow-roast in rock salt in the kitchen.
Not into meat? Then kudos to you for making it through all those juicy meat pictures. Your reward is a Brazilian-fusion menu from chef Guily Booth with stuff like moqueca Bahia, black seafood risotto, and this octopus carpaccio with chorizo dust, fried capers, tomato, lemon aioli, and Mandarin pieces.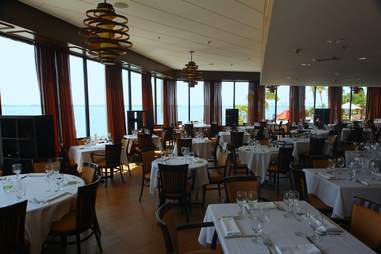 The 300-seat dining room is right on the bay and has a nice view of the Four Ambassadors pool, a place you're not going anywhere near till you've spent the next week in the gym.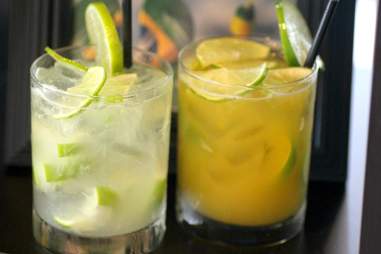 And it wouldn't be a Brazilian restaurant without Caipirinhas, which they're making with traditional lime, plus lots of other tropical fruits. Too many of these with dinner and you'll end up the pioneer of "going home early".