Sure, Nic Cage may have made out with Angelina Jolie and done other similarly cool things, but in the time it took him to boost a Porsche 959, Stanzione 87 can cook a pizza and still have 10 free seconds to listen to some crappy old-timer story from Robert Duvall

Everything in the place -- from the cabinets, to the tomatoes, to the pizza chef -- was brought over from Naples. The city in Italy, not the town with the nearest Trader Joe's

This refractory brick Stefano Ferrara oven gets as hot as 900 degrees to provide those 50-second cooks

They make their bread fresh every morning and use it in all their crostini, from the traditional cherry tomato, basil, and olive oil, to this one: creamy ricotta topped with honey and arugula

Fresh burrata with marinated cherry tomatoes and prosciutto

23yr-old owner Franco Stanzione studied under Giulio Adriani in New York to become Verace Pizza Napoletana certified (it doesn't just sound important), which means you can trust his innovative pies like the Mais: cream, corn, ham, Parmesan, and olive oil

Or, if you really hate your arteries, you can opt for the Margherita Frita, whose dough gets deep-fried before being topped with fresh mozzarella, basil, and Parm

For something that won't have you rolling home in a really well-constructed wheelbarrow, check out the refreshingly light Limone: olive oil, arugula, mozzarella, and fresh lemon

The craft beer roster includes three from Italy, like this Collesi Imper Ale Chiara. Try all of them, and Nic Cage would be happy to drive you home very quickly.
Recommended Video
This Mojito Hot Toddy Is the Destroyer of Colds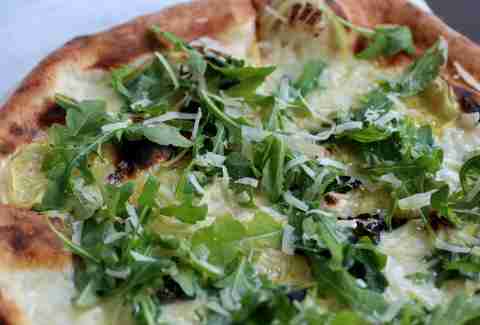 Previous Venue
Next Venue
Venue Description
1. Stanzione 87
87 SW 8th St, Miami, FL 33130
Brickell's Stanzione 87 serves up authentic Neapolitan pies that take less than a minute to cook in the wood-burning oven. The mozzarella is made in-house and the rest of the essential ingredients are imported from Italy, so the pizza is as close to source as you can get in Miami. The space is pretty small -- with only about 40 or so seats at small marble tables -- but a glass-walled open kitchen offers quite the pizza-making entertainment. It's a pretty solid take-out option, too.