Nikko by Sunshine brings the coolest sushi and modern Asian cuisine to Brickell - Thrillist Miami
It seems like the only thing there's more of in Miami these days than dudes who can't explain what they do for a living is sushi joints. So when Fisher Island's sushi chef left after 16yrs to open Nikko by Sunshine in Brickell, he knew it'd have to do something different. Now, he's delivering by decorating Asian grub with hand-carved garnishes that look like swans, penguins, and palm trees, and even a live goldfish.
If you were wondering where Sidney Crosby went during the Eastern Conference Finals, he was busy sitting on top of this jalapeno hamachi, made of a hard-boiled egg, carrot, and black olive.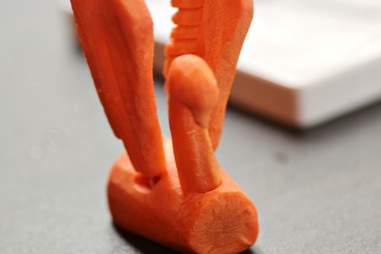 Sunshine's also garnishing dishes with this swan carved from carrots. Bother him enough and he might also show you his sculpture of Ajax made out of cauliflower.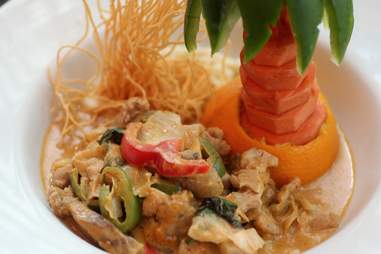 The palm tree made of carrots, bell pepper, and half an orange decorates the chicken, beef, or pork curry.
Don't let this bird garnish -- made of an egg, carrot, and black olive like the penguin -- inspire you to spend all of lunch on your phone playing a stupid video game. You'd miss the delicious pad Thai, made with your choice of chicken, beef, or pork with rice noodles, peanuts, green onions, and egg.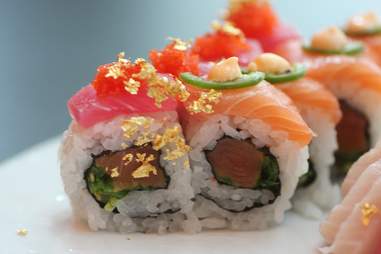 While carving rice is a little like trying to dribble a football, Sunshine is still decorating all his rolls -- like this 3 Musketeers made of tuna, salmon, and hamachi with gold leaf.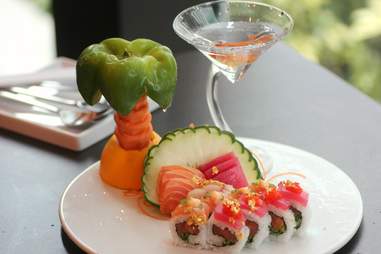 The full platter comes with sashimi and a martini glass containing a live goldfish named Bob, who -- unless your name is Ozzy Osbourne -- is Sunshine's only inedible garnish.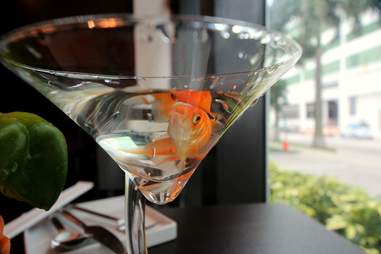 Seriously, don't eat Bob. Not only is it illegal, but he may also be the only guy you meet all week who can easily explain his job.