Your go-to for crazily fresh bagels and a huge sandwich named after YOUR neighborhood
Undoing the damage that every TNT commentator did during the playoffs by incessantly calling all of Miami "South Beach", Brickell's Toasted Bagelry and Deli is educating everyone with a gigantic menu of sandwiches named after every 'hood in Miami -- from Fisher Island to Overtown -- while baking bagels as hot and fresh as the city itself.
Proving that no, for the last time, it's NOT in the New York water, Toasted is making crispy, doughy, delicious bagels using H2O from right here in Dade County.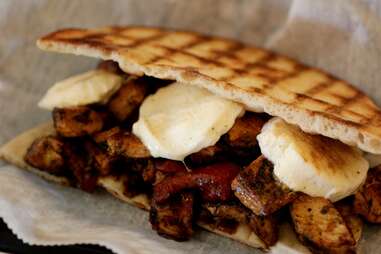 They're also making sandwiches named after every part of Miami. This Grilled Aventura is grilled chicken, roasted peppers, and melted mozzarella tossed with balsamic. They go together as beautifully as old people, condos, and a giant shopping mall.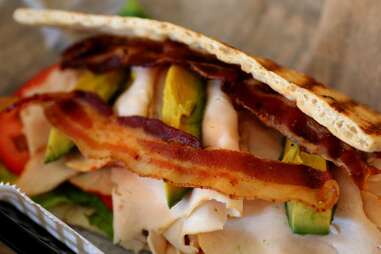 Unlike its namesake apartment compound, the Flamingo Club Panini is full of totally non-douchey stuff like turkey, bacon, avocado, American, lettuce, tomato, and mayo.
The bagel sandwiches get 'hood names too, like the Little Havana with steak, grilled onions, and American, plus a fried egg.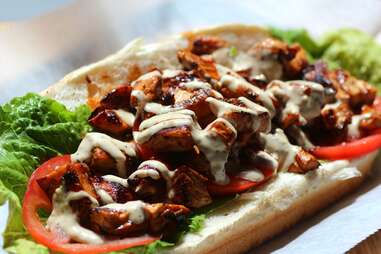 They're also grilling burgers and subs like the massive Heat: marinated chicken tossed in Buffalo sauce, lettuce, tomato, and ranch. It's huge, so make sure you don't try and bring it on the open level of a double-decker tour bus when going through Downtown.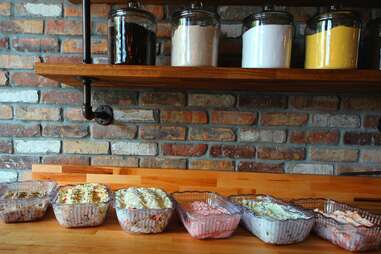 Keep it simple, and get a bagel with one of their eight homemade cream cheeses. Here're the walnut raisin, red and green pepper, olive, strawberry, scallion, and lox spreads. The sun dried tomato and jalapeño versions were a little camera shy.
They're open for breakfast and lunch, despite the seemingly endless construction on 8th street. SW 8th Street, aka not in South Beach.